Jaguar's Crazy 592hp XE SV Project 8 Is Not Your Accountant's Car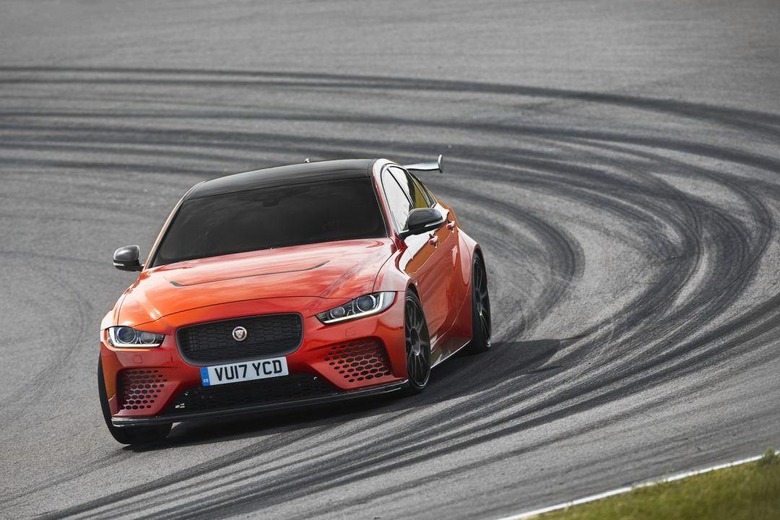 Jaguar promised us a ridiculously potent sedan to blow away any preconceptions of the automaker as staid or serious, and the Jaguar XE SV Project 8 is that car. Handiwork of the Special Vehicle Operation (SVO) team at the company, it takes the four-door XE and makes it in to a 200 mph, supercharged V8 beast. Annoyingly, though, North America won't be getting the most aggressive version of the car.
Under the hood is Jaguar Land Rover's 5.0-liter supercharged V8, tuned in this particular case for 592 HP and 516 lb-ft. of torque. That makes it the highest output of any road car Jaguar has produced, not to mention demanding some serious changes to the various support and cooling systems.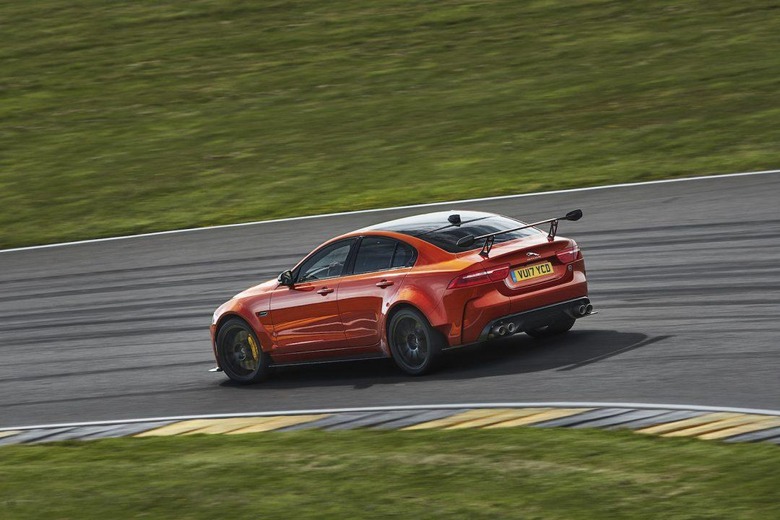 For instance, there's a new air intake system that promises better airflow efficiency, together with a new titanium variable active exhaust system for standing up to extended track time. It should sound more impressive, too, courtesy of the quartet of 3.5-inch tailpipes. Cooling, meanwhile, uses the functional vent in the carbon fiber hood.
It's not the only example of the lightweight material, mind. The 0-7-inch plated front wings are carbon fiber, as is the front bumper and the manually-adjustable two-position, two-piece front splitter. The lower side skirts are made from it as well, as is the rear bumper and diffuser. Finally, the two-position rear wing is manually-adjustable and carbon fiber too.
Mechanically, the XE SV Project 8 gets an eight-speed transmission recalibrate to swap cogs in 200 milliseconds. Jaguar claims it can even do massive gear drops without issue, like plummeting from eighth to second in one fell swoop. All-wheel drive is standard, along with an electronic active differential that can adjust torque to each of the rear wheels. There's also a differential cooler in the rear diffuser to keep the whole system cool.
Up front, there's double-wishbone suspension, with Integral Link at the rear. SVO cooked up some special machined knuckles with Formula 1-style silicon nitride ceramic bearings. They not only cut weight, but increase stiffness and steering response. Stiffer suspension bushes, together with ball jones at the rear upper control arm, and a reprogrammed antiroll system all promise more grip and traction, while the electric power steering has been tweaked to suit both road and track driving.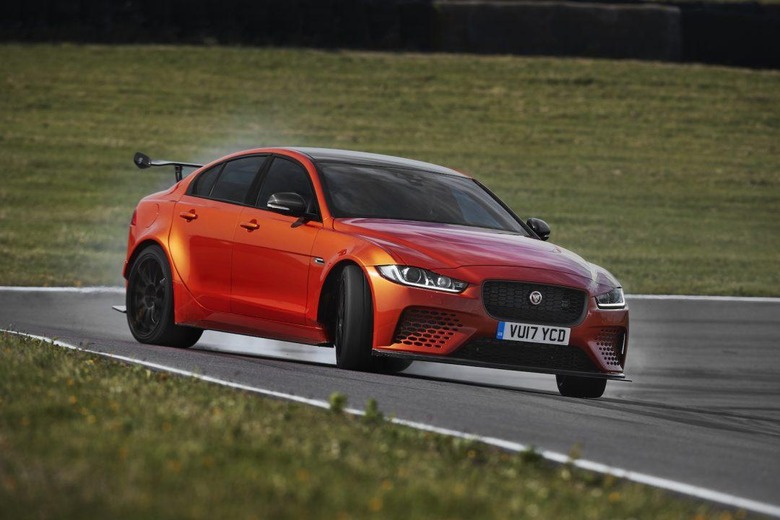 A dedicated Track Mode has been added for the first time. That sharpens throttle and steering response, as well as tweaking body control. There's also height-adjustable springs, with continuously variable dampers, and a choice of regular ride height or a 15mm lower setting for on the track.
Since you probably want to stop, or at least slow, at some point, Jaguar has used a new carbon ceramic brake system, with 15.7-in/400mm two-piece front discs with six-piston aluminum calipers, along with 15.6-in/396mm two-piece rear discs with single-piston sliding calipers. Torque vectoring by braking can slow the inner wheels during cornering.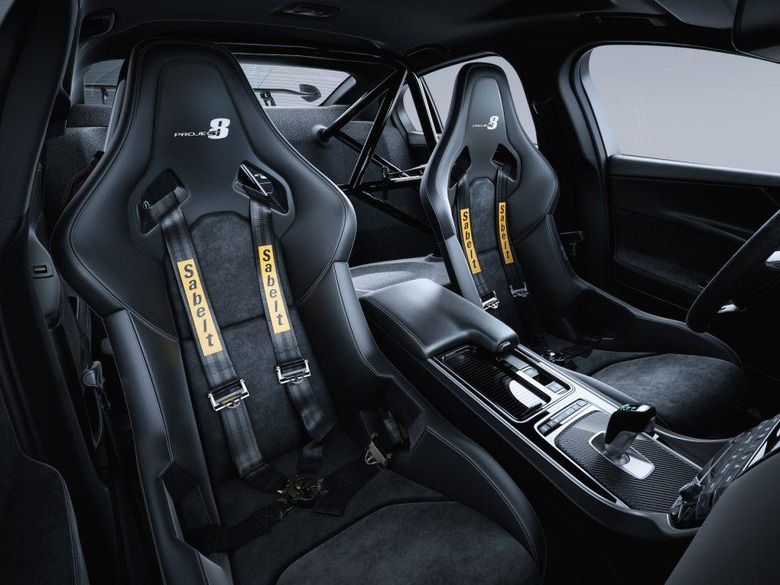 Inside, the standard interior has two magnesium-frame performance front seats with contrast-stitched bolsters and Project 8 logos. The rear now accommodates two, not the three of the regular XE, thanks to the addition of extra lateral support. Black, reflection-killing Alcantara covers the dashboard and instrumentation, along with the door panels and steering wheel; it contrasts with gloss carbon fiber detailing.
Then there's aluminum for the paddle shifters, and a 12.3-inch display for the virtual instrumentation. The center console gets its own 10.2-inch touchscreen with Jaguar's InControl Touch Pro infotainment system; that's been upgraded with track-friendly features like a stopwatch, g-meter, and accelerator/braking graphics. 4G WiFi hotspot support, a 380W Meridian audio system, and satellite radio are onboard, if the sound of the engine isn't music enough for you.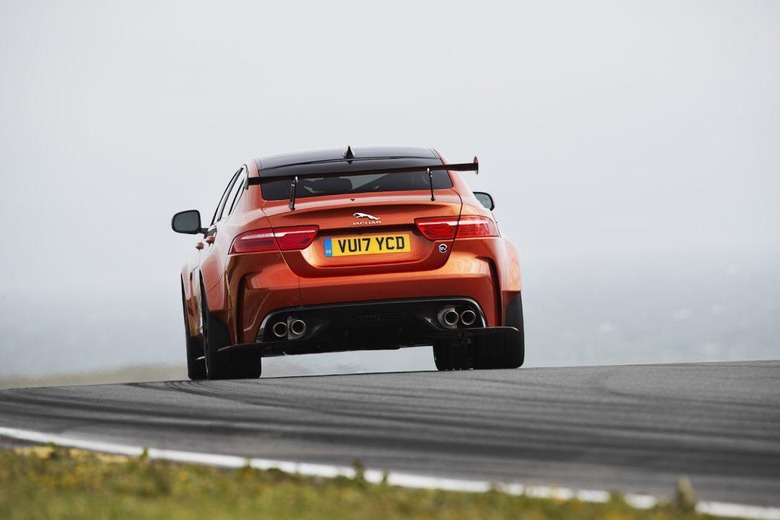 MORE: 2017 Jaguar XE 35t AWD R-SPORT Review
Now the downside. In the US, the Project 8 car will be offered with four seats inside. Those out of North America will get the option of a Track Pack, which throws in two race-spec seats and a Harness Retention Hoop.
Either way, only 300 of the cars will ever be built, and all will be left-hand drive. How much will all this cost? Jaguar isn't saying quite yet.