Jaguar just revealed its epic 592hp XE SV Project 8 super-sedan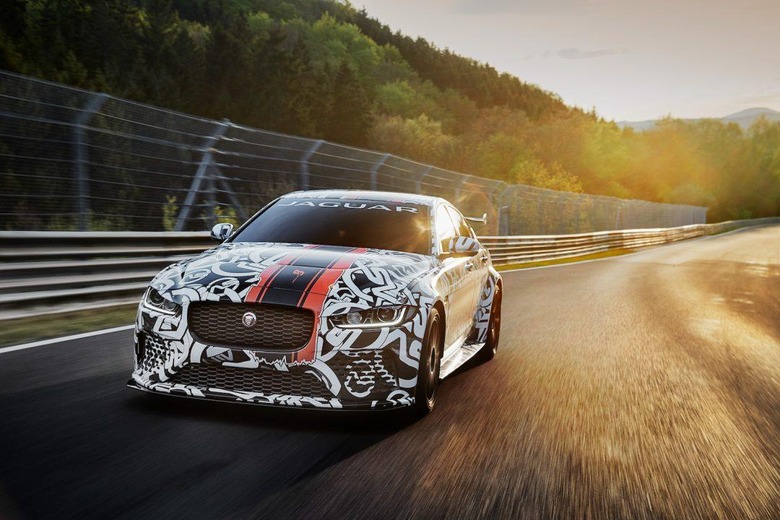 Jaguar has revealed its most powerful car ever, the Jaguar XE SV Project 8, a super-exclusive performance version of the XE sedan. The car, which so far has only been shown wrapped in camouflage, will be the handiwork of the Jaguar Land Rover Special Vehicle Operations (SVO) team, responsible for previous production-limited models like the F-TYPE Project 7. Indeed, only 300 of the XE SV Project 8 will be created.
That rarity will undoubtedly be part of the car's charm, but then again so will its grunt. Gone are the XE's usual engine options, which in the US means a choice of gas or diesel four-cylinder or V6 drivetrains, either turbocharged or supercharged. In their place, SVO drops in its 5.0-liter supercharged V8.
It's a familiar engine from cars like the F-TYPE SVR, which we enjoyed far too much back in March. However, where that coupe saw the V8 tuned for a not-inconsiderable 575 horsepower, Jaguar says the XE SV Project 8 will have around 600 PS, or approximately 592 HP. It's enough to make it the most powerful road legal Jaguar in the automaker's not-inconsiderable history.
The iconic XJ220 supercar, for instance, "only" made 550 PS from its 3.5-liter twin-turbocharged V6. It, meanwhile, could only accommodate two people. The XE SV Project 8, in contrast, will have space for five inside.
Of course the XJ220 also had a sky-high price tag, and while Jaguar hasn't announced just how much this new car might set you back, you shouldn't expect anything cheap. "The new XE SV Project 8 takes aerodynamics and performance engineering to another level – it is conceived for enthusiasts and the most discerning collectors," John Edwards, managing director of Jaguar Land Rover SVO, says. "The price for such an extreme performance sports car available in strictly limited numbers will reflect that."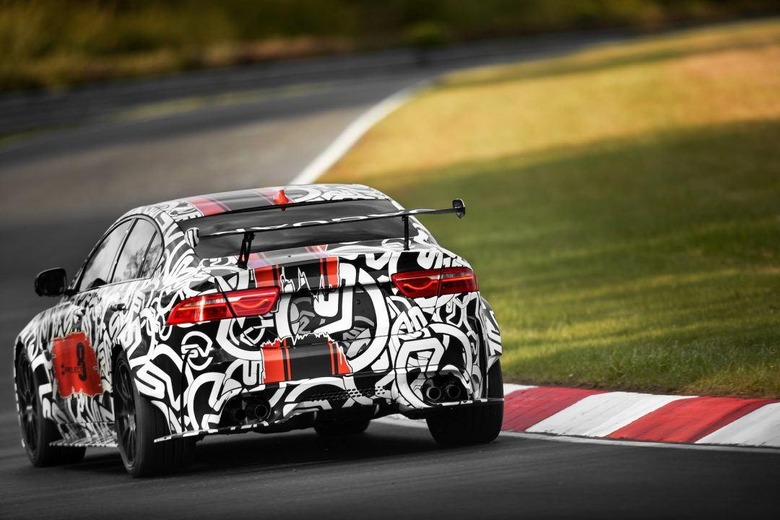 NOW READ: 2017 Jaguar XE Review
Each will be hand-assembled in Coventry, at SVO's Technical Center. Sales will be worldwide, with Jaguar targeting sometime in 2018. A prototype of the car has already been plying the asphalt at the Nürburgring Nordschleife; even its wrap was specially created for the event, by the SVO Design team.
In short, it's an opportunity for Jaguar to give itself a new halo car and make a little cash on the side. That went down well with the F-TYPE Project 7 in 2014, a $166k super-exclusive version of the automaker's two-seater convertible with a bespoke interior and a 575 horsepower engine under the hood. Only 250 examples were made, each capable of doing 0-60 mph in a mere 3.8 seconds.