2017 Jaguar F-Type SVR Review: 575 singing horses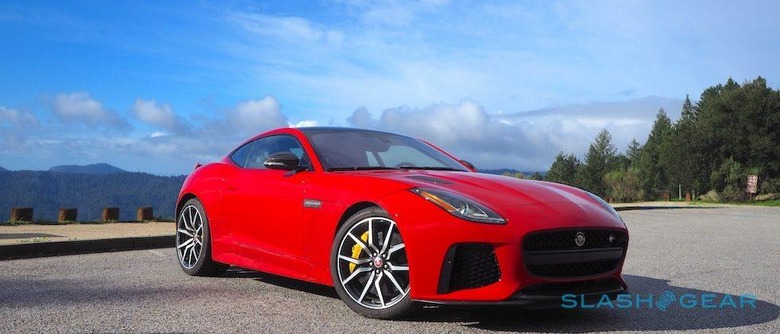 Should you manage to beg, borrow, or steal the keys to the 2017 Jaguar F-Type SVR, drop everything – bags, laptop, kids – on the ground and drive to the nearest tunnel. Wait until the road is clear; be patient, my friend, because I promise you the payoff is all worth it. You can occupy yourself by opening the windows and tugging the tactile drive-mode toggle into Dynamic, which has the time-saving side effect of switching on the Active Sport Exhaust. Then, when you have the road to yourself, floor the gas.
That the F-Type SVR is fast is, frankly, a given. Jaguar's most potent version of its seductive coupe takes the automaker's supercharged 5.0-liter V8 engine and squeezes a heady 575 horsepower and 516 lb-ft. of torque from it. That's 25 HP more than the "regular" R, enough for 0-60 mph in 3.5 seconds – Jaguar's figure is widely known to be conservative – and all the way on to a top speed of 200 mph if you have the track for it.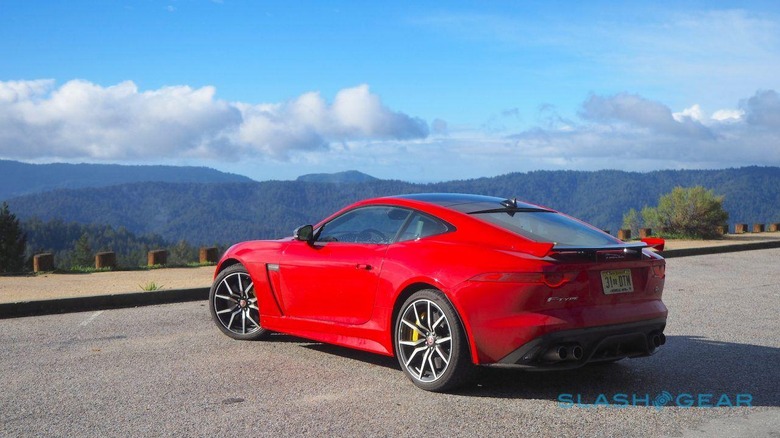 It takes a lot of engineering to get that sort of power down to the road and make sure a car sticks to it. All-wheel drive is standard – unlike the RWD V6 I drove last year – as is a ZF 8-speed QuickShift transmission with paddles. There's an electronic active differential and brake-based torque vectoring to help you go around corners rather than straight through them. A variety of aero adjustments to the body – most conspicuously the huge rear spoiler which motors up at speed – do their level best to keep the skinny Pirelli rubber pressed to the asphalt.
Yet it's the noise that sticks with you. The F-Type has always been known for its soundtrack, but the Special Vehicle Operations (SVO) division responsible for the F-Type SVR makes it even more aggressive. Their excuse is that they needed to replace the regular car's exhaust system since the rear diffuser demands the space. In its place, they cooked up a titanium and Inconel alloy system which gets its own distinct rumble while also cutting 32 pounds of weight.
There's a button which switches the Active Sport Exhaust system into a tamer mode, but you won't want to press it. Doing so means you miss out on the triumphant howl of the V8 at full bore, or the shotgun blasts as the gearbox drops down through its cogs. You'd be forgiven for expecting flames.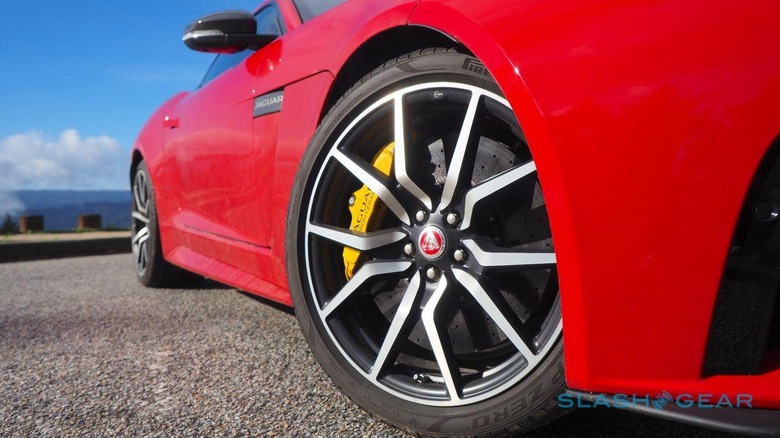 Without a track at my disposal, I instead let the F-Type SVR loose on some entertainingly twisty backroads. It's a playground that suits the car's temperament well. Enough changes in pace that you get to snap through the perfectly geared transmission and hear the ensuing roar and crackle; a mixture of sweeping and hairpin curves to appreciate the nicely weighted steering; plenty of opportunities to put the optional $12,000 carbon ceramic brake system – which comes with 20-inch forged alloy wheels, yellow brake calipers, and a pleasing absence of carbon squeal – to the test.
Addictive is the word for it. The lithe coupe leaps forward with the eagerness of a big cat toying with its prey, snarling and growling as you dart and dive through turns. In Dynamic mode the steering is hyper-alert to the point of twitchiness, while less-than-perfect roads telegraphed California's meagre budget for repairs right through to the cabin, but the F-Type seldom feels wrong-footed.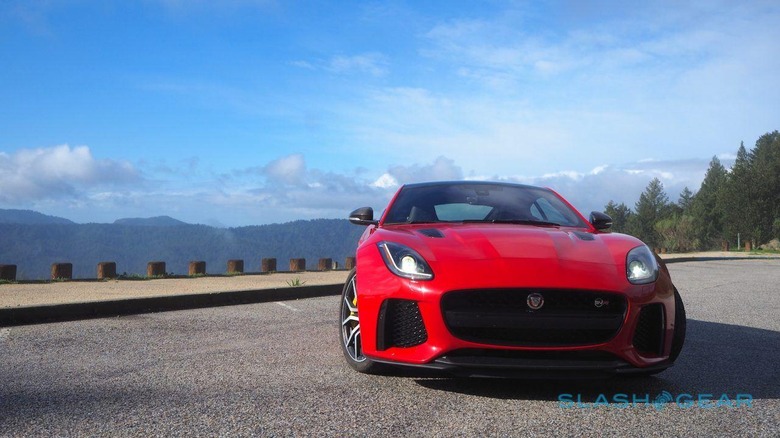 There's still more than enough there to catch you out, mind, just as soon as you start taking the all-wheel drive for granted. Usually, as much as 90-percent of the V8's power is pushed toward the rear wheels, and should you decline to shed enough speed as you head into a corner, the F-Type SVR is very willing to shimmy its tail entertainingly. The various electronics will probably stop you from hurtling off the road, but not before enough oversteer to bring your stomach somewhere up into your throat as you do mental math on carbon-fiber repair bills.
They wouldn't be cheap, but overall the F-Type SVR is actually something of a bargain. Atop its $125,950 base price this particular Caldera Red review car had a $750 carbon fiber center console, $700 steering wheel with grippy suede sections, $350 red seat belts, that $12k carbon ceramic brake system, and a $4,000 exterior carbon fiber package with hood louvers, mirror caps, front spoiler, side vents, and side blades all finished in the lightweight material. Jaguar will happily replace the standard glass roof with a weight-cutting and center-of-gravity-lowering carbon fiber panel for $3,200. Alternatively, a convertible version starts at $128,800 but you lose the 200 mph bragging rights along with the roof; it'll top out at 195 mph.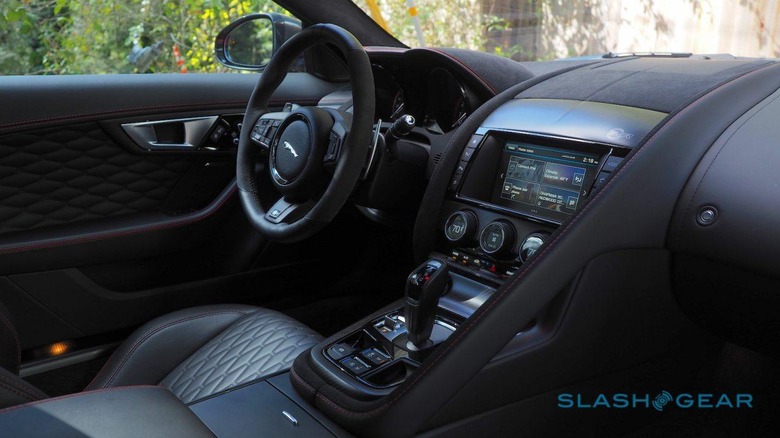 In all, including destination, it makes for a $144,745 car. Not cheap, but competitive against the Porsche 911 and Mercedes-AMG GT S it finds itself in the same bracket as. For all its brimstone and speed, you can use the F-Type SVR as a daily-driver, too: in its Normal mode it'll slink around fairly comfortably in a good impression of a grand tourer. Cabin cubbies aren't exactly plentiful, but there's reasonable space in the hatchback trunk. The quilted SVR sports seats are comfortable over extended distances but can still squeeze in for extra support.
Jaguar's InControl infotainment system is cleanly designed, though its 8-inch touchscreen can be a little slow to respond at times. The absence of CarPlay or Android Auto rankles, too. At 770W, the Meridian audio system sounds incredible, though I wouldn't argue with the parking sensors being more aggressive since some of the carbon fiber exterior elements are mighty low.
Coddle the F-Type SVR in the parking lot accordingly, though, and it'll pay you back on the open road, and with interest. The most aggressive car in Jaguar's line-up still manages to be playful with it, and should you ever tire of its animal howl, its plentiful power, capable chassis, and faithful brakes won't leave you disappointed. Good kitty. Very, very good kitty.