2016 Jaguar F-Type S Coupe Manual Review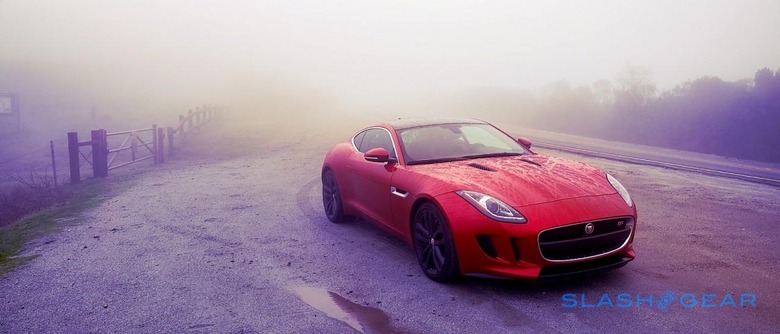 Jaguar's F-Type is a notoriously tail-happy car. California's rarely-wet roads are notoriously slippery in the rain. What better time, then, than the depths of winter and El Niño's finest to test the 2016 Jaguar F-Type S Coupe with its spanking new manual gearbox option?
Jaguar's approach to the F-Type always seemed a little Riviera-first. It launched as a convertible only in 2013, with a coupe following on the following year, and until the current model year has been available only with an 8-speed paddle-shifting automatic.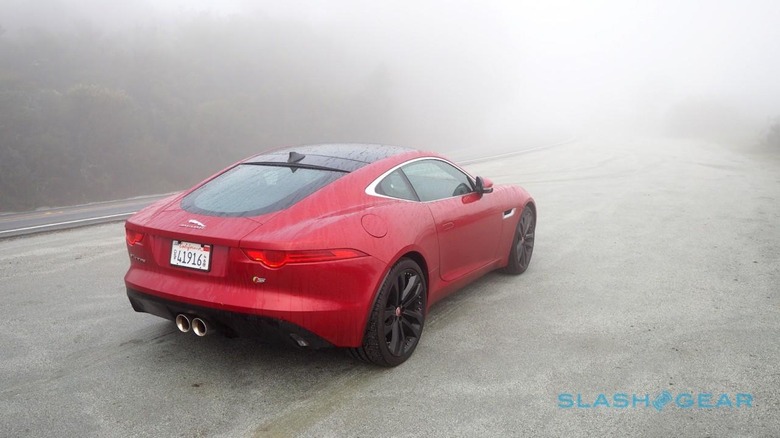 Keen drivers love to complain about the absence of a manual, and perhaps concerned that they were losing foot-traffic to the nearest Porsche showroom, Jaguar finally relented and threw a six-speed ZF transmission you stir yourself into the range.
It gets a little complicated, though. There are three types of F-Type – regardless of soft or hard top – starting out at the 340 HP standard 3.0-liter V6 car, then the 380 HP F-Type S which coaxes more power out with a beefier tune to its supercharger, and finally the 550 HP F-Type R with a 5.0-liter V8.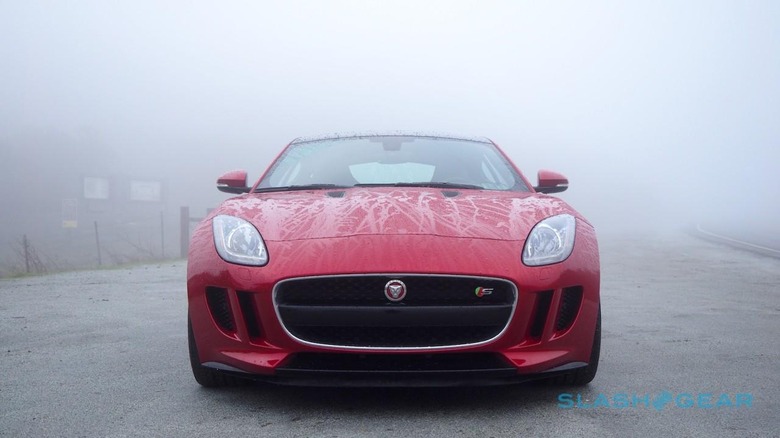 Only the V6 models can be had with the manual, and then only with rear-wheel drive. For 2016, Jaguar also offered all-wheel-drive – in fact, the F-Type R only comes in AWD form, while it's an option on the F-Type S – but only with the automatic.
Keeping up? The short of it is that, if you want the raucous, screaming V8 then I'm afraid you'll have to do without a stick-shift. I'm sure the 502 lb-ft. of torque will help you through that grieving process.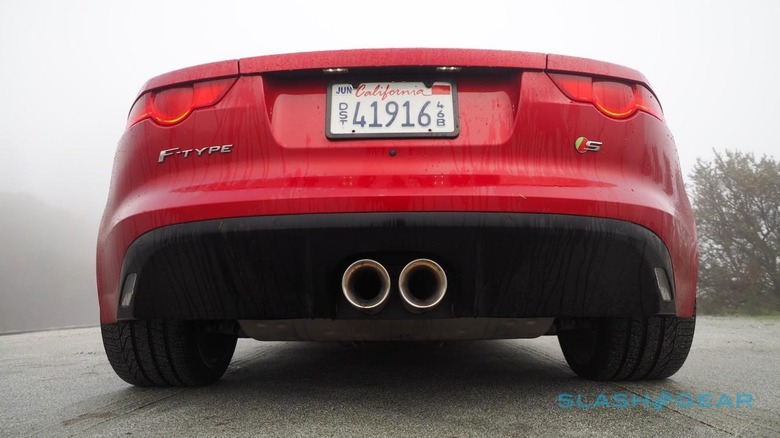 The F-Type S Coupe arguably sits in the sweet-spot in its range. More eager than the entry-level car, but – starting out at $77,300 – more than $26k shy of the F-Type R Coupe. Opting for manual helps there, too, with the paddle-shifters demanding a $1,500 premium.
Jaguar's options list is lengthy, and adds up quickly. By the time the Italian Racing Red paint ($600), power tailgate ($750), Extended Leather Pack ($3,100), 20-inch black alloys ($2,500), red seat belts ($350), and Premium + Vision pack ($3,900) with its frankly vital parking sensors and blind spot monitoring (and nice-to-have heated seats and dual-zone climate control) were added, together with $995 destination, we're up to $95,595.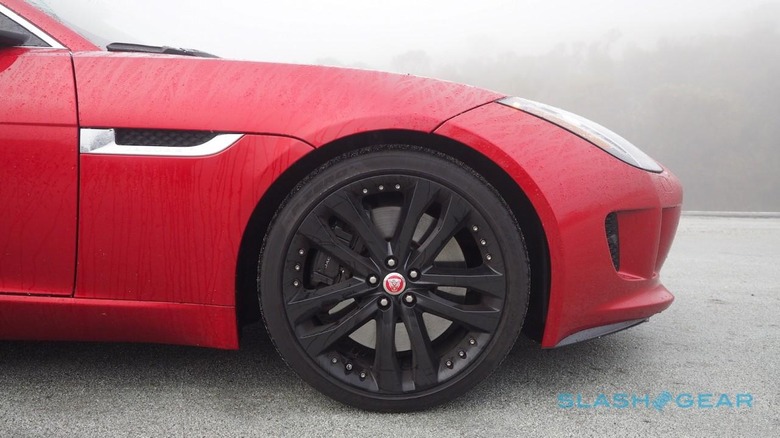 It's not to say there are no standard goodies, mind. The S Coupe gets the limited slip differential, high-performance brakes, a 770 W Meridian audio system, navigation, and a panoramic glass roof by default, not to mention the active sport exhaust system.
The latter is important because the F-Type is not a discrete car. For a start it's achingly, painfully beautiful. I'll hold up my hand and confess to some patriotic British bias here, but I wasn't alone in thinking that. The car-nuts I spoke to all purred approvingly of its commitment to the E-Type lineage, while those less preoccupied with a 60s icon just thought it looked sleek and pretty.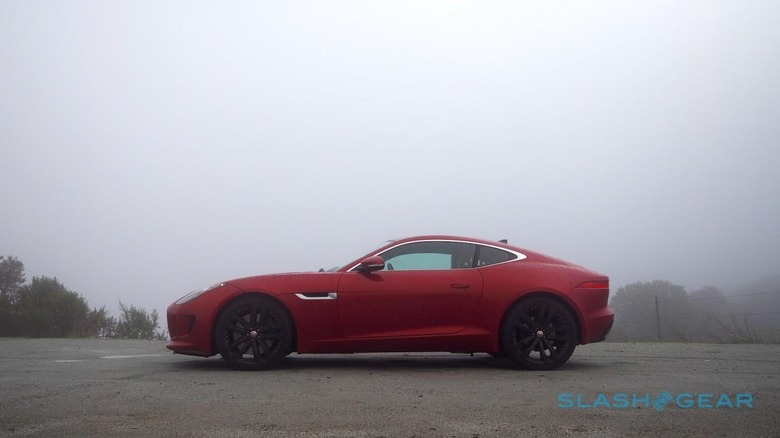 Make that sleek, pretty, and loud. Hit the starter button and the V6 kicks into life with a feisty BRAP. The active sport exhaust uses fancy flaps and baffles to keep things fairly quiet until around 3,00 rpm, but can be overridden with a button in the center console. Then it just sounds angry and spine-tingling all the time.
Unfortunately for my neighbors there's no way to tame that initial mechanical howl; there's a "Stealth Mode" in the infotainment system, but that just dims all the cabin lights rather than making the cat any less angry.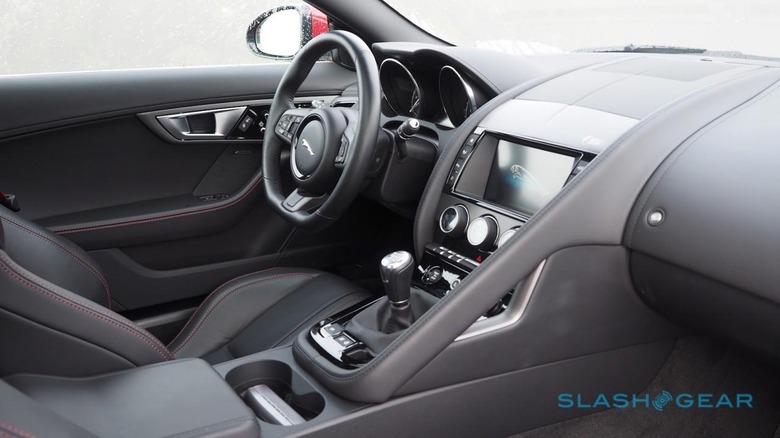 The premium feel continues when you clamber inside. There's not a huge amount of room in the F-Type – if you want to recline the seat by more than a few degrees you'll need to scoot it forward first – and it's light on storage nooks and cubbies too, but the overall design is first-rate.
I'd swap the cheap-feeling plastic top to the shifter if I had the sway at Jaguar HQ, but the power side-bolsters for driver and passenger are a welcome standard-fit item, and there's a decent amount of headroom. Rear three-quarter visibility is seriously lacking, though, hence the need for that blind-spot monitor.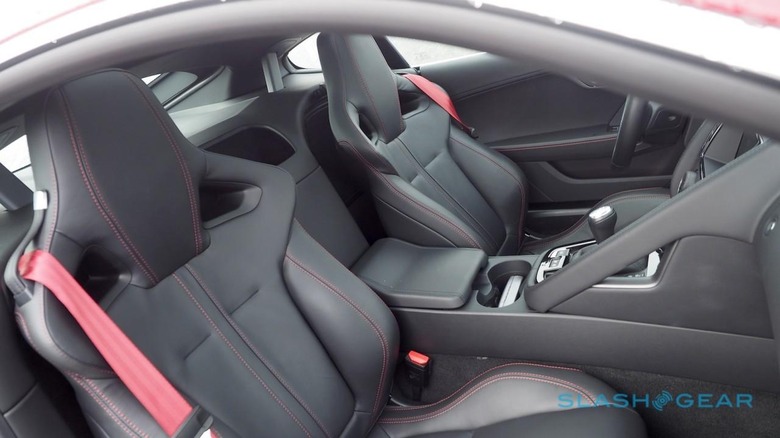 Jaguar delivered the F-Type with the Rain/Ice/Snow mode turned on, which scales back the throttle aggression dramatically in the name of keeping you pointing in the right direction. It certainly tempered any twitchiness, but it also meant a heavy right-foot was required to rouse the kitty – I'm guessing this is what it's like working as a circus lion tamer when your cats are on a Mogadon binge – so I turned it off.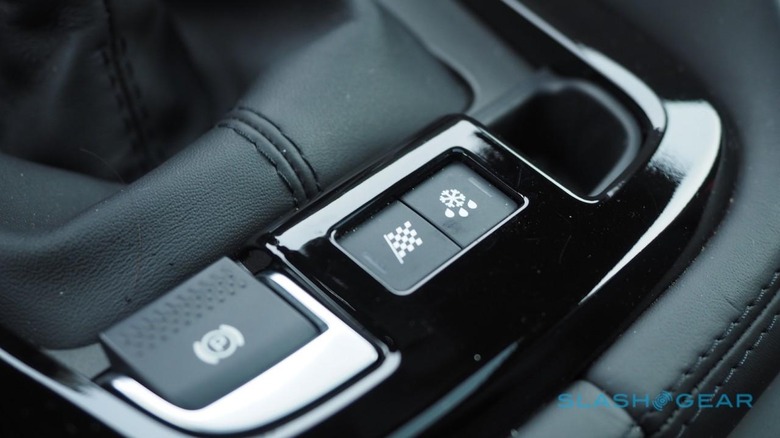 Liberated, the F-Type S sounded, performed, and even gripped a lot more rewardingly. Once the need for over-exaggerated throttle was removed, you can focus on the transmission instead.
The clutch errs on the light side, which is welcome in urban traffic along with the brake-hold, and the shift itself is smooth though a little long. A high bite with a fairly broad range did make a smooth first-to-second a consistent bugbear; turns out, I had to take a boarding school style firm-hand to things for best results, eschewing grace in favor of rapidity. That's okay, it's an F-Type not an XJ.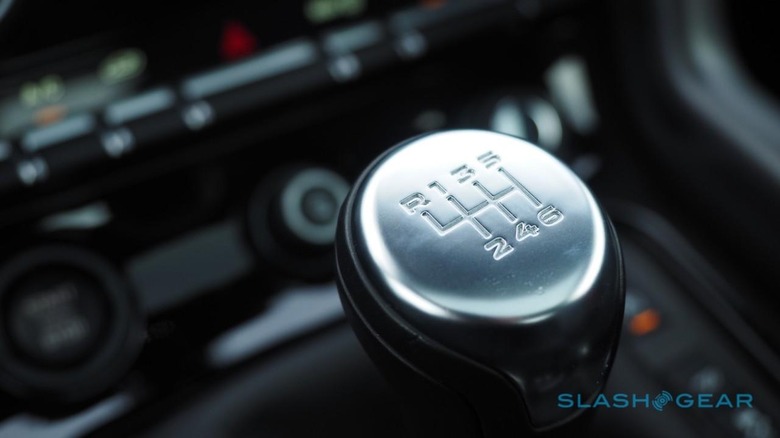 Electric power steering replaces the hydraulics of pre-MY2016 cars, but don't fret. It also plays on the lighter end of the spectrum, but that suits the car well: you half-pirouette into corners, feeling the tail do its eager thing like a kitten near skidding on parquet floor.
The occasional super-twitchy moments – I confess, I hit the Dynamic mode button – are telegraphed nicely through the steering and readily caught. Adaptive dynamic suspension is another standard-fit feature, and keeps lean to a minimum, and even in the wet there was no let-up in brake feel or effectiveness.
A manual transmission might be a nice nod to traditionalism, but Jaguar's infotainment systems were something old-fashioned the company was wise to get away from. Instead, the F-Type gets a touchscreen InControl system with navigation as standard.
The 8-inch display is responsive and bright, and the menu structure easy to understand. Unfortunately I can't say the same for the navigation, which consistently struggled to keep up with my driving: too many times I was told at the last moment that I needed to be in the lane on the opposite side of the road, or taking a turn that I'd just passed.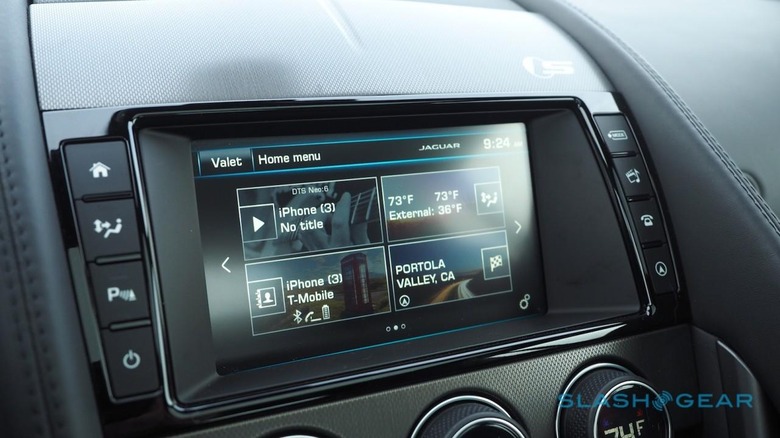 Jaguar also offers its InControl Apps system, which can pull in calendar, contacts, and music from a USB-connected smartphone, If you're a CitySeeker, Glympse, Parkopedia, or Stitcher user, they'll serve up their functionality through the touchscreen too; they work, though they're not as slick as Android Auto or Apple CarPlay, neither of which is supported.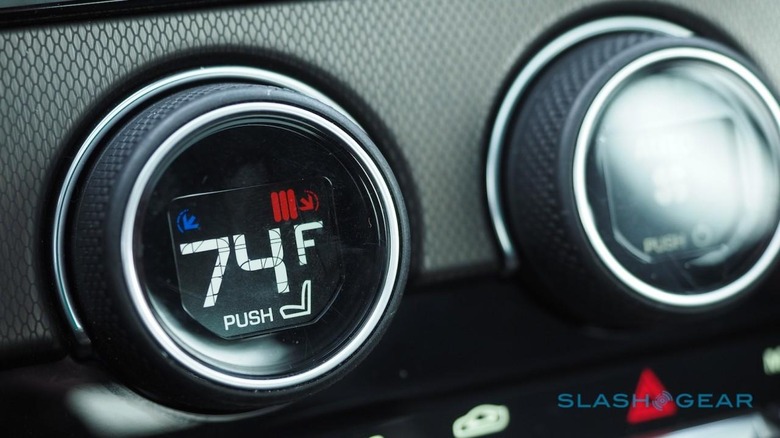 Oddly, there's also no voice control system. It's worth noting that Jaguar has a newer version of its infotainment platform that debuted on the latest XF sedan, though there's no telling when – or if – the F-Type will get it.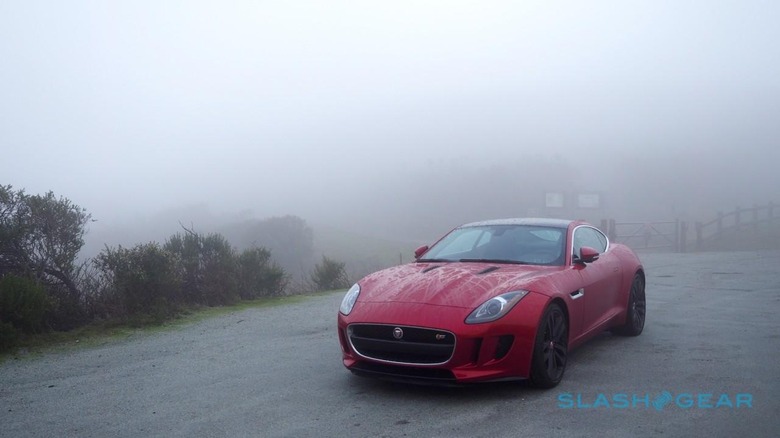 That's frustrating, but the F-Type has a surefire way to make you feel better: drop a gear, bury the throttle, and listen to the V6 sing. The automatic version may be faster (4.8 seconds 0-60 rather than 5.3), more economical (19/27/22 mpg for city, highway, and combined, rather than 15/24/18 mpg; tempered a little by the wet conditions, I saw 20.7 mpg myself), and undoubtedly more practical, but for sheer driving involvement the manual hits the sweet spot.
NOW READ: 2016 McLaren 650S Spider Review
I can't fault you if you opt for the excellent automatic. I won't criticize if the lure of that V8 soundtrack and lashings of power tips your hand on the F-Type R, either.
Think of the manual F-Type S as an even more exclusive club – not everybody wants to be a member, but don't be surprised when you see the beatific grins of the purists who do.
[gallerybanner p="423450"]