Jaguar Land Rover adds justDrive voice control to InControl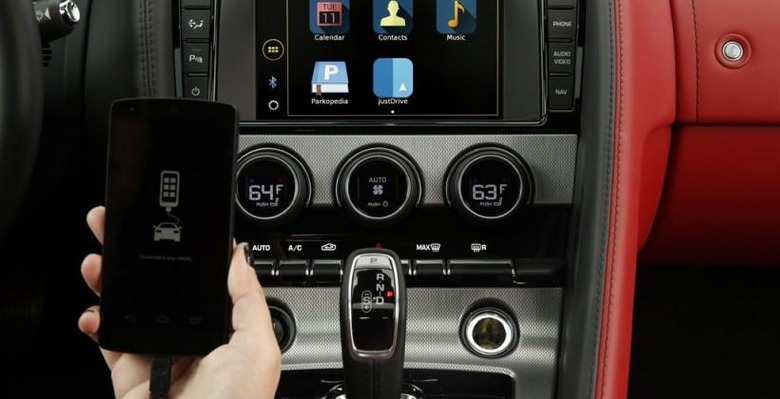 Smarter in-vehicle infotainment systems are becoming en vogue, but while some car makers are rallying behind Apple's and Google's initiatives, Jaguar Land Rover is continuing on its own path with InControl, which actually works with both iOS 8 and Android devices. And to further compete with the likes of Siri and Google Now, the car maker has augmented its in-car system with justDrive, a voice-activated multi-purpose app that takes the drudgery of awkward spoken syntaxes and lets users control their connected phones in plain English.
While we do already have voice-activated virtual assistants, many of them follow more or less strict syntax in order for the software to understand the real intent of the speaker. And in many cases, the speaker has to specify the app that needs to be used for a particular action. Not very assistive for an assistant and quite distracting for a driver. CloudCar, who develops justDrive, uses advanced speech recognition in order to let users just use simple English for commands and justDrive will figure out the rest. Simply say "Tell John I'm almost there" and it will determine how and where to send it. It will, of course, also playback the message before it sends it. If you tell it a particular song, it will use the most appropriate app for the purpose. justDrive integrates with Spotify, Twitter, and Yelp to keep you always connected even when on the road.
Jaguar Land Rover takes justDrive and optimizes it for its own InControl in-vehicle platform. The app now joins 17 others that are already part of the InControl party, including AudioBooks.com, Calendar, Cityseeker, Contacts, Eventseeker, Hotelseeker, iHeartRadio, Mileage tracker, MobileDay, Music Player, NewsBeat, Parkopedia, News on Board, NPR, Rivet Radio, Stitcher, Sygic. The app will be available as a free download for Jaguar Land Rover owners starting early 2015 and will be constantly updated throughout the user's vehicle ownership.
And to push its infotainment thrust even further, the UK based auto maker is opening its first overseas Research & Development center in Portland, Oregon. This 15,000 sq. ft., $3 million facility will focus on advanced connected technologies and features innovation spaces and development laboratories. This center also puts the company geographically closer to justDrive developers CloudCar, who are based in iconic Silicon Valley.
SOURCE: Jaguar Land Rover