Meet the real star of the Royal Wedding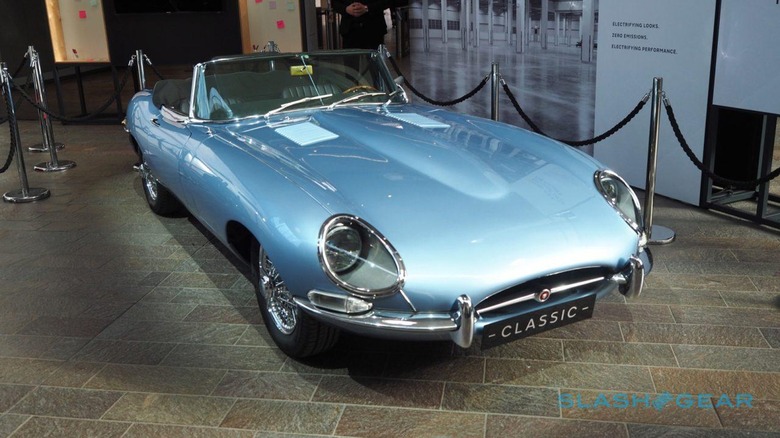 Forget the Givenchy dress, groundbreaking sermon, and vast cake: the real star of the Royal Wedding this weekend had four wheels and an electric heart. While it may have looked like a classic E-Type, however, Meghan and Harry's getaway car was actually even rarer than that.
That's because it's the Jaguar E-Type Zero, the only electrified version of the car that the British automaker has made. Revealed back in September last year, the one-off retrofit is the handiwork of Jaguar Land Rover Classic. The team there took an 1968 E-Type Series 1.5 Roadster and carefully switched out its gas engine for a bespoke electric powertrain.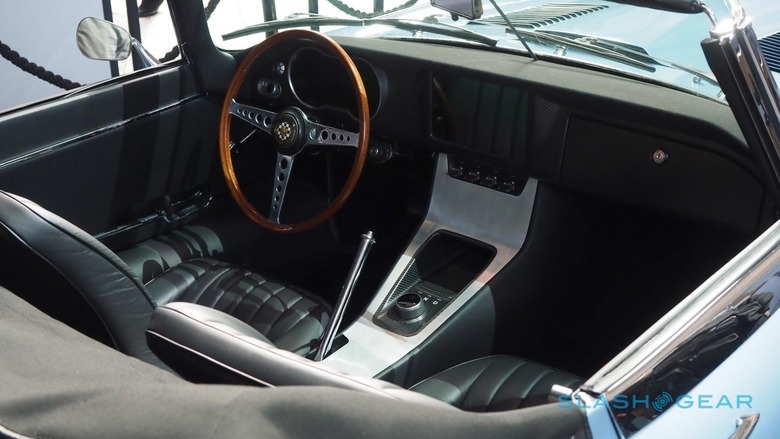 The result is Concept Zero, an attempt to deliver 60s motoring and style with thoroughly 21st Century technology. Out went the Jaguar XK six-cylinder engine, its place taken by a lithium-ion battery pack, electric motor, and – where the old transmission would've been – a reduction gear. That's linked to a new prop-shaft.
Compared to other EVs, the car that took Meghan and Harry from Windsor Castle to Frogmore House in for their evening reception is actually fairly conservative in its power. Jaguar opted to limit the E-Type Zero to 220 kW, in fact, enough for a quoted 5.5 second 0-62 mph time. In doing so, however, it meant much of the original hardware could be kept in place, instead of needing an upgrade to deal with more grunt.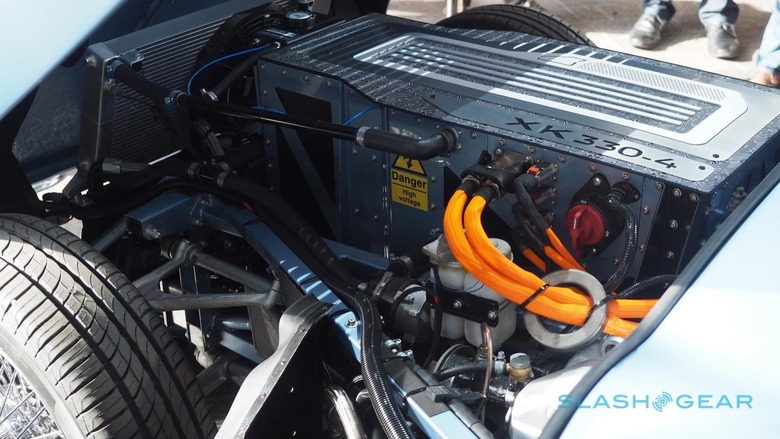 The brakes are original, for example, as is the suspension. In the open-top cabin, the thin, wood-rimmed steering wheel has been kept, along with the slender parking brake. However there's a new digital instrument cluster – showing analog gages modeled after the original car – and a touchscreen center console.
Range is said to be around 170 miles, though since it's less than two miles between Windsor Castle and Frogmore House the royal couple probably didn't need to stop and find a Level 2 charger along the route. Apparently there is one at the nearby Macdonald Windsor Hotel, mind, though according to ZapMap reviews the Duke and Duchess of Sussex would've needed to prebook the space ahead of time.
Importantly, the E-Type Zero wasn't a one-way conversion. In fact the electric drivetrain was designed so that it can be cleanly restored back to its original form in future. Given just how few E-Types are left on the road, that's an important consideration.
As for whether other classic Jaguar owners might be able to get an electric retrofit for their car, there are signs that one day the E-Type Zero won't be quite as rare as an eligible prince. Whispers from inside the Jaguar Land Rover Classic team suggest the hope is to offer a conversion kit for the Jaguar XK engine – found inside not only the E-Type but the XC120, Mark 1 and Mark 2, and XJ6, among other cars – though possible pricing has not been discussed yet.