iTunes Radio label deal leak puts Pandora back in the spotlight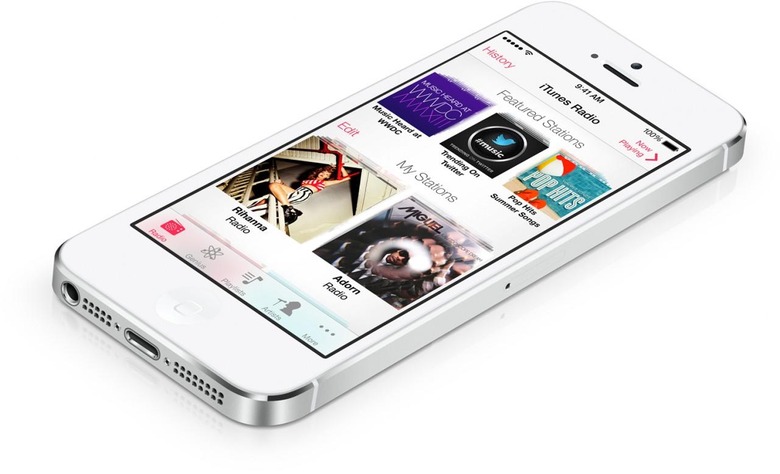 Apple's iTunes Radio terms for record labels have been revealed, and look likely to ramp up attention on Pandora and other rivals who have recently been accused of short-changing artists. The royalties iTunes Radio will pay, according to the WSJ's insider glance at the offers made to independent labels, will kick off at 0.13 cents per play, as well as a proportionate share of 15-percent of net advertising revenue.
That actual amount will depend on exactly how much of a label's music is played through the service, which Apple announced at WWDC earlier this month. Like Pandora, iTunes Radio will be advertising-supported, interspersing commercials in-between tracks.
However, those who subscribe to iTunes Match, Apple's cloud-storage system which puts streaming-capable digital copies of all of your tracks in a web-accessed store, will get ad-free playback.
Apple's terms actually get more generous to labels as the service goes on. In the second year, the company will base its figures on 19-percent of ad revenue, and 0.14 cents per listen to a track. However, Apple won't pay royalties for tracks that users already have in their iTunes library, or indeed if they own the album that the track is taken from. Track-skips before 20 seconds have played will also be exempt.
In contrast, Pandora is believed to pay 0.12 cents per listen to each track. The internet radio station has made headlines in recent weeks after artists complained about exactly how much they were making from each time their tracks were included in the dynamically evolving playlists, with one claiming he had been paid just $17 despite his music being played more than a million times.
Pandora, however, argued that the sums were wrong. Asked about how its rates compared to Apple's, Pandora founder Tim Westergren told the newspaper that Pandora and iTunes Radio aren't directly comparable, and highlighted the different goals for usage each company has.
For instance, it's suggested, Apple's target with iTunes Radio is in fact to drive iTunes downloads, rather than encourage users to stream from the various radio stations it will offer. It also aims to promote its iAds advertising system, which has struggled to gain traction.
Meanwhile, Apple's terms for the big labels it spent many months courting for iTunes Radio are believed to be different to those it has offered indie labels now that the service has been publicly detailed. The biggest change is that Apple has reportedly agreed to cash advances for the larger labels, helping to offset any perceived risk.
VIA Engadget