Is OnePlus 7 (Non-Pro) Cheaper Than OnePlus 6T?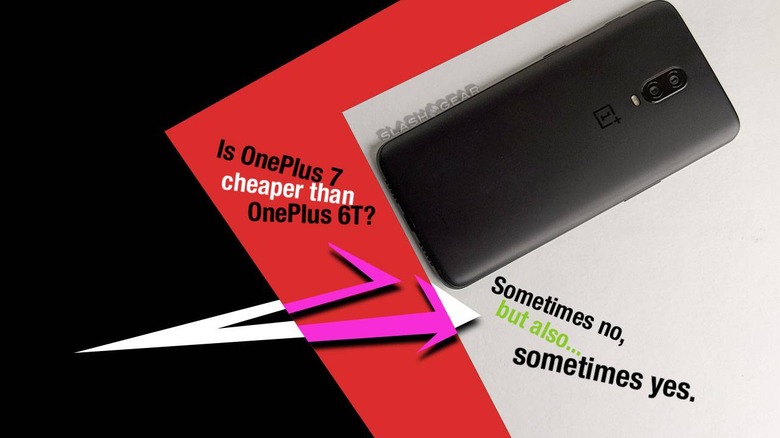 OnePlus users are having a bit of a conundrum this afternoon as they check prices of the new OnePlus 7. That's not to mention the OnePlus 7 Pro, also released today – we're talking about comparing the OnePlus 7 (non-pro) to the OnePlus 6T. They're not the same price – what's the deal? And why can't you buy a OnePlus 7 (non-pro) in the USA?
OnePlus 6T vs 7
In the USA, the OnePlus 6T will continue to be available at OnePlus online and at T-Mobile USA stores. The price will be reduced by $30. It'll be joined by the OnePlus 7 Pro online and at T-Mobile locations.
The release date for the OnePlus 7 Pro is the same as the OnePlus 6T's price drop: May 17th, 2019. Unless you're in NYC at T-Mobile, then you can get one right now.
SEE TOO: Our OnePlus 7 Pro Review
OnePlus 7 is 0.2 mm (0.01 inch) thicker than the OnePlus 6T. The OnePlus 7 is 3 g (0.11 oz) lighter than the OnePlus 6T. OnePlus 7 has a Qualcomm SDM855 Snapdragon 855 (7 nm) SoC with Adreno 640 GPU. OnePlus 6T has a Qualcomm SDM845 Snapdragon 845 (10 nm) with Adreno 630 GPU.
Their back-facing camera setups are different. OnePlus 7 uses a 48 MP, f/1.7, 1/2", 0.8µm, PDAF, OIS camera and a 5MP, f/2.4, 1.12µm camera. OnePlus 6T has a 16 MP, f/1.7, 25mm (wide), 1/2.6", 1.22µm, OIS, PDAF camera and a 20 MP (16 MP effective), f/1.7, 25mm (wide), 1/2.8", 1.0µm, PDAF.
OnePlus 7 has stereo speakers and Dolby Atmos certified sound. OnePlus 6T has a mono speaker system and Dirac HD sound. OnePlus 7 has USB 3.1, OnePlus 6T has USB 2.0.
OnePlus 7 and 6T have under-display fingerprint sensors – we've yet to see if the OnePlus 7's sensor is significantly different from the 6T.
They have the exact same display panel. They have the exact same front-facing camera. They've got the same size battery and the same speed battery charging tech.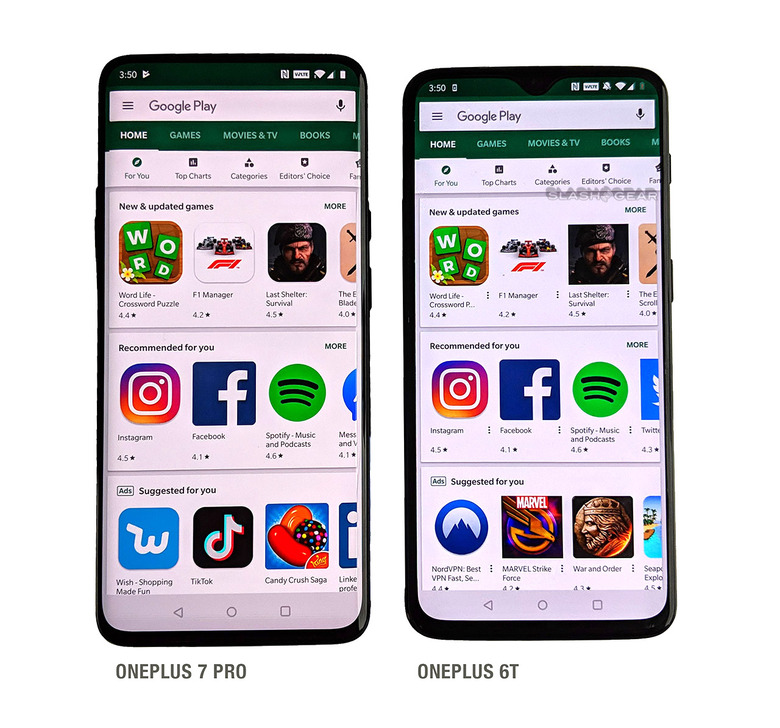 OnePlus 7 Price Right Now
If you're in the UK, you'll find the following set of prices for the OnePlus 7 and OnePlus 6T. There is no OnePlus 7 with a combination of 8GB + 128GB, and there is no OnePlus 6T with a combination of 6GB + 128GB.
• OnePlus 7
6GB + 128GB Mirror Gray: £499
• OnePlus 6T
8GB + 128GB Mirror Black: £529
• OnePlus 6T
8GB + 128GB Midnight Black: £529
• OnePlus 7
8GB + 256GB Mirror Gray: £549
• OnePlus 6T
8GB + 256GB Midnight Black: £579
It's at the highest end that we've got a bit of a discrepancy going on, here. If you want a OnePlus 7 with maxed-out RAM and internal storage, you'll pay £549. If you want a maxed-out OnePlus 6T, you'll pay £579.
So really you're paying that extra £30 for the "Midnight Black" back and some lesser specs. If the OnePlus 6T sees a price drop in the UK like it'll get in the USA, these two phones will cost the same amount.
Since the $30 price drop for the OnePlus 6T doesn't start until the 17th of May in the USA, it's safe to assume the same adjustment's not yet been made in the UK. The same goes for every other region of the world where this same situation is in-effect. See our OnePlus 7 Pro review (linked above) for more on the significantly superior piece of hardware.