Is Moto G better than Moto X (2014)?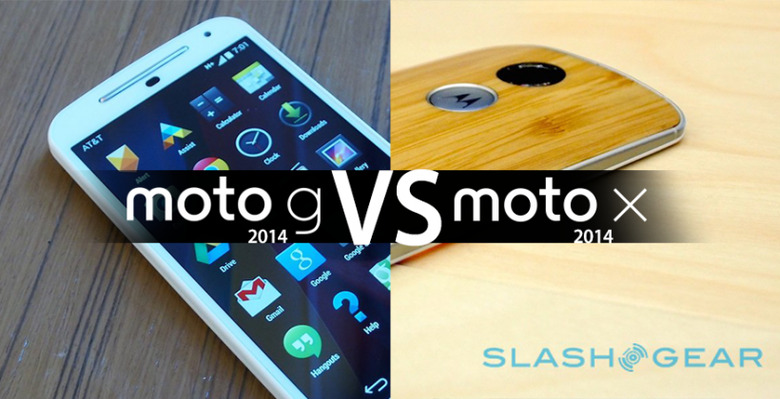 Last year we had a bit of a chat surrounding our reviews of Moto X and Moto G, and several readers suggested something outrageous. They suggested that the Moto G (2013) might be a better value than the Moto X (2013). This year, the differences between the two devices are more radical than they were last year. Could Motorola have made a mistake, creating too large a value gap between their two hero phones?
First you'll want to look at the specifications of these two devices. They're similar. The display on the Moto X is clearly sharper and more brilliant, and the processor on the Moto X is well and above the Moto G. There's also twice as much RAM in the X than there is in the G.
Moto X (2014)
Display: 5.2-inch 1080p (423 ppi) OLED w/ Corning Gorilla Glass 3
Processor: MSM8974-AC quad-core 2.5GHz Qualcomm Snapdragon 801, Adreno 330 578MHz GPU
RAM: 2GB
Camera Back: 13MP (f/2.25) w/Ring Flash, 4K video, 4X zoom
Camera Front: 2MP + 1080p HD Video
Battery: 2300 mAh
Internal Storage: 16GB Standard, 32GB Moto Maker
Connectivity: Wifi 80211.ac, BT 4.0LE, GPS, GLONASS, NFC
Sensors: Gyroscope, IR-sensor (front facing)
Cost: $499.99 off-contract, expected $99.99 with 2-year contract
Construction: Metal Rim, plastic or wood back
Moto G (2014)
Display: 5.0-inch 720p (294 ppi) IPS w/ Corning Gorilla Glass
Processor: quad-core 1.2 GHz Qualcomm® Snapdragon 400, Adreno 305 450MHz GPU
RAM: 1GB
Camera Back: 8MP, LED flash, 720p video
Camera Front: 2MP, 720p video
Battery: 2070 mAh
Internal Storage: 8GB or 16GB
Connectivity: 802.11 b/g/n, BT 4.0LE, GPS, GLONASS
Sensors: N/A
Cost: $179.99 off-contract, 2-year contract cost N/A
Construction: Plastic Rim, replaceable plastic back
The Speaker Situation
The Moto G works with two front-facing speakers. The Moto X does not. There's a speaker on the front of the Moto X as well as a phone speaker for phone calls. Moto X does not have stereo sound – Moto G does.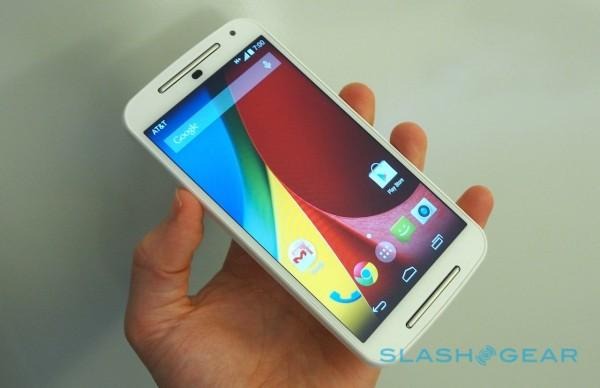 FM Radio
Believe it or not, the Moto G has FM Radio capabilities while the Moto X does not. Motorola has suggested that this is because Moto X users in the first generation did more streaming of music over the web than did users of the first Moto G. Moto G is also a far more internationally-aimed device than the X, and FM Radio use is far more common for smartphone users outside of the United States, where the Moto X is centered.
Customization
You can get wood back panels for the Moto X. You can also get custom accents and back panels in a wide variety of colors. Moto Maker will be activated soon – you'll custom-construct your Moto X from the web and have it sent to you directly.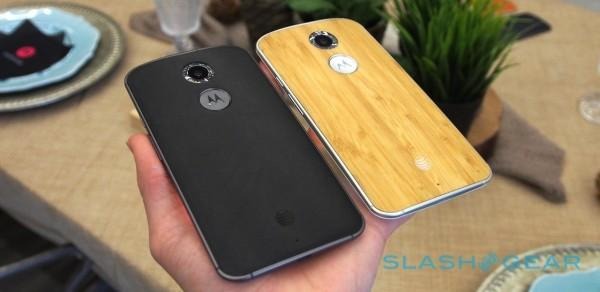 The Moto G, on the other hand, comes with either a white or a black back panel – removable panel, at that – that can be replaced by a number of panels you can buy from Motorola, just like you were able with the original Moto G. The Moto X's custom look is a one-shot while the Moto G's look can change as often as you want it to.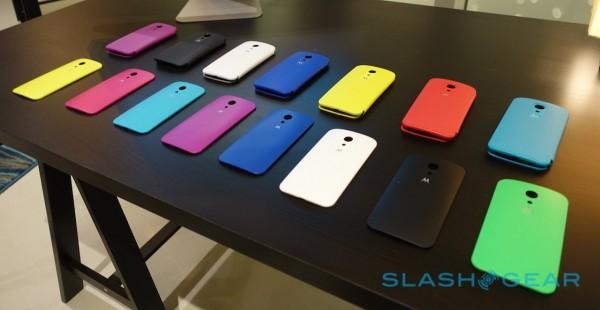 Pricing
Off contract costs have the Moto X (2014) at a whopping $320 USD more than the Moto G. For the cost of a Moto X + $40, you could potentially buy three Moto G units. So we ask you – is the difference in functionality really worth the added cost?