iRobot Scooba 390 cleaning 'bot gets serious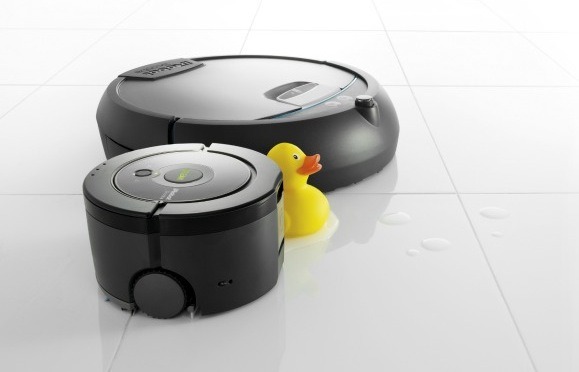 Grubby floors beware; iRobot has introduced a new floor washing 'bot, the Scooba 390, a full-size version of the Scooba 230 that demands less prep work by its human owners. Where the 230 could wash your tile, linoleum or hardwood floor but first insisted that you manually brush it, the Scooba 390 includes a rotating brush to scoop up any obvious dirt before it gets down to more intensive cleaning.
As with the smaller robot, it uses two tanks – one for cleaning fluid, the other for dirty water – which is sloshed down on the floor after the Scooba has swept it. A darn good scrubbing follows, before the dirty water is suctioned up for later disposal.
In addition to accommodating a brush, the larger model also has a more powerful battery – iRobot says 30-percent more power – and can clean a 425 square foot room. In contrast, the far smaller Scooba 230 manages 150 square feet before it's spent.
Room tracking is all automatic, and iRobot's virtual barriers can be used to stop the Scooba from escaping into further rooms. The iRobot Scooba 390 will go on sale later today, priced at $499.99, alongside the Scooba 230.