IREX DR800SG gets official: 8.1" touchscreen 3G ebook reader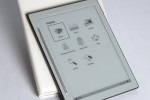 As expected, IREX have just announced their latest ebook reader, the IREX DR800SG, an 8.1-inch e-ink device within integrated Qualcomm Gobi wireless.  The DR800SG will use Verizon's network in the US (and switch to GSM 3G when roaming) to allow access to Barnes & Noble's eBookstore, Newspaper Direct and LibreDigital.  Priced at $399.99, the IREX DR800SG will arrive at "select" Best Buy stores come October, followed by a European launch in the first half of 2010.
As well as the B&N eBookstore's 750,000 titles, owners will also be able to load PDF, EPUB, Newspaper Direct, Fictionwise, eReader and TXT files onto their DR800SG.  It will come with a stylus but also be finger-touch responsive, allowing for page-turn swipe gestures or one-tap bookmarks.  Meanwhile what sounds like a capacitive version is apparently coming in Q2 2010, with a color ebook reader also planned but for a later date.
Like Amazon have with the Kindle, unlimited Verizon access will be included in the sticker price of the DR800SG.  Internal storage is 2GB, and there's a memory card slot too.  The $399.99 price includes a leather cover.
Press Release:
IREX TECHNOLOGIES TURNS THE PAGE ON eREADERS WITH NEW 8.1-INCH CONSUMER DEVICE

NEW YORK, Sept. 23, 2009 – IREX Technologies today wrote a new chapter in digital reading, combining technology that provides a traditional reading experience with an open approach to buying and transferring content. The company unveils the IREX DR800SG – a sleek, 8.1-inch, touch-screen eReader that offers multi-mode 3G wireless capabilities.

Complementing the modern design of the device, users can purchase books, newspapers or magazines from a wide variety of sources. In addition, IREX supports multiple formats including industry standard ePub format and multiple DRM solutions, rather than a single, "closed" proprietary format that locks content to a specific device.

The IREX device is supported by key partners Barnes & Noble, Inc., Best Buy, Qualcomm and Verizon Wireless, which together provide access to the content, retail presence and the most reliable wireless network in the country, setting the DR800SG apart in an increasingly competitive market.

"Consumers are ready for eReaders, but the device is only one piece of the equation. People want an enjoyable, easy reading experience with no-hassle access to content. IREX's strategy – based on giving consumers choice – and the partnerships we have in place make it easier for them to purchase a device, access content and enjoy it wherever they are," said Kevin Hamilton, North American CEO of IREX Technologies. "IREX has been a driving force behind the evolution of eReaders since its founders invented e-paper display technology based on E Ink Corporation's electronic ink. With the DR800SG, we bring to market all that readers have been asking for: a stellar device that puts the reader in the driver seat with regard to where they buy content and what they do with it."

IREX teams with industry leaders

The IREX device includes the Barnes & Noble eBookstore from Barnes & Noble, the world's largest bookseller, giving users access to more than 750,000 titles, including new releases and bestsellers at $9.99. Barnes & Noble expects its eBookstore (www.bn.com/ebooks) will increase to well over one million titles within the next year, inclusive of every available eBook and eBook originals from book publishers.

"The Barnes & Noble eBook strategy is very much aligned with IREX's approach to the market," said William J. Lynch, president of BN.com. "IREX's open platform, powered by Barnes & Noble's comprehensive eBookstore, is an appealing proposition for people who love to read. Barnes & Noble is the world's largest bookseller, so we understand how to create a great shopping experience for people looking for simple and convenient access to their favorite subjects, authors and material."

3G wireless connectivity for the IREX device is powered by Verizon Wireless' network – the nation's largest and most reliable wireless network. With wireless connectivity, customers can purchase and quickly download an eBook from an airport gate, couch or coffee shop – without being tethered to a PC.

"Verizon Wireless invests heavily in its network to provide consumers with the best wireless experience possible, regardless of whether they've purchased a device directly from us or are using one of the devices certified through our open development program," said Tony Lewis, vice president of open development for Verizon Wireless. "Our 3G network enables IREX devices to quickly access content in more places, giving IREX customers a distinct advantage over customers with other eReader devices."

The IREX device also leverages the Gobi™ multi-mode 3G embedded module which contains Qualcomm's mobile broadband technology for connectivity to 3G networks around the world. The IREX DR800SG is the first eReader to leverage Qualcomm's technology to support global connectivity enabling the device to be activated in any market. The IREX DR800SG will launch in Europe the first half of 2010. Additionally, users will have the ability to download content to the device while traveling abroad next year.

"Wireless connectivity has the potential to enhance many aspects of everyday life, and the IREX DR800SG is an example of the type of flexibility and enhanced user experience that can be delivered through 3G," said Barry Matsumori, vice president of product management for Qualcomm CDMA Technologies. "Qualcomm's Gobi technology will bring a new level of freedom to consumers using the DR800SG worldwide."

Best Buy will carry the DR800SG at select stores beginning later this fall. Giving users access to the device through a retailer recognized for providing hands-on interaction with technology will drive increased awareness and understanding of eReaders, as potential buyers can see, touch and even test the product – a must do for consumers buying an eReader device.

Key product specifications

· Big screen, compact design – some competitive devices offer a similarly-sized device but with a much smaller display area. IREX's 8.1-inch screen is ideal for books, magazines and newspapers with detailed graphics.

· Purpose-built device – the DR800SG uses the latest electronic paper display technology to deliver an experience that is closer to reading ordinary paper than possible with a netbook or tablet device. It also has longer battery life and is lightweight.

· Easy navigation – the device turns pages faster than competing products, and navigation is easy with an interactive touch screen and straightforward buttons. Users can search their library or add a bookmark with a tap of a stylus or skim an eBook with a touch of a thumb.

· Customized reading – users can enlarge or reduce text size and margin widths or select portrait or landscape mode to suit their preferences.

"The availability of new devices that empower consumers with the freedom to purchase content from a variety of sources will be a major driver to the success of the digital publishing market," says Allen Weiner, research vice president, Gartner. "Sleek devices with consumer-friendly features – including the capability to purchase content on the go – that support open eBook standards will introduce the eBook experience to an entirely new generation of readers. Publishers, who have been on the sidelines waiting for market maturity, will now be inspired to become eReader evangelists."

Pricing and availability

The IREX DR800SG with a leather cover will be available in October at select Best Buy locations. The device has an MSRP of $399.99. Wireless access to download content is included in the cost of the DR800SG and no contract is required.