iPhone X Plus vs Galaxy Note 9: In this fight, everybody wins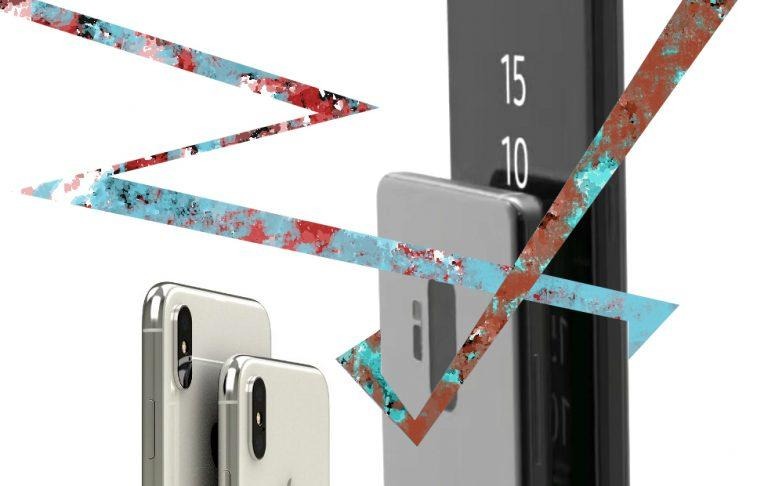 We're well out from the reveal and/or release of the next hero phones from Sasmung and Apple. But once we've moved past the last device in a brand line, there's no bad time to start hypothesizing about that'll come next. In this case, that means using the iPhone X (the first one), iPhone 8 Plus, Galaxy S9, Galaxy Note 8, and Galaxy S9 Plus to figure out what both companies might well be up against.
The chart you'll see below is made with a variety of elements, none of which are direct from Apple or Samsung. I want to be VERY CLEAR here: The following is an exercise in informed guesswork. We won't know what the final specifications are for either device until they're revealed by their makers.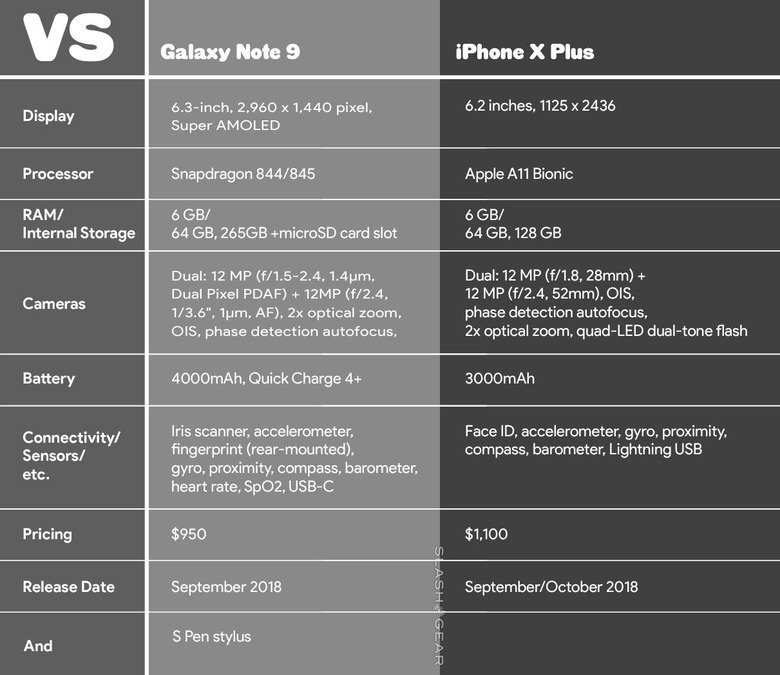 On that same note: Samsung's not been particularly secretive about hiding their next Galaxy Note's name. It'd be shocking to find Samsung NOT release a Galaxy Note 9 this late Summer. We're slightly less sure about the expected "iPhone X Plus." That'd be a bit more of a surprise – but also a welcome one.
The iPhone X Plus renderings here come from Martin Haijek on Twitter. You'll find the Galaxy Note 9 images in a SlashGear post from earlier this month. The designer in that case was DBS Designing.
What's Expected
Word on the street is that Apple's "notch" is evolving. Because of the hardware required to sense various elements – and the camera up there – they've opted for a notch on the first iPhone X. But because of the ever-evolving nature of the beast, the iPhone X Plus could have an ever-so-slightly different notch shape and/or size.
The Galaxy Note 9 probably won't have a whole lot of surprises up its sleeve. Compared to the iPhone X, the iPhone X Plus won't seem too daring. Compared to the Galaxy Note 8, the Galaxy Note 9 won't blow your eyeballs out of your head. Not for lack of quality, but for lack of any major surprises in delivery.
We can safely expect that the Galaxy Note 9 will have a curved-edge display. The Galaxy S9 and Galaxy S9 Plus have curved display edges, like their predecessors. The Galaxy Note phone series has followed along with the specs of their Galaxy S partner series for the past several years, without fail.
What I'd like to see
I'd like to see a flip-flop between these two units. I don't expect it to happen, but imagine Android in the iPhone X, complete with the full collection of high-end sensors and a relatively generous camera array at its back. That'd be kinda neat, I suppose.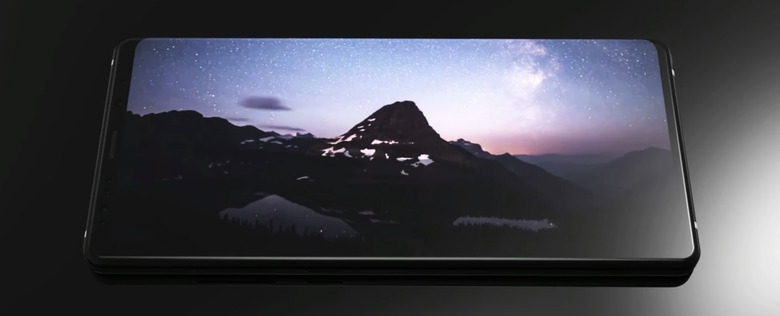 The Galaxy Note 9 with iOS inside – that's a combination I'd like to see happen. It'd basically be an iPad mini with Apple Pencil capabilities – but the Apple Pencil would be a bit smaller. As someone who uses an Apple Pencil and an iPad several nights a week at least, I'm confident that having such a setup would be even more excellent available at all times of the day.
But what's an iPhone have that's good for an Apple Pencil? Nothing, really. All Apple Pencil-compliant apps are currently relegated to the iPad ecosystem. For now.
The Samsung Galaxy Note series brought the stylus to the modern world of mobile phones in a big way. Not line the past, where styli were used to peck and prod smart devices in a rudimentary way. Samsung made way for precision – and with the real-deal Galaxy Note 9, they'll undoubtedly give that world a re-up.
OK but when though
The iPhone X Plus will probably come around the same time as last year's iPhone X. That'd mean Apple would reveal the device in mid-September, 2018. The Galaxy Note 9 is more of a conundrum. It's been rumored that the Galaxy Note 9 will come earlier than the Galaxy Note 8. That'd mean earlier than mid-August – as mid-August was the timing for reveal for both the Galaxy Note 8 and Galaxy Note 7, with releases both in early September.