iPhone sales are now worth more than every other phone combined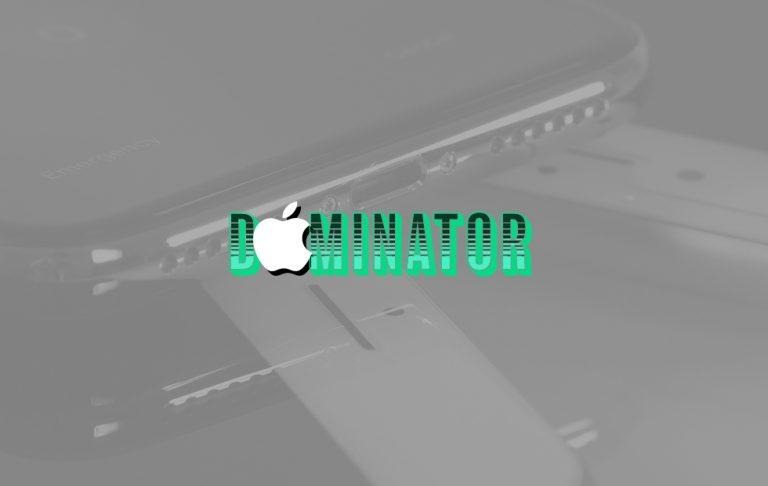 Apple took 51% of the revenue in the smartphone market in the fourth quarter of 2017. According to Strategy Analytics, Apple dominated the market, accounting for the most massive revenue in smartphone sales compared to every other company, worldwide. Much like Apple's reports of its own sales, the number of units sold is going down at the same time as revenue is going up – industry-wide.
In addition to Apple now commanding the smartphone market's overall revenue, they've out-performed every other company individually. The next closest competitor was Samsung, a company whose smartphone sales revenue was less than one third that of Apple's. Apple's smartphone revenue was seven times that of Huawei.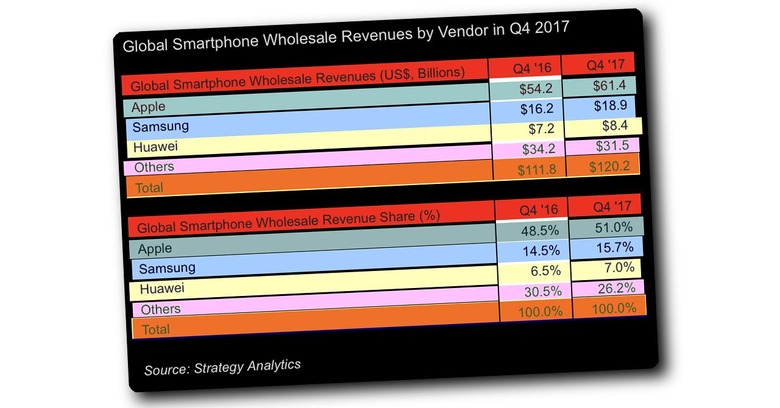 "We estimate Apple iPhone captured a record 51 percent share of all smartphone wholesale revenues worldwide in Q4 2017. Apple iPhone generated a huge US$61 billion in the quarter, helped by solid demand for its premium X model, and Apple now accounts for more revenue than the rest of the entire global smartphone industry combined," said Neil Mawston, Executive Director at Strategy Analytics, "Apple iPhone's average selling price is approaching US$800 and almost three times higher than the overall industry average."
In the study conducted by Strategy Analytics, a new all-time high of US$120 billion in wholesale revenue was made by smartphone companies around the world in Q4 2017. Average wholesale selling price for the smartphone industry as a whole went up 18% annually, from $255 in Q4 2016 to $300 in Q4 2017.
Samsung smartphone wholesale revenue also went up at a double-digit rate year-over-year. Q4 2017 brought Samsung a 16% increase over last year this same quarter. That's $16.2 billion to $18.9 billion in Q4 2016 and Q4 2017 respectively. Samsung's wholesale average selling price grew 21% y-o-y to reach $254 in Q4 2017.
Smartphone Wholesale Average Selling Price Q4 2017:
• All brands worldwide: US $300
• Huawei: US $205
• Samsung: US $254
• Apple: US $794
Huawei was 3rd in the study conducted by Strategy Analytics. Huawei brought in less than half the smartphone wholesale revenue made by Samsung at $8.4 billion USD. "If Huawei wants to grow its worldwide pricing and revenues even higher in the future, the company will need to grab additional marketshare in the high-value United States market," said Woody Oh, Director at Strategy Analytics.
Unfortunate for Huawei, the United States government's private intelligence community seems to be strongly against the idea that the China-based brand expand any further in the states. The leaders of the FBI, CIA, and NSA have all called Huawei (and ZTE) out for potential spying. Huawei's in the midst of a smartphone war, and they've got Samsung, Apple, and the United States government on the other side of the field.
In other words, Samsung and Apple are doing exceedingly well, and there's basically no chance anyone else will catch up. For the foreseeable future.