iPhone pips Motorola and HTC in smartphone satisfaction survey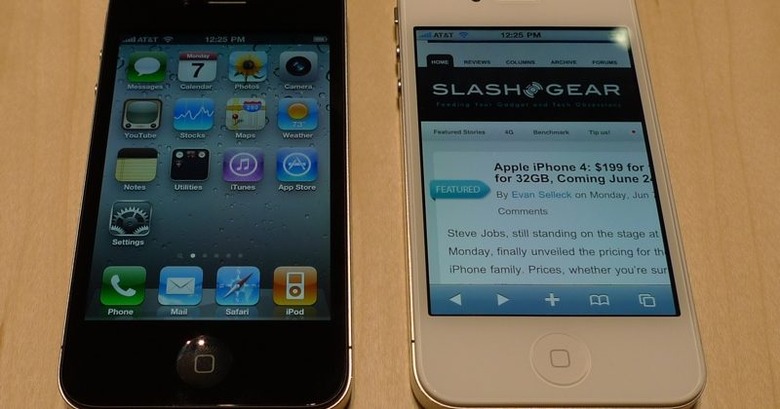 Another day, another plaudit for the iPhone, and after Apple proved itself top of the pile for computing satisfaction they've now done the same thing among smartphones.  J.D. Power has published its latest Smartphone Customer Satisfaction Study, polling users in the US and finding that – for the fourth consecutive time – the iPhone ranks highest.
In fact, the Apple handset scored 800 out of 1,000 across J.D. Power's five different categories, with particularly strong scores in ease of operation, operating system, features and physical design (the final category is battery function, suggesting people are still not entirely happy with how long their smartphones last).  Nipping at their heels are Motorola, who scored 791 and took second place, and HTC with 781.
The research also found that subscribers are holding onto their handsets for longer periods, with the average length of time now up to 20.5 months on average (a 17-percent increase on 2009).  Early-termination fees, potentially higher subscription costs and the general economic downturn are all blamed for the increase.
Press Release:
J.D. Power and Associates Reports:

Average Length of Time Wireless Customers Keep Their Mobile Phones Increases Notably

Apple Ranks Highest in Customer Satisfaction among Smartphone Manufacturers,

While LG Ranks Highest among Traditional Mobile Phone Manufacturers

WESTLAKE VILLAGE, Calif.: 23 September 2010 — The average reported length of time customers keep their traditional wireless cell phone has increased by 17 percent from 2009, according to the J.D. Power and Associates 2010 U.S. Wireless Smartphone Customer Satisfaction Study—Volume 2 and the 2010 U.S. Wireless Traditional Mobile Phone Satisfaction StudySM—Volume 2 released today.

The study finds that customers are keeping their traditional mobile devices for an average of 20.5 months, which marks the longest period of time since the study's inception in 1999, when the average was 17.3 months. The current level of ownership tenure does differ by manufacturer brand, with the highest reported ownership tenure at an average of 27.8 months, and the lowest at 17.5 months.

"One possible reason for the significant increase in the length of mobile phone ownership is that more customers are delaying an upgrade purchase due to the general economic downturn, in which the expense of purchasing a new device could outweigh the added benefit of owning it," said Kirk Parsons, senior director of wireless services at J.D. Power and Associates. "Typically, when upgrading to a new cell phone, there's the added expense of either subscribing to a more expensive service plan and/or incurring termination fees when switching service providers. Today, consumers are really watching their wallets, and any added discretionary expenses are being considered more thoughtfully than in the past."

Contributing to this economic sensitivity are higher customer-reported monthly bill amounts, which have increased steadily during the past several years. The study finds the average reported monthly wireless bill is $78 in 2010, including federal and industry service taxes and fees, compared with $69 just three years ago. The increase is mainly due to the addition of data-related services, increases in usage activity such as text messaging, and added fees and taxes.

"It's clear that there has been an increase in new service offerings during the past several years and that customers are using these services with greater regularity," said Parsons. "The fact remains that in today's economic climate, wireless providers and device manufacturers need to be sensitive to the mindsets of customers and provide added value where possible in order to drive future business and loyalty."

These two studies measure customer satisfaction with traditional wireless handsets and smartphones across several key factors among owners who have used their current mobile phone for less than two years. In order of importance, the key factors of overall satisfaction with traditional wireless handsets are: operation (30%); physical design (30%); features (20%); and battery function (20%). For smartphones, the key factors are: ease of operation (26%); operating system (24%); physical design (23%); features (19%); and battery function (8%).

For a fourth consecutive time, Apple ranks highest in customer satisfaction among manufacturers of smartphones with a score of 800 on a 1,000-point scale, and performs particularly well in ease of operation, operating system, features and physical design. Motorola (791) and HTC (781) follow Apple in the rankings.

LG ranks highest in overall wireless customer satisfaction with traditional handsets for a fourth consecutive time with a score of 731. LG performs well in all four factors, particularly physical design, features and operation. Sanyo (712) and Samsung (709) follow LG in the rankings.

The studies also find the following key wireless handset usage patterns:

The average price of a traditional wireless mobile phone has declined to $76 in 2010 from an average of $81 at the beginning of 2009. The decline is primarily due to discounts given by handset providers and wireless service carriers to incentivize sales. Currently, 42 percent of customers report having received a free mobile phone when subscribing to a wireless service.

Mobile applications continue to enhance the smartphone user experience. More than two-thirds of users say they download third-party games, while 54 percent say they download travel software, such as maps and weather applications. Forty-one percent say they download utility applications, while 36 percent say they download business-specific programs. This indicates that smartphone owners are continuing to integrate their device usage into both their business and personal lives.

The study also examines operating systems commonly used in wireless smartphones. Among operating systems measured, the Android operating platform (supported by Google); the Apple operating system used in iPhone devices; and Palm's Web OS platform perform particularly well.

The 2010 U.S. Wireless Smartphone Customer Satisfaction Study—Volume 2 and the 2010 U.S. Wireless Traditional Mobile Phone Evaluation Study—Volume 2 are based on experiences reported by 11,803 traditional mobile phone and 6,821 smartphone owners. The studies were fielded between January and June 2010.