iPhone OS 3.0 confirmed for June 17th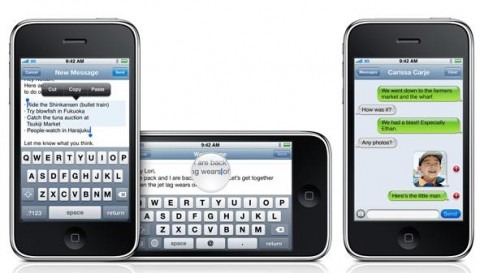 If the prospect of an iPhone 3G S doesn't appeal, and you're quite happy with your iPhone 3G or iPod touch, you'll be pleased to hear that as of June 17th iPhone OS 3.0 will be available.  Apple demonstrated the new software update today at their WWDC 2009 keynote, and while much of it was a rework of the original OS 3.0 launch, there were a couple of surprises (plus upgrade costs).  Headline features include tethering, "Find My iPhone" and speedier Mobile Safari.
Tethering means that iPhone owners will be able to connect their handset up to their PC or Mac and use its 3G connection to get online.  Both Bluetooth and USB hook-ups will be supported, and no specific software is needed.  According to Apple, 22 carriers have announced support for tethering as of OS 3.0's June 17th release, though frustratingly AT&T does not appear to be one of them.
Find My iPhone is a location service available to MobileMe subscribers, and allows a lost or misplaced iPhone to be tracked by GPS.  It can then be instructed to make a noise – even when set to silent – or display an on-screen message; if properly lost, not just misplaced, the iPhone can be remotely wiped.
As for Safari, that gets 3x faster JavaScript and the same HTTP audio and video streaming as in QuickTime X.  Autofill uses contacts information and stored passwords to fill in forms, and there's also HTML 5 support including video and audio tags. 
Apple also announced that iPhone users will be able to rent and purchase movies on their handset, together with audiobooks, and download them across the 3G network.  iPhone OS 3.0 will be a free upgrade to original and 3G iPhone owners, while iPod touch owners will be charged $9.95 for the upgrade.