Apple iPhone OS 3.0: copy & paste, Spotlight, A2DP, MMS & more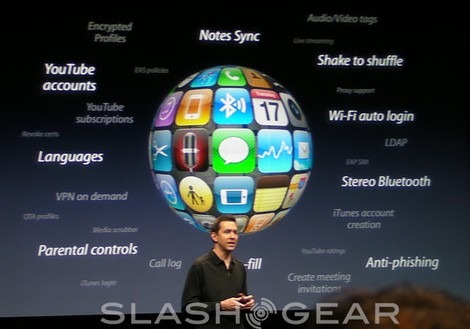 Apple have announced a whole bundle of new features for iPhone OS 3.0, and with it addressed many of the ongoing complaints users had.  Key changes include cut, copy & paste functionality, stereo Bluetooth A2DP support, the ability to send and receive MMS messages and a new, universal Spotlight search. 
There's also the ability to forward or delete individual SMS or MMS messages, and tethering support has been added; the latter will require some cooperation from carriers, however.  Cut, copy & paste works in every major app, including third-party software: a double-tap selects a word, then grab-handles can be used to expand the selection.  Pop-up buttons control cut, copy and paste, and you can shake the handset to undo or redo any action.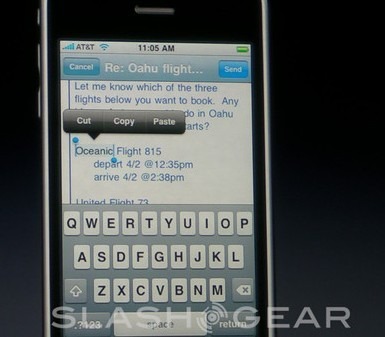 In addition, the iPhone Mail app is getting support for sending multiple photos simultaneously – they can be selected in the Photo gallery and then pasted into the message.  As for Spotlight, that lives in a new menu which is accessed by flicking to the left from your first homescreen page; searches are across contacts, mail metadata (to/from/subject/header, though not body text, first locally and then on the mail server), audio/video media and calendars.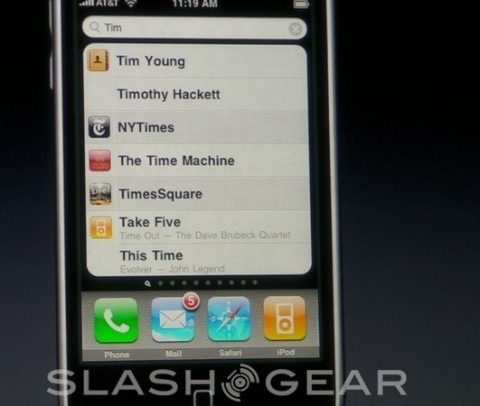 There are also new applications and tweaks to existing Apple software.  Voice Memos allows you to use the onboard microphone or an external mic to record sound files.  Stocks now has improved data and news stories, plus a landscape orientation view.  Speaking of landscape, the keyboard is now available in landscape orientation across all "major apps".  Mobile Safari gets a password manager and form auto-fill, together with new phishing protection, while Calendar gains support for the CalDAV format (as used by Google and Yahoo!) and .ics subscriptions.  Notes can by synchronized via iTunes to a Mac or PC, and there's newly added YouTube account support with favorites, sharing and subscriptions.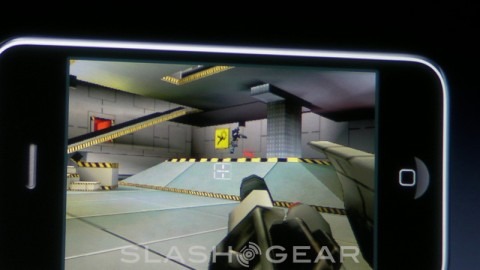 Developers get the bulk of the changes, however, with in excess of 1,000 new APIs that include access to the iPod media library, Google Maps API (including turn-by-turn direction support, though only if the developer brings their own mapping data), Bonjour over Bluetooth for peer-to-peer transfers between iPhones and the iPod touch 2G (the Bluetooth of which will be unlocked with OS 3.0) and the long-awaited Push Notification system.  This remains in place instead of background processes, which according to Apple are simply too battery-demanding.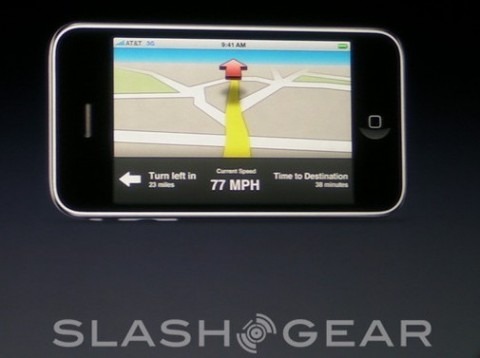 The App Store is being rolled out to all 77 countries the iPhone 3G is available in (16 more as of today's announcement), and will include In-App Purchase support whereby new features, game elements and media can be bought via a pop-up menu within the software.  Apple brought various developers on-stage during the event to demonstrate this, including gaming with new weapons available to buy.  Developers will also be able to link up to accessories and peripherals, either via the dock connector or Bluetooth, and Apple have allowed in-app streaming video and audio, together with in-game voice chat. 
Developers will have access to the OS 3.0 developer beta from today, and Apple are encouraging them to begin testing immediately.  Consumers, meanwhile, will have to wait until the Summer for iPhone OS 3.0, when it will be a free update to iPhone 3G and iPhone owners (although the latter won't get Bluetooth A2DP or MMS support) and a $9.95 update for iPod touch owners.
Full gallery of shots from the iPhone OS 3.0 event today here.