iPhone OS 3.0 allows Skype over 3G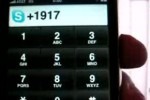 While an official Skype client for the iPhone was a welcome announcement, the news that carriers' and Apple's Terms of Service prevented VoIP calls being made over 3G connections put a dampener on things.  Now it seems that Skype running on handsets using iPhone OS 3.0 is able to use a 3G link for voice calls, in addition to WiFi.
Video demo after the cut
As standard, only WiFi connections should be available for Skype calls.  It's unclear what in OS 3.0 is confusing the software, but right now people aren't complaining.
Skype for iPhone is available to download now through the Apple App Store.  It's a free app, although calls from Skype to landlines will require loading some credit first.