iPhone manufacturer Foxconn reveals plans to fully automate factories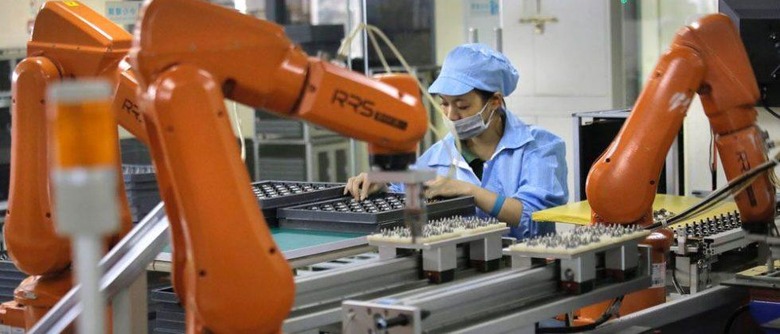 Taiwan's Foxconn, the electronics manufacturing giant that builds Apple's iPhone along with dozens of other devices, has recently revealed its plans to eventually replace all the human workers in its Chinese factories with automated robots. This goal is to be accomplished over three phases, with 40,000 robots already in place on production lines, and a reduction of over half the company's workforce since the release of the iPhone 6 in 2014.
Speaking to DigiTimes, Dai Jia-peng, the general manager of Foxconn's Automation Technology Development Committee, explains that the first phase involves the use of robots at individual workstations, completing tasks that are too dangerous or the most unpleasant for human workers. The second phase, on the other hand, involves a reduction in the use of robots as individual replacements, instead using fully automated production lines.
Eventually this will lead to phase three, which will see not just production lines but entire factories automated, with "only a minimal number" of human workers for tasks including logistics, testing and inspection.
Foxconn's factories in Chengdu, Shenzhen, and Zhengzhou are already at various steps in phases two and three, with up to 10 fully automated production lines in operation across different locations.
It's obvious this could become a real hurdle to Donald Trump's promise of getting Apple to move its product manufacturing to the US, but the gradual elimination of human workers at factories that employ almost entire cities could be detrimental to the economies and livelihoods of local Chinese areas.
SOURCE DigiTimes