iPhone buyers younger than Samsung users CIRP research finds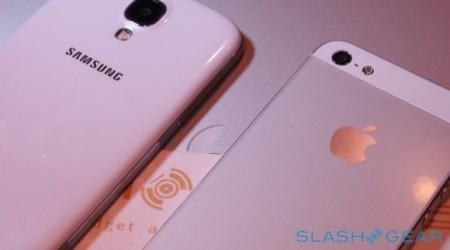 iPhone buyers are generally younger than Samsung smartphone buyers, new research indicates, though Samsung gets a greater proportion of the dumbphone-upgrade market than Apple does. Perhaps unsurprisingly, buyers of both brands are quick to upgrade to new handsets, according to a survey by Consumer Intelligence Research Partners (CIRP) provided to SlashGear, but the route by which they find themselves either with an iPhone or a Galaxy varies considerably.
For instance, according to the survey, those who buy Samsung smartphones predominantly come from either other Android handsets or "basic phones", CIRP says. 37-percent upgrade to a Samsung smartphone from an older dumbphone, versus just 26-percent upgrading in similar circumstances to an iPhone.

43-percent of Samsung buyers already use Android – though not necessarily on a Samsung device – while 42-percent of iPhone buyers already use iOS. Cross-platform switching is more common from Android to iOS, however, with 20-percent of iPhone buyers having previously had an Android device, versus 7-percent of Samsung's customers previously using iOS.

Loyalty to the brand is higher for Apple – at 42-percent – than Samsung – at 38-percent. Interestingly, almost all of Apple's Android converters come from Samsung phones: 19-percent of iPhone buyers previously used a device from the South Korean firm, rather than any other Android OEM.

Although there have been some suggestions that iPhone owners are typically older than their Android-using counterparts, CIRP's survey does not bear that out. In fact, the team there found that Apple buyers are a little younger – 69-percent between 18-34, versus 64-percent of Samsung buyers – in addition to being slightly better paid and slightly better educated.
CIRP's research, first reported by Fortune, surveyed smartphone buyers across four quarters from July 2012 to June 2013, each of which consisted of 500 subjects who had purchased a phone within the past 90 days.
Of course, any survey of this sort is limited by virtue of those it questions, and the state of the smartphone market at the time. For instance, according to recent IDC research, Android has comfortably taken the lead in the mobile OS stakes; still, the firm pointed out, that balance could well shift significantly with the arrival of iOS 7 and the upcoming iPhone 5S and budget-minded iPhone 5C.