Android extends smartphone OS lead but iOS could surge again says IDC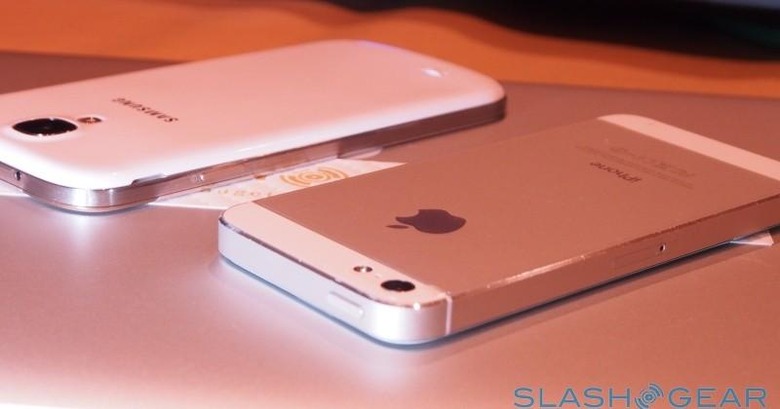 Android has extended its market share lead over iOS while Windows Phone continues to pull ahead of BlackBerry, new smartphone OS numbers from IDC suggest, though the incoming iPhone 5S is tipped to rejuvenate Apple's appeal. Shipments of Android, iOS, and Windows Phone devices were all up in Q2 2013 compared to the same period a year ago, IDC says, but despite the extra iPhone sales, Android still rose from 69.1-percent of the market in 2012 to 79.3-percent this year. However, IDC warns, that shouldn't be an excuse for Google and its OEM partners to rest on their laurels.
Instead, as mobile phone research manager Ramon Llamas points out, the yearly refresh pattern Apple generally sticks to with its smartphone means a trough before a new model is expected. "The iOS decline in the second quarter aligns with the cyclicality of iPhone," he highlights, arguing that "Apple is well-positioned to re-capture market share" with the upcoming "iPhone 5S" and the release of iOS 7.
Even so, Android's lead is impressive. Samsung, LG, Huawei, Lenovo, and ZTE all recorded double-digit shipment volumes in the millions, IDC says, and together accounted for 62.5-percent of all Android phone shipments in the three month period. Samsung still dominates, however, though its market share dipped from 44.4-percent in Q2 2012 to 39.1-percent in Q2 2013 after strong sales from LG and others.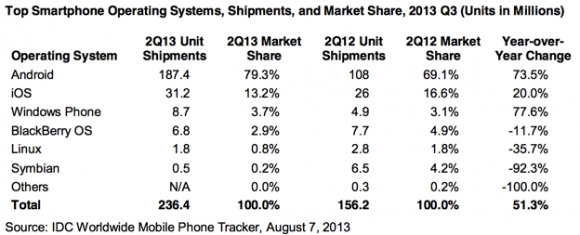 In Windows Phone, it's continued good news, though the OS still lags significantly behind its main rivals. Now holding the third place position, with 3.7-percent of the worldwide market versus BlackBerry's 2.9-percent, it's unsurprisingly Nokia which commands the lion's share of sales, responsible for 81.6-percent of all Windows Phones shipped.

For BlackBerry, it's too early to tell what effect BlackBerry 10 might be having, though IDC predicts it will be a tough journey requiring plenty of investment "to evangelize more end users." Market share for the Canadian OS overall – including BlackBerry 10 and previous versions – dropped two points from 4.9-percent a year ago.
Overall, 236.4m smartphones shipped in the period between April and June, an increase of more than half from the same period in 2012. Q2 shipments rose 9.3-percent over the opening quarter of this year.