iPhone 7 Release Level Leak Is Apple's Biggest Yet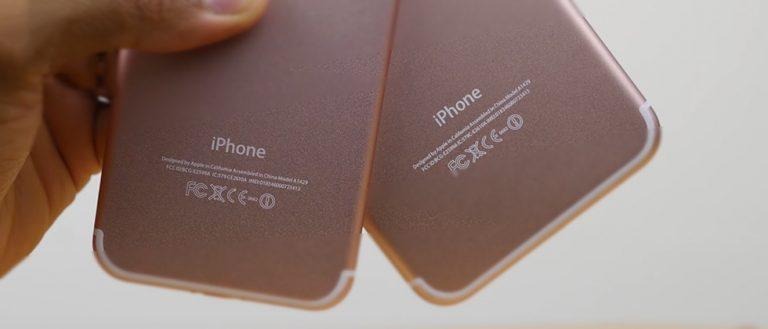 The biggest leak of the iPhone 7 appears this week in a hands-on and first impressions video from the UK. Both the iPhone 7 and the iPhone 7 Plus appear to be here side-by-side, both in Rose Gold to boot. This is just one of a set of hands-on videos – there's also a comparison between the iPhone 6s and the iPhone 7 as it exists in prototype stage hardware. While these products may look like final release-day hardware, there's know knowing for certain before that release day actually comes.
The first video you're going to see shows two prototypes. Filming this video is SuperSaf TV from the UK – they have no illusions about these being prototypes, and say as much throughout the video. What's important here is SuperSaf TV's link to Sonny Dickson, notorious leakster of Apple products and one that's been relatively on-point for the past several years.
Notice the distinctive lack of "Smart Connector" on this iPhone 7 Plus. Previous leaks suggested that such a connector would be in place on this device rather than on the supposed iPhone 7 Pro (or just iPhone Pro) rumored for release inside 2017. That'd be the 10th anniversary of the release of the original iPhone, and a perfect place to put such a monster.
Both of the devices above are Rose Gold – or a reasonable facsimile as such. Next you're going to see SuperSaf TV use another prototype to compare to the iPhone 6s. This comparison should give you an OK idea of what the upgrade may be like.
Specifications for the iPhone 6s are here – as the phone's been out for a while. Below you'll see the specs for the iPhone 6s, then the rumored specs for the iPhone 7.
iPhone 6s Specifications
• Display: 4.7-inch 1334 x 750 pixel LED backlit 3D
• CPU and RAM: Apple A9 processor, 2GB RAM
• Storage: 16, 64, and 128GB
• Front Camera: 5MP
• Rear Camera: 12MP, 4K video recording
• Ports: headphone jack, Lightning port
iPhone 7 Specifications (rumored)
• Display: 4.7-inch 2K display (probably not quite that sharp)
• CPU and RAM: Apple A10 processor, 3GB RAM
• Storage: 32, 64, and 128GB
• Front Camera: 5MP with wider angle lens than 6s
• Rear Camera: 12MP, 4K video recording, OIS, improved image processing
• Ports: Lightning Port (that's it)
ALSO SEE: iPhone 7 detailed in black, looks gorgeous
You'll notice that the display is said to get a fairly large upgrade – though that's probably the least likely change of all. Apple could well just stick with the display they have now and they'd still sell millions of units.
The processor will have to get a bit more powerful – a next-generation A10 chip, with another GB of RAM for good measure. Internal storage sizes likely won't change, and the frontside camera will likely stay similar, but get a bit wider a lens.
The back-facing camera will also likely remain a similar size (megapixels) but will have optical image stabilization and improved image processing with the new A10 chip. The headphone jack will be axed – more than likely.
Stick around SlashGear's @SlashGearApple Twitter portal for Apple content exclusively. There you'll find tips, news, and leaks galore!