iPhone 7 (and iPhone Pro) in dark blue before WWDC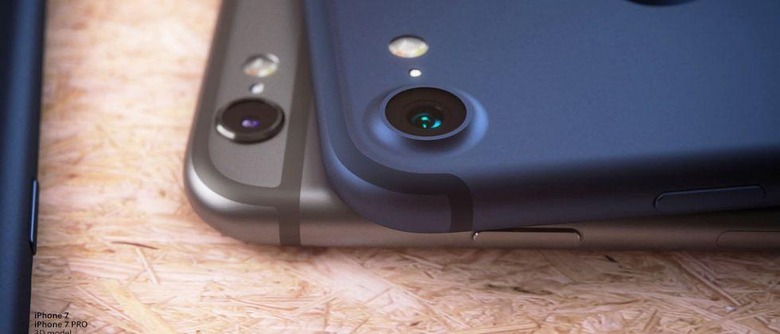 This morning a couple of images have popped up showing the iPhone 7 and iPhone 7 Pro in a fancy new Dark Blue color. These are renderings, of course – not that that in and of itself would discount them from being real. They're made by Martin Hajek, illustrator and 3D modeler, and artist notorious for making devices look real using schematics leaked before product launches. These dark blue-colored iPhones show basically what this same illustrator has shown before – but they're just so smokey smooth now.
According to recent rumors which we're not entirely sure of, a Dark Blue version of the iPhone is in order – right along with the OLED. And wireless charging. And everything else on our wish list for an ideal do-everything phone.
Why Apple would ever do away with the Space Grey version of their devices, we cannot say.
But if they do, we'll be OK with Blue.
Look at that subtle change in tone around the edges of the antenna. Behold the slightly shinier surface in the backside FCC writing and iPhone logos.
SEE TOO: Apple's road to iPhone 7 Pro
Then there's the Smart Connector on the iPhone 7 Pro – or iPhone 7 Plus, whatever you'd like to call it. Imagine Apple releasing a device that's this dark with a part that's that light right near it's bottom. Has Hajek gone too far?
You'll also see images of the iPhone 7 concepts here next to a model of the iPhone 6s. This was also rendered by Hajek to show you what he imagines this Dark Blue color would look like next to the Space Grey that's already out on the market.
We didn't expect Apple's move to Rose Gold would be so super pink, either, so who's to say? Maybe the company will start releasing phones in a tangerine tone as well?
Until then we've still got the iPhone 5c. Or I suppose you do if you head to eBay. Let us know if you'd like the iPhone 7 to come in rainbow flavors.
You can see more Hajek through his CGTrader profile or in our iPhone 7 timeline below.