iPhone 6 reportedly leaks with curvy case
The iPhone 6 has reportedly been sighted months ahead of launch, with a purported insider at manufacturing partner Foxconn sharing shots of what's said to be a testing station for the new iOS smartphone. The leak, if legitimate, shows both a handset in a testing rig and 3D graphics of the supposed design, as well as what could be new sensors build into the body.
Details of the device are in short supply, with the Weibo user sharing them only dropping the three pictures. It wouldn't be the first time that a production partner had inadvertently spoiled a big launch surprise, however, though it can cost employees their jobs if discovered.
Chatter over recent weeks has centered on claims that Apple is trying to make the iPhone 6 even thinner than the current iPhone 5s, though faces some design headaches in that. For instance, the camera may be too large to fit flush as it does today; indeed, in one of the leaked images, a slightly protruding lens is visible.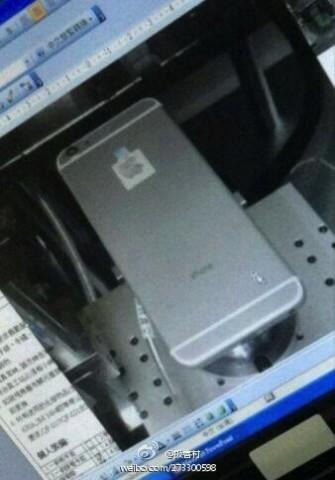 Meanwhile, there's a highlighted spot on the lower right corner of the rear panel, the annotation for which is unclear. That could prove to be a pulse sensor, given Apple is believed to be focusing significantly on health and fitness in both iOS 8 and its upcoming hardware ranges. The well-rumored "iWatch" wearable, for instance, is believed to include sensors to track heart rate and more.
The overall design is more curvaceous than the crisp-edged iPhone 5s and iPhone 5, potentially to make it more comfortable to hold if Apple does use a larger display.
Finally, there are more pronounced plastic lines on the back, which could mark a shifting of the antennas from the edges – where Apple moved them from the iPhone 4 onward – to the back of the handset.
There are likely to be plenty more leaks in-between now and the expected summer reveal of the iPhone 6, with particular attention being paid to how large the screen is.
Although Apple increased it to 4-inches with the iPhone 5, the smartphone is still significantly smaller in display real-estate than the popular Android devices, something which some have suggested my hinder future growth unless Apple addresses it.
More iPhone and iPad news, reviews, and rumors in the SlashGear Apple Hub
VIA GforGames
SOURCE Weibo