iPhone 6 "prototype" reappears as "unfinished" model, now sold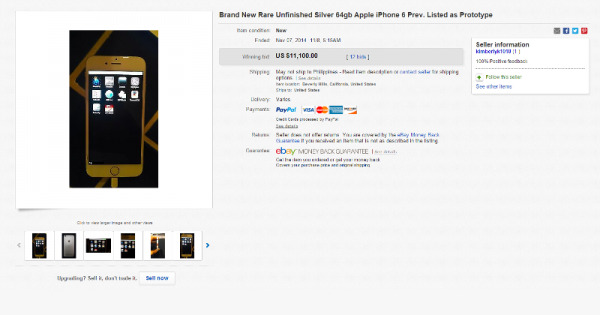 Talk about strange. An iPhone 6 that was once billed as a prototype has reappeared on eBay and, unlike that attempt, this one actually got sold. What was different this time, you may ask. Simply the fact that the owner this time around called the device an "unfinished" model of an iPhone 6 rather than a scary sounding prototype that was leaked out. Perhaps that subtle change was what turned it into a success. Or perhaps it was the claim that Apple was the one that verified it.
Early last month, an iPhone 6 "prototype" was being auctioned off at eBay. Considering the amount of hype and madness surrounding Apple's products, it was only natural that some would look at it with suspicion. The owner's story is that the model was sent to him/her, probably by mistake, when Verizon upgraded the account. The phone didn't run iOS 8, had a red charging port, and no FCC labels. Needless to say, the auction ended with no buyer in sight.
This time around, the owner has added some new pieces to the story and this time calls it an "unfinished model" instead. According to the owner, Apple itself verified that it was a model that actually when through manufacturing but was never completed. As such, it has some apps that do not come with the released device, which might be of interest to certain types of Apple fans. Of course, the fact that it doesn't run iOS 8 might also discourage some Apple fans.
The owner says that Apple has offered to trade the unfinished product of choice, whether it be an iPhone 6 or an iPhone 6 Plus. Of course, he or she might have preferred to get something even more, and patience and persistence didn't leave him/her empty handed. The device was sold for a not insignificant amount of $11,100.
SOURCE: eBay