iPhone 5S in Graphite Gray compared to iPhone 5 side-by-side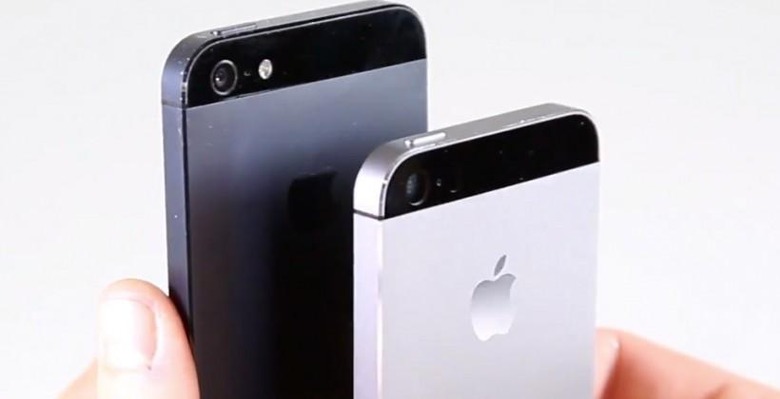 Just days before the official Apple event sure to bring on a collection of colorful iPhone products to the public in Cupertino California, a video has been ushered in with an up-close look at what it'll mean to switch from an iPhone 5 up to an iPhone 5S. The product you're seeing here comes from the folks at USwitch where they've taken the time to assemble a collection of "official" replacement parts from repair shops sitting well upstream in various parts of what we must assume to be China. The result is a Frankenstein's Monster of efforts, putting together a white iPhone 5S front, a Graphite iPhone 5S back, and a distinct lack of innards.
What you're seeing here is an amalgamation of efforts. We've seen the top and bottom backside panels before, we've seen the main back panel in several colors – white, gray, and gold, and we've seen the front display panel as well. What this video does is serve as a rather clear side-by-side vision of the current iPhone as compared to the next generation. As you can see, the differences are few.
What you'll find on this next-generation model is every piece in is right place, exactly as it is on the iPhone 5, that is – save the back-facing flashbulb hole. There we're seeing – once again – a shape suggesting a dual-LED flash combo rather than a single shiner as we've seen in the past several generations. This could indeed also suggest that the camera technology inside the phone has been improved as well – there's no telling without Apple's own final detail release.
The back-facing main panel is also significantly lighter than the black iPhone 5. This could indicate a new tone sitting right in-between the current white and black tones offered in the iPhone 5, and rings true with recent rumors of a so-called "Gunmetal" set of parts appearing in parts stores upstream.
This iPhone 5S device is set to be revealed – more than likely – at an Apple event taking place on the 10th of September. You can bet that SlashGear will be there in person to capture the whole event, start to finish, to show everything and anything Apple has to offer. Stick around in SlashGear's Apple portal straight through till then!
UPDATE: Up-close photos incoming. Keep your eyes on the gallery belowi – thanks Jonathan!