iPhone 5S And 5C Appear Confirmed By X-Doria Accessories

It would appear that the folks at accessory makers X-Doria have let the cat out of the bag a bit early with cases for the iPhone 5S and iPhone 5C. While it's possible that these cases were made with early models of these devices in-hand, it's a bit more of a push for reality when an accessory maker commits actual plastic to the idea that these devices are ready to be revealed. They've also committed to the idea that "iPhone 5S" and "iPhone 5C" as the final names of the two devices.
What we can see from these cases is – what appears to be – confirmation of what we suspected in the first place. That is a very similar look for the iPhone 5S when compared to the iPhone 5, and a slightly more rounded set of edges for the iPhone 5C. It's expected that the iPhone 5S will be nearly identical to the iPhone 5, while the iPhone 5C will have a plastic back and a size – still – nearly the same as the iPhone 5.
Be sure to note that you'll be able to catch the whole line of Apple reveals today starting just before 10AM PST here on SlashGear. We'll be running our Apple event liveblog as well as providing news updates up-to-the-minute through our own Apple hub.

This release will be an exercise in keeping a solid single display out there in the public for the iPhone, after all – it's more about one-ness than it is about anything else. It's also about bringing color to the iPhone line before cases are added.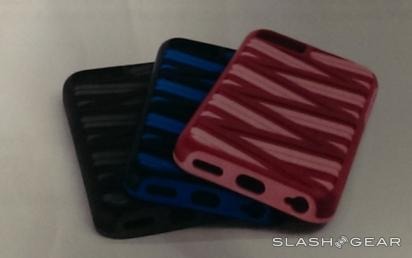 Of course that's not stopping case-makers: this release appears to bring on a collection of cases that will either accent or provide contrast to the iPhone in waves: blue, purple, and black are coming from X-Doria for the iPhone 5/5S while the iPhone 5C will be rolling with gray, red, blue, and yellow.