iPhone 5s A7 chip made by Samsung while NXP nabs the M7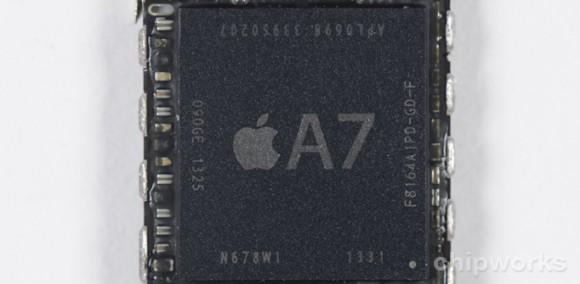 As the iPhone 5s hits the public, the innards begin to be torn down in turn by the likes of parts groups and repair shops the world over. Today the folks at Chipworks and ifixit have confirmed a set of hardware manufacturers that are, indeed, behind Apple's next-generation processor architecture. What they've discovered thus far is two key companies: Samsung made the A7 chip while the M7 motion coprocessor was made by NXP.
For the M7 motion coprocessor, it's been discovered that the NXP LPC18A1 is sitting pretty inside the iPhone 5s. This piece of processing architecture is part of the NXP LPC1800 series, one of a set of Cortx-M3 based microcontrollers. This part is aimed at translating and processing inputs from each of the iPhone 5s's various sensors. These sensors include the electron magnetic compass, gyroscope, and accelerometer.
For the Apple A7 chip you've got a 64-bit SoC of the ARM variety. While the process type and node are not yet known, Chipworks confirms that the A7 chip itself was "fabricated at Samsung's Foundry." Interestingly enough, the team also suggests that they're expecting (aka have not yet confirmed) that they'll find Samsung's 28 nm Hi K metal Gate (HKMG) being used here. This is the same process in the Samsung Exynos processor present in the Samsung Galaxy S 4.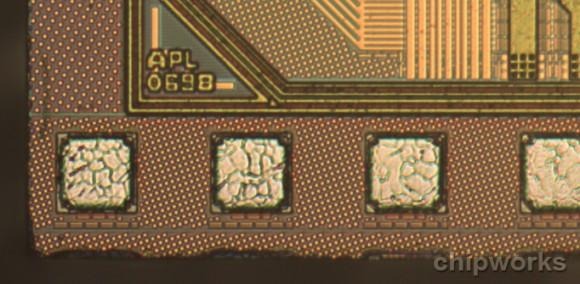 Meanwhile you can catch the full processing abilities of the A7 chip in real-life tests in our iPhone 5s review. You'll want to watch this processor combo – A7 with the M7, that is – to see how it continues to affect everyday processing in the wild. It's here that Apple suggests it'll be bringing a new set of low-power processing abilities to the iOS universe, and we expect that this architecture combo will expand well beyond this single handset in the near future.