iPhone 5 vs Galaxy S4 early adopter: Devil's in the details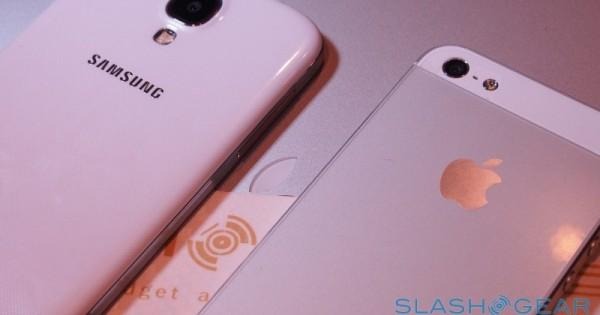 The battle between Samsung's Galaxy smartphone line and the Apple iPhone rages on. The folks behind the ad group Chitika have released a new study which incorporates several angles centering on the web traffic of iOS and Android devices. More specifically, today we're looking at the web traffic generated by the Samsung Galaxy S4 and the Apple iPhone 5 in the months after they were first released last year (and the year before that).
For the numbers you're looking at here, mind you, we're looking not at sales of phones, nor at shipments of phones. Instead we're looking at web traffic. This means we're looking at metrics based on smartphones accessing webpages through their mobile web browsers – and that's it.
To start, you've got to note that the Apple iPhone 5 was released all the way back on September 21st, 2012, while the Galaxy S4 was released on April 26th, 2013. These are completely different seasons, and they're released in completely different market climates.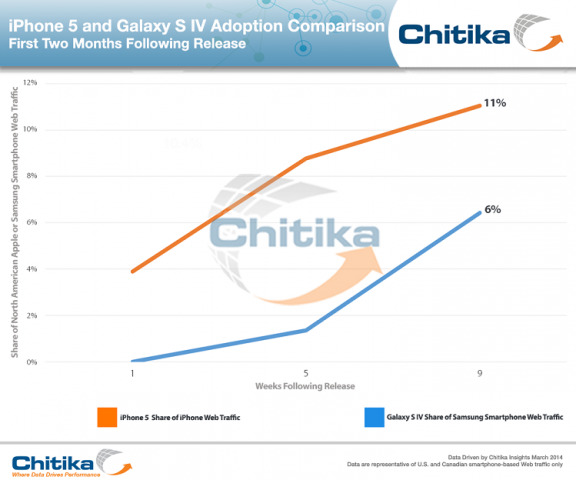 Above you're seeing, specifically, the web traffic of each phone INSIDE their own brand's web traffic total. So the percentages aren't of a larger smartphone total, but of the brand's total. So what you're seeing here is the iPhone 5's share of Apple's iPhone web traffic as a whole and the Galaxy S4's share of Samsung's smartphone web traffic as a whole.
So the comparison here is really how well each device does within its own brand, not exactly one up against the other. Unless both company's goal was to replace their older phones in the market with newer ones, of course.
Chitika also shows web traffic for both iOS and Android – though their chart mistakenly suggests that the blue line is just Samsung. We know these numbers represent iOS and Android, not iOS and Samsung, because we spoke with Chitika back in March when they first released the numbers shown at the start of this chart. Back then, iOS vs Android was a very similar battle.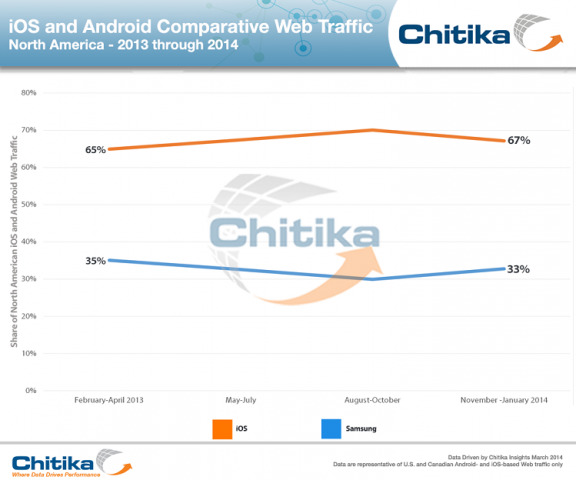 Since March 2013 (or the span between February and April, if you prefer), you'll find that Apple's mobile operating system took a bigger chunk out of the web traffic total, then fell once more – the opposite happening for Android, of course. Our most recent reading here shows Apple to have gained a couple of percentage points since March of 2013, while Android has gone down by two.
So what does this all tell you, the consumer? It suggests that mobile web traffic hasn't changed a lot over the past several months. It also suggests that both Samsung and Apple have customers that like to upgrade to their newest device when they arrive – not much else.