iPhone 5 priced at $199 with pre-orders starting September 14th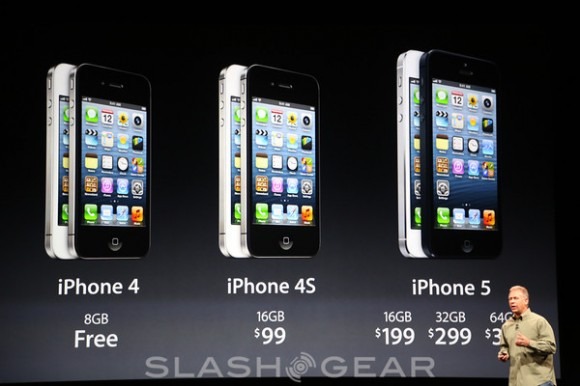 The iPhone 5 has been introduced today with prices that are exactly the same as the iPhone 4S while the iPhone 3GS is axed from the lineup and the iPhone 4 becomes a free device (on contract, of course.) The iPhone 4S was demoted today to the mid-tier of iPhone devices at the $99 price point while the iPhone 5 will be coming in 16, 32, and 64GB iterations for $199, $299, and $399 USD respectively. The iPhone 5 will be up for pre-orders on the 14th (that's this Friday) and will be shipping September 21st.
The iPhone 5 will be appearing in the United States, Canada, United Kingdom, France, Germany, Australia, Japan, Hong Kong, and Singapore first, with a major list of additional countries coming soon. This device will be appearing in 100 countries and on 240 carriers eventually, with additional countries from the first standard list coming on the 28th. You'll be able to pre-order from Apple.com starting this Friday.
Check out the rest of our iPhone 5 news today in the timeline below and through our big Apple portal – and let us know if you plan on purchasing this next-generation device now, later, or maybe even not at all! If you've got a past-generation device you'll also be getting a FREE upgrade to iOS 6, the company's next-generation software one way or another – wirelessly, too!