iPhone 5 iOS 6.1.4 update brings updated speakerphone audio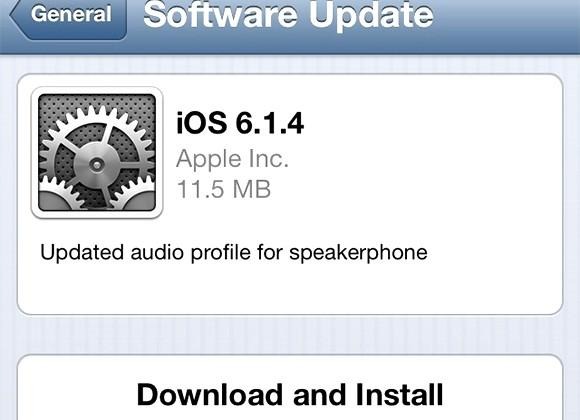 This afternoon a new build is on the way to what appears to be only iPhone 5 users with iOS 6.1.4. This update does very little outside of bringing on an updated audio profile for the user's speakerphone and weighs in at a generous 11.5 MB. This download is best made over wifi, and goes by the build number 10B350.
Though this update is a minor one, you'll want to initiate it as soon as possible. It's not unheard of that Apple will include minor security updates inside a software update directed at a single model device. Though we've got no official suggestion from Apple noting security specifically in this update, fixes for minor bugs have always been a part of software update pushes such as this.
The iPhone 5 has been tipped to be seeing iOS 7 before the end of the year, with the developer conference WWDC 2013 coming up quick. This developer conference, taking place at the Moscone Center in California as in years' past, will play host to not only a new iteration of Apple's mobile operating system, but will introduce a new edition of the desktop user interface as well.
With Jony Ive behind the wheel of the UI for Apple's future here in 2013, users will see what's been tipped to be a much more flattened-out set of graphics and an overall smoother experience. Have a peek at our Apple hub to follow the company into their developer conference WWDC 2013 June 10th through the 14th – we'll be there!