iPhone 5 full details official as device hits Apple Store online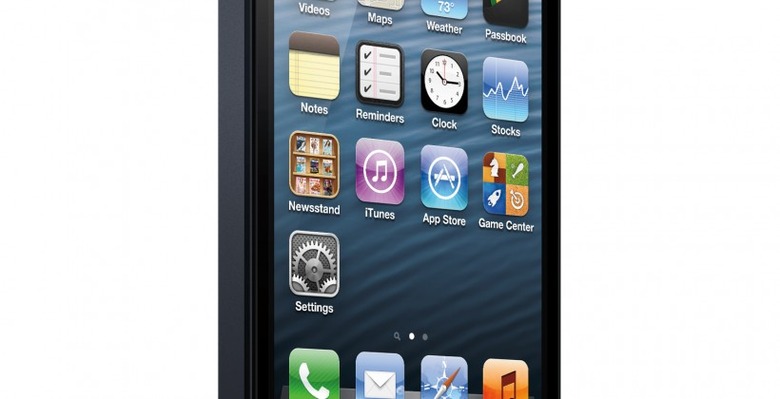 It's time to take a peek at the entirety of the iPhone 5's specifications, top to bottom, as the device hits the Apple Store online and we get our first full taste of Apple's new smartphone hero (be sure to have a look at our wrap-up of Apple's big event). This device is the thinnest and lightest iPhone yet with a 4-inch Retina quality display up front and a new A6 chip under the hood. The iPhone 5 works with 4G LTE on a variety of networks both here in the USA and abroad and works with what Apple calls Ultrafast wireless or "LTE. The right way." The iPhone 5 has a new set of earbuds called EarPods, a new dock connector called Lightning, and a boosted 8-megapixel "iSight" camera as well.
This device has an on/off sleep/wake button on top, a 3.5-mm stereo headphone jack at the bottom near two speaker grills and a Lightning connector. It's got three microphones for HD recording, and two buttons on the left, one for turning the volume up and one for turning it down. Of course, the iPhone 5 also comes running iOS 6, which boasts a number of improvement and new features, including Apple's new Maps app, Facebook and Passbook integration, and new Siri functionality (which includes support for additional languages). NOTE: Check out our full hands-on with the iPhone 5 soon in our Apple portal!
That A6 chip lends to "twice the CPU and graphics performance," and that 8-megapixel iSight camera on the back comes with a sapphire crystal lens that not only provides "a crystal clear" image, but is also more durable than standard glass. The iPhone 5 takes advantage of Apple-developed single-radio LTE, and also has dual-band 802.11n Wi-Fi support at its disposal. Even though the iPhone 5 comes with a brand new Lightning connector, users will be able to connect to legacy 30-pin devices through the use of a special adapter, so Apple has you covered there. On the front we also have a "FaceTime HD" 1.2-megapixel camera, capable of shooting in 720p.
So there you have it, the iPhone 5 is actually a thing and it's already taken up residence on the Apple's homepage. It'll go up for pre-order later this week on September 14, and then Apple is set to begin its worldwide roll out of the new phone on September 21. Like iPhones in the past, this one comes in three different flavors: 16GB for $199, 32GB for $299, and 64GB for $399 (with a two-year agreement of course). Tell us – are you picking up the iPhone 5 next week?