iPhone 4S unlocked option November in US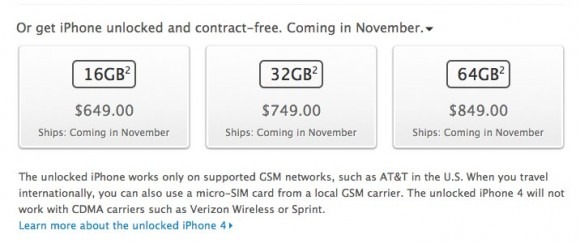 Apple US' pre-order page for the iPhone 4S has finally come online, offering not only would-be buyers a choice of AT&T, Sprint or Verizon options for the new dual-core smartphone, but the promise of a contract-free, unlocked version in next month. According to the page, shoppers can "get iPhone unlocked and contract-free. Coming in November" paying the full, unsubsidized price for the handset but avoiding any agreement lock-in.
The option has already been made available at Apple UK, where customers can opt to pay £499, £599 and £699 for the 16GB, 32GB and 64GB iPhone 4S versions respectively. In fact, Apple UK is only offering unlocked, SIM-free handsets: if buyers want a subsidized phone they they need to head over to one of the carriers for it.
In the US, however, the unlocked iPhone 4S will only support GSM carriers, such as AT&T or T-Mobile USA (the latter only at 2G speeds). CDMA use on Verizon and Sprint will not be supported.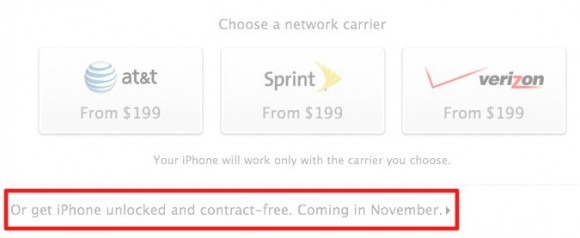 The news that the unlocked version in the US is coming sooner rather than later is likely to please many, who saw years pass before they could pick up an iPhone without a contract. Still, by facing shoppers with the choice of being one of the first to get their hands on the smartphone – deliveries being expected to take place from October 14 – or hold off, perhaps save some money and get a SIM-free version, there's likely to be some frustration around as well.
About the Unlocked iPhone

The unlocked iPhone includes all the features of iPhone but without a contract commitment. You can activate and use it on the supported GSM wireless network of your choice, such as AT&T in the United States.* The unlocked iPhone 4 or iPhone 4S will not work with CDMA-based carriers such as Verizon Wireless or Sprint.

If you don't want a multiyear service contract or if you prefer to use a local carrier when traveling abroad, the unlocked iPhone is the best choice. It arrives without a micro-SIM card, so you'll need an active micro-SIM card from any supported GSM carrier worldwide. To start using it, simply insert the micro-SIM card into the slot on your iPhone and turn it on by pressing and holding the On/Off button for a few seconds. Then follow the onscreen instructions to set up your iPhone.