iPhone 4 Turns Into A DSLR With New Photojojo Case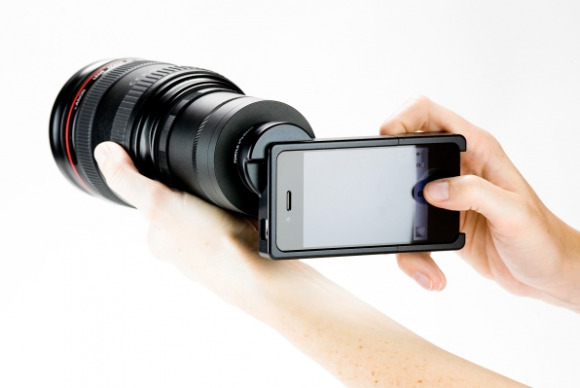 Photojojo always comes up with some fun gadgets and accessories for photography enthusiasts and this time they've managed to produce a case that will turn your iPhone 4 into a DSLR camera. The new case is simply called the iPhone SLR Mount and allows you to attach any of your Canon or Nikon SLR lenses.
We've seen accessories in the past that attempt to bring DSLR features to the iPhone 4, such as with the Photojojo 8X Telephoto lens for the iPhone. What makes this iPhone SLR Mount better is that it allows you to attach any of your existing SLR lenses, giving great flexibility in attaching wide angle, telephoto, macro or whatever you have in your lens collection.
The iPhone 4 has only a 5-megapixel camera, but it's been the most popular camera among Flickr users. Now with the iPhone SLR Mount, your iPhone images will surprise others with the depth of field control and bokeh. The iPhone SLR Mount consists of an aluminum case, an SLR lens adapter, and a UV filter. Two loopholes on the case lets you attach a camera strap. There are separate kits for Canon and Nikon lenses and each cost $190.
[via Photojojo]