iPhone 4 Review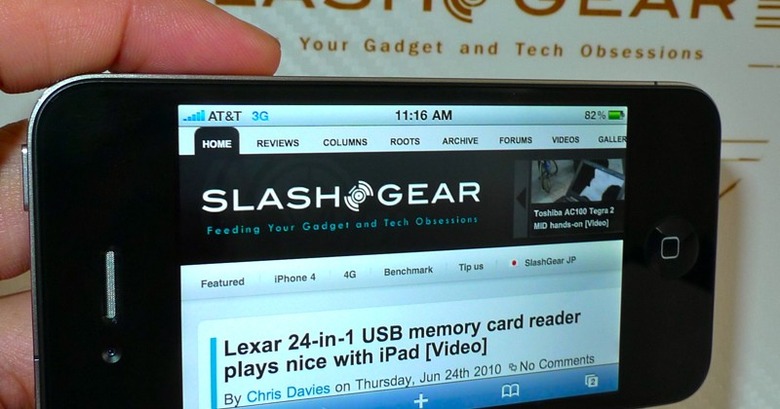 Block-circling queues, midnight campers and stores with all the stock wrung out of them: it can only be a new iPhone. Apple's iPhone 4 has landed and it's taking no prisoners. Packing the freshly-released iOS4 with a slimmed-down, powered-up hardware, as ever the promise is not so much ticks on the spec sheet but a superlative user experience. Is the iPhone 4 another home run, or – in a market of rivals it helped motivate – has Apple lost its edge? Check out the full SlashGear review after the cut.
Hardware
This fourth-generation hardware marks a significant design departure for Apple, eschewing the curved plastic of the last couple of iPhones and replacing it with glass, metal and squared off edges. The fascia is a single sheet of toughened Gorilla Glass, supposedly 20 times stiffer and 30 times harder than plastic is, while the outer bezel is stainless steel and integrates the GSM/UMTS, GPS, WiFi and Bluetooth antennas for improved performance. At 4.8oz in the hand it's solid and pleasantly weighty, while Apple's opting for a non-user-accessible battery means there's no battery door to creak or flex.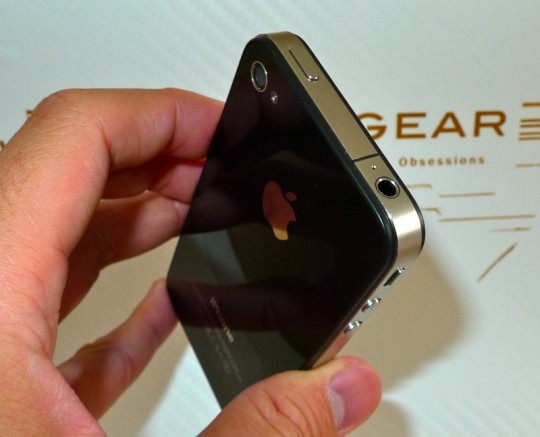 Hardware controls are limited to a power/sleep button on the top edge, a ringer switch on the top left hand side, volume up/down buttons just beneath it and the usual home key under the display. On the bottom edge is the dock connector, flanked by two speaker grills, while a 3.5mm headphone jack sits up on the top. The front-facing camera is just visible alongside the speaker grill, while on the back is the main camera and the new LED flash above the traditional shiny Apple logo.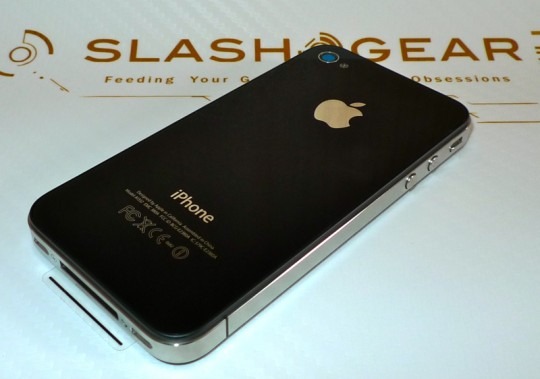 The SIM slot – now taking a smaller microSIM like the iPad WiFi + 3G – has moved from the top edge to the right side, and there are now two microphones, one on top and one on the bottom, used for noise cancellation.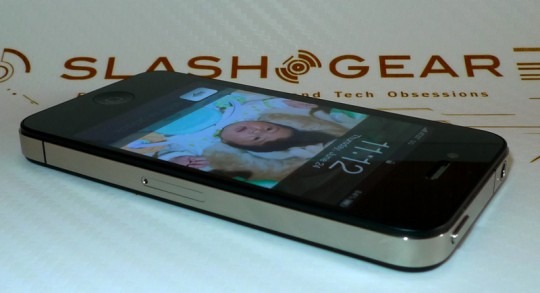 All in all it's slimmer and slicker than the iPhone 3GS it replaces, and neatly distinct from much of its rivals on the market. Best of all, perhaps, it's very obviously a new handset; the 3GS came in for some criticism by virtue of its being physically identical to the 3G, leaving those who had upgraded with no visible sign that they'd done so. That may sound shallow, but it's nonetheless a real consideration for many consumers and will help differentiate the iPhone 4 in-store.
Retina Display
Turn the handset on, however, and you all but forget the physical design: Apple's so-called Retina Display is eye-wateringly impressive, setting a new bar in smartphone screens performance. According to Apple's official stats, it's a 960 x 640 3.5-inch IPS LCD panel with 326 pixels per inch, an 800:1 contrast ratio and 500 cd/m2 brightness. As before there's an oleophobic oil-resistant coating – that's applied to the back of the iPhone 4 too – which, while the handset is still prone to picking up prints, means it's an easy matter to wipe them off again.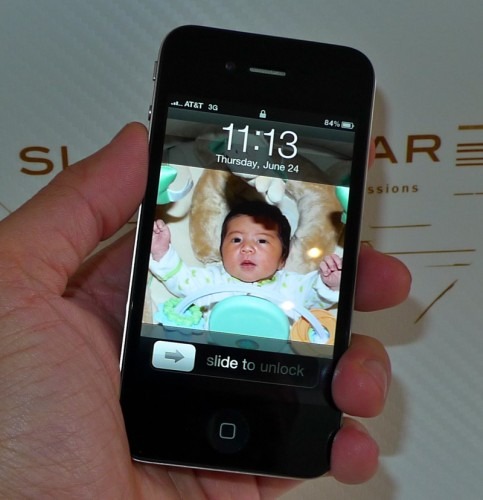 Specs aside, the iPhone 4's display is frankly the best mobile display on the market so far. AMOLED/Super AMOLED advocates will likely argue which technology has the better contrast, richer colors or inkiest blacks, but the real magic is in the extreme pixel density. On stage at WWDC 2010, Steve Jobs described Retina Display as having more pixels than the eye can see, marketing hyperbole that prompted another round of arguments, but in short, at the kind of average distance most users hold their handsets at, the individual pixels are simply too small to be differentiated between.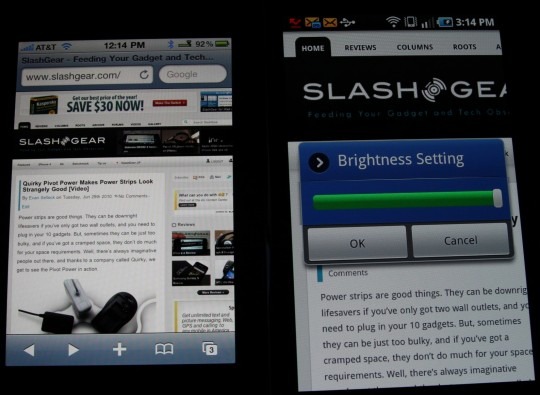 Galaxy S brightness still falls short of iPhone 4's Retina Display.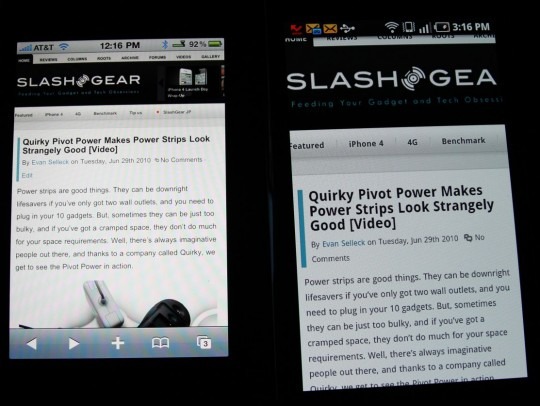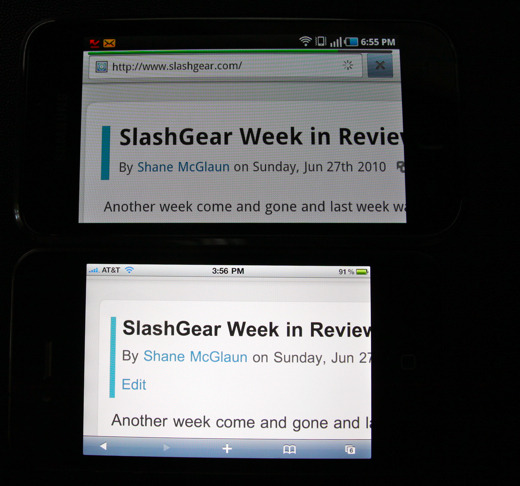 iPhone 4: 3.5-in Retinal Display (below) vs. Samsung Galaxy S: 4-in Super-AMOLED (above)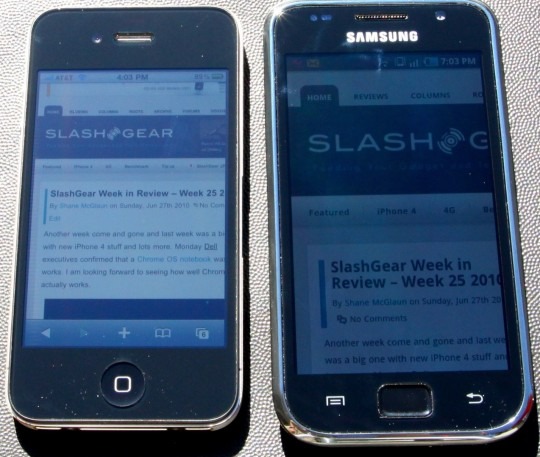 iPhone 4 vs Galaxy S in direct sunlight (unedited)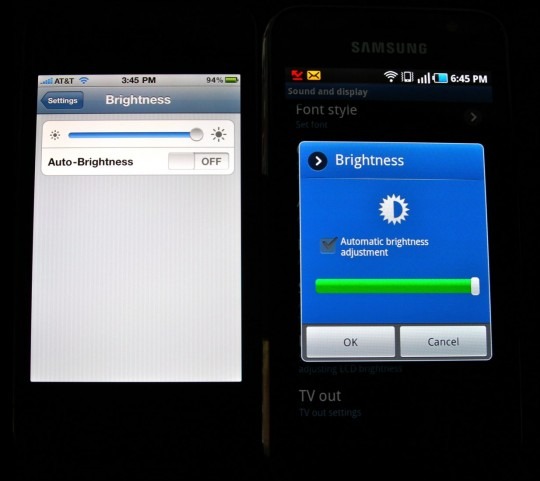 Retina Display allows for much better viewing than Super AMOLED when viewed through a pair of Polarized sunglasses.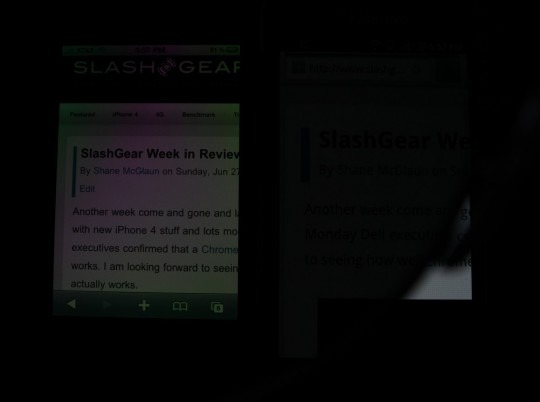 Brightness on MAXIMUM for both devices
As you might expect, that has a huge impact on graphics and text. Even the basic iOS4 homescreen, familiar now to anyone with an iPhone 3G or 3GS, looks rejuvenated, with icons crisp and detailed. Load up the browser, meanwhile, and that pixel density means – as long as your eyesight is up to it – you can make out text at far lesser levels of zoom than on the last generation handset. It's a little like moving from a small-screen phone to one of the current breed of 4.3-inch devices like the HTC EVO 4G or forthcoming 4-inch Super AMOLED Samsung Galaxy S, and discovering you can see much more of a webpage at the default zoom than you could before, only far better. Developers using the new iOS4 SDK will be able to rework their apps to take advantage of all those extra pixels, but Apple has built in some intelligent rendering so that non-updated software doesn't look entirely bad. Still, it's a good incentive for updates, particularly in games which look, frankly, stunning on the iPhone 4.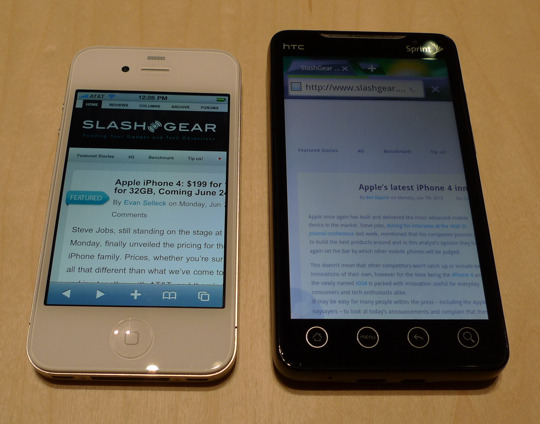 Connectivity
Connectivity remains broad, with a few key changes over the 3GS; there's still quadband 850/900/1900/2100 UMTS/HSPA and quadband GSM/EDGE, together with Bluetooth 2.1+EDR, WiFi b/g/n (though only single band 2.4GHz 802.11n, not dual-band like the Apple Airport Express supports) and A-GPS. As before there's a digital compass and accelerometer, plus proximity and ambient light sensors that control the iPhone's display during use, but Apple has also slotted in a three-axis gyroscope. This allows for far more precise interpretation of what orientation in 3D-space the iPhone 4 is being held in, and was well received by game developers at WWDC 2010.
There's still no standard USB 2.0 port, only the proprietary Apple Dock Connector, and still no expandable memory slot. Two versions of the iPhone 4 will be offered, as with the last-gen 3GS, with either 16GB or 32GB of storage (a "new" 8GB 3GS has been slotted in as the $99 entry-level handset). We've a feeling Apple buyers are used to the absence of, say, a microSD card slot, and we're not entirely sure where on the iPhone 4 it could have been accommodated, but it's something to bear in mind if you're wanting to take advantage of the Retina Display's excellence at playing high-bitrate video.

Inside, squeezed into the narrower chassis, is the same Apple A4 processor as powers the iPad. In addition to the 1GHz chip they've also doubled the RAM, which is now 512MB rather than the 256MB of the iPad and iPhone 3GS. The end result is, unsurprisingly, the fastest iPhone to-date, whipping between homescreen pages, booting apps in record time, and generally being lag-free.
Camera
While they may have protested otherwise, photography has always been a weak point in iPhone handsets (though that hasn't stopped owners from making hefty use of the camera). Happily the iPhone 4 marks a significant step up on that front. There are now two cameras: one, a 5-megapixel unit with autofocus and a single LED flash, on the back for general photography and video recording, and the second, a VGA-quality camera embedded in the front of the smartphone, and used for video calls. As we're seeing from other manufacturers of late, Apple has signed up to the "it's not just megapixels" message, pointing to other factors like sensor size and lens quality as just as – or more – important. While at 5-megapixels it's not the highest resolution camera in a smartphone on the market – there are several with 8MP, and Nokia's N8 will bring 12MP when it launches later this year – Apple say they've made sure pictures benefit from careful design rather than plumping for the biggest sensor that could fit in.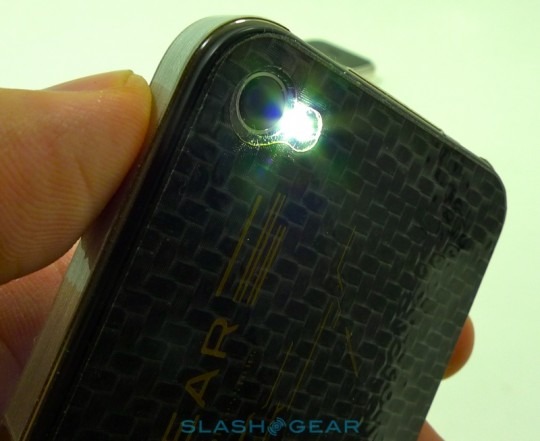 It's a decision that shows in the end results, with still photos being a significant step up from what the 3GS could produce. Not only are colors and detail more accurate, but there's less of the cellphone "fuzz" that often works as a giveaway that a cameraphone's smaller lens was involved. Even without the LED flash, low-light performance is noticeably stronger, with indoor and evening shots losing their murkiness. The LED flash itself is, like most of its ilk, of limited benefit; there's a relatively narrow sweet-spot in terms of range that, outside of which, images are either over- or under-illuminated, but it's serviceable all the same. Controls still err on the side of simplicity, with touch-to-focus control, a 5x digital zoom, manual flash settings (that basically amount to on/off and auto) and a shutter release button; we'd love to see a dedicated hardware camera key, since we imagine the iPhone 4 is going to replace a lot more dedicated digicams.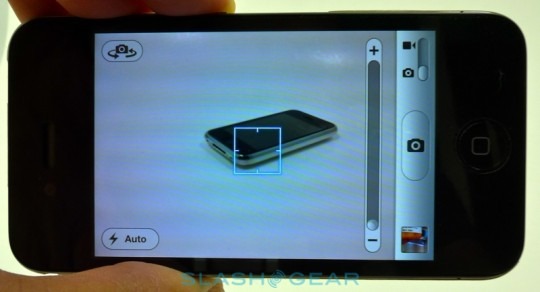 Thanks to the boosted processor speed, both loading up the camera app and actually taking pictures is faster than before, and there's less chance that you'll miss the shot waiting for the iPhone to catch up. 720p HD video recording is also supported, with Apple claiming full 30fps framerates, and you can use the LED flash as a video light. This proved roughly on a par with one of the point-and-shoot camcorders available from Flip, Kodak and others, though you'll need a steady hand since there's no image stabilization. $4.99 gets you iMovie for iPhone from the App Store, the mobile version of Apple's video editing app, complete with a finger-friendly interface, various transitions, themes, effects and titling options. It's unlikely to replace your use of the desktop version, but for trimming and combining a few clips for a mobile upload to YouTube it's surprisingly usable. If anything, though, we do think Apple should have bundled iMovie with the iPhone 4 as Nokia are doing with their N8 video editing app, and it's worth noting that the app exports in .MOV format which may need converting to play on devices outside of Apple's ecosystem.
iPhone 4 sample 720p HD videos
[vms 7929182aadd08703f1ec]
Face Time
The front camera, meanwhile, is designed for Apple's new strike at the video calling market, something many others have attempted to kick-start and have had, for the most part, little success. Called FaceTime, the new app is currently exclusive to the iPhone 4, and is neatly integrated into the standard apps. Tapping the FaceTime button in Contacts starts a video call straight away, or you can switch from a regular cellular voice call to FaceTime midway through (though not, it's worth noting, in the other direction). There are a few provisos, as you might imagine for a new system, and which if it weren't for Apple's market appeal we might question FaceTime's likelihood of success.
FaceTime demo:
[vms 4c5573d8f3af73ae0454]
First off is that you'll need a WiFi network in order for FaceTime to work, since right now Apple won't let video calls be made over cellular connections. That seems to be a decision based on network bandwidth, with Apple giving the carriers time to get their systems up to scratch; Steve Jobs hinted that the 3G situation may be reconsidered in 2011, though it's possible that Apple could build in carrier opt-out as we've seen them do with tethering.
Second, the person you're calling will have to have an iPhone 4 themselves, since so far FaceTime only works on that one handset. Apple are opening up the APIs in the hope that other companies will pick them up and build in compatibility to their own devices, but that, again, will likely take some time. Of course, with record-breaking numbers of iPhone 4 pre-orders over the past week or so – and no sign of demand slowing down – there's a good chance you may know someone out there with one of their own, so that compatibility question may not apply.
In practice, the FaceTime experience feels a lot like iChat on the desktop – or, indeed, like video calling in Europe or Asia where the functionality has been available, cross-platform, for years now – with the screen dominated by the person you're talking to and your own face in a PIP inset in the top corner. While defaulting to the front-facing camera, you can toggle between that and the rear camera – though not at the full 5-megapixel resolution – to show your surroundings, and FaceTime works in both landscape and portrait orientations. Image quality was reasonable over a broad WiFi connection, though when we tried using a MiFi-style mobile 3G router as a bridge we did notice some visual artifacts breaking in. We're more than a little confused why Apple didn't build in iChat desktop support, though, which would've instantly made the iPhone 4 more appealing as part of an existing ecosystem.
iOS4
The iPhone 4's other headline software features have, ironically, been scooped by the iOS4 update Apple pushed out to the iPhone 3GS (and, less so, the 3G and iPod touch) late last week. The new version of iOS brings with it Apple's answer to some of the more persistent criticisms of its mobile range, including multitasking support and a unified inbox, and if you're a 3GS owner who finds iOS4's feature list satisfies most complaints you have with your cellphone, you might find trying out the (free) update for a while saves you the cost of upgrading to the iPhone 4.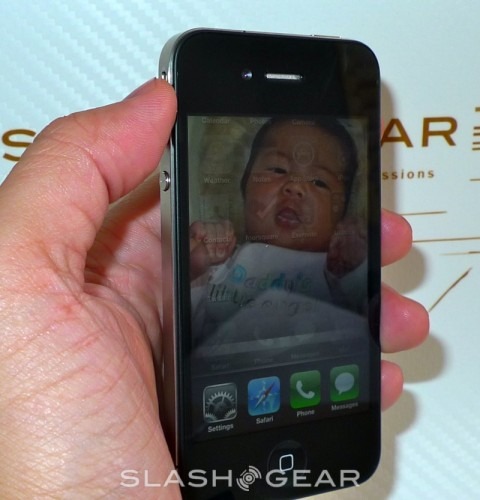 As you might expect, given Apple's vocal objection to multitasking in previous years, iOS4 handles multiple apps somewhat differently to how rival platforms approach it. Their argument has been that battery life suffers to an unacceptable degree when software is running in the background; hence on the iPhone 4 background apps aren't in fact operational but are frozen in the state you left them. In effect it's a type of caching, packaged with a handful of new APIs that developers can take advantage of. Those APIs allow for background audio, such as in streaming media apps like Pandora, to continue, as well as task completion, where uploads or syncs are finished even if you switch away from the app before it's done. There's also background GPS, which keeps navigation-centric apps updated with positioning data, and background VoIP, which allows apps such as Skype to stay on the look out for new incoming calls without having to be active all the time.
The new caching and APIs are packaged together with an app switching dialog that, when you double-press the home button, pops up at the bottom of the display and allows you to flick between recently used titles. Of course there's also the existing push notification system that triggers pop-ups when server-linked apps have a new update. It works well, overall, though the biggest drawback is that none of the new multitasking functionality is native; apps must be coded specially to take advantage of the APIs and of the caching. Without that support, the software will show up in the app switcher but you'll be back to square one each time you return to it.
iPhone 4 demo
[vms e772b9dc0b86f46e583f]
In effect, it's a balance: a decision Apple has made between battery capacity and functionality users are used to from rival platforms. Barring rapid increases in battery technology, we can't see them opening up "true" multitasking – where apps are left to run free and untended in the background – any time soon. For some that will be a deal breaker and push them toward webOS, Android or other platforms; for many, it will be sufficiently advanced that – with a little developer ingenuity to make best use of the APIs and other systems on offer – they may not notice the difference.
You'll certainly notice the difference with unified messaging in the iOS4 Mail app, and it kicks the iPhone 4 back into play with the best of email-centric smartphones. Hard to believe that it's taken Apple so long to add a combined inbox, but now, as well as viewing each account separately, you can see one view with all new messages. There's also conversation support: a small number appears to the right of a message in the inbox if there are subsequent replies to it, and tapping to view pulls out all of those replies into a single, easier to follow string.
With the App Store now containing in excess of 200,000 titles, homescreen folders are ironically more useful than they sound. Drag any app icon onto another and a folder is automatically created, named by default according to the app's category, but open to user customization too. Go heavy on the organization and you can quickly slim down 10+ full homescreen panes to just a couple of screens of folders. Curiously, though, Apple has limited each folder to just twelve apps, and there's no support for nested folders: putting in a sub-folder to separate out, say, card games from your gaming folder.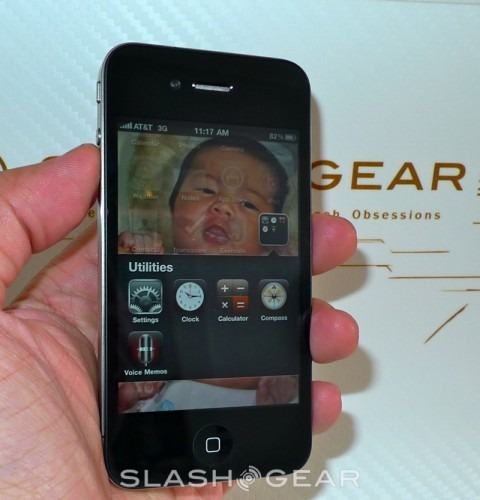 It's not the only place we'd like to see improvement, either. iOS4's app switching system is slick – the side-scrolling app manager bar is straightforward to use, and holding down on an icon lets you close it directly – but that only goes to highlight the frustrating pop-up notifications. With more and more apps running in the background and wanting to alert users to new updates, messages and status changes, it's increasingly likely that whatever you're doing will be punctuated at least once or twice with an on-screen dialog box. Unlike on rival platforms like Android or webOS, there's no way to "ignore" the alert but still have it visible so as to remind you later on that something has changed: instead you have to deal with it there and then, or dismiss it altogether.
We'd also like to see an iPhone 4 version of iPhoto, or at least some basic image editing tools on the handset. iMovie has shown that the 1GHz CPU is capable of HD video editing, so being unable to crop or tweak shots in the iPhone 4's gallery seems particularly shortsighted. It's worth noting that the smartphone is reliant on iPhoto on the desktop to handle facial recognition and galleries: you'll need to set them up there and then sync to get them across onto the iPhone 4. Finally, we wish Apple would broaden its social networking integration, so that as well as emailing or MMS'ing images from the gallery we could upload them to Flickr, Facebook or other online galleries. That links in with a general shortage of social network awareness in iOS4 as standard; yes, there are apps which will tick those boxes, but they lack the wholehearted system integration that we've seen on rival platforms.
Performance
As was made clear by the inevitable teardown, a fair amount of the iPhone 4's chassis is taken up by its battery: in this case a 1,420 mAh Li-Polymer pack. Apple reckon you'll see up to 300hrs standby, up to 7hrs 3G talktime or up to 14hrs 2GB talktime from a full charge, or alternatively up to 6hrs 3G internet browsing, 10hrs over WiFi, 10hrs of video playback or 40hrs of audio. In reality we've found the fourth-gen handset manages around 25-percent longer runtime than its predecessor, with mixed use. For instance, after around six minutes of voice calls, replying to thirty-odd emails and twenty minutes of RSS reading, the iPhone 4 dropped from 100-percent to 90-percent. Still, it's relatively early days yet, and we'll be watching closely to see how the iPhone 4 performs over the next week or so before revisiting battery life.
We'll also be keeping track of how AT&T handles calls and whether the improvements – both that Apple has made to the iPhone 4 and the carrier claims to have made to their network – make a significant impact. Poor voice call performance has been an ongoing criticism of all three prior generations of iPhone, a persistent thorn in Apple's performance paw. For their part, Apple claim to have changed the way the smartphone prioritizes network selection, with the iPhone 4 picking a base station band not solely on signal strength but on available capacity. That way, the company reckons, users won't be faced with the confusing situation where the iPhone says it has a strong signal but calls drop nonetheless.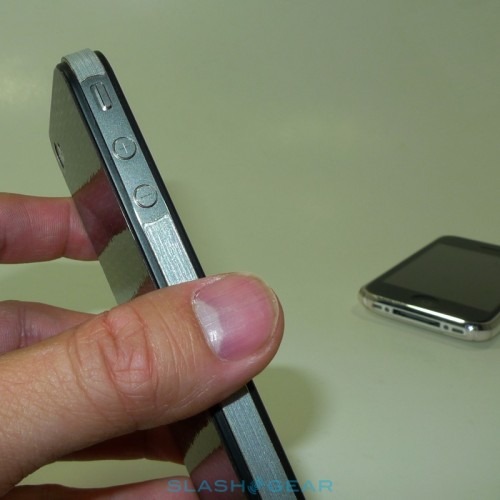 That change in measurement has made it difficult to gauge the extent to which our iPhone 4 demonstrates the same antenna issues as have been widely reported and which Apple has acknowledged. In short, the switch to making the antennas external has meant that, if a user's hand bridges the two and is sufficiently damp to prove conductive, the iPhone 4 can lose signal dramatically. It's certainly something we can replicate, though we had to hold the handset in a way we wouldn't usually do. Apple's own Bumper case is one workaround, and it seems a physical case is generally the best solution; adhesive strips, like Fusion of Ideas' StealthArmor, failed to address the signal problem as they were billed as doing. Now, some iPhone 4 owners are finding they naturally hold the handset in a way that doesn't cause problems, or that their specific phone isn't as prone to it anyway, but many are discovering they also need to budget for a case.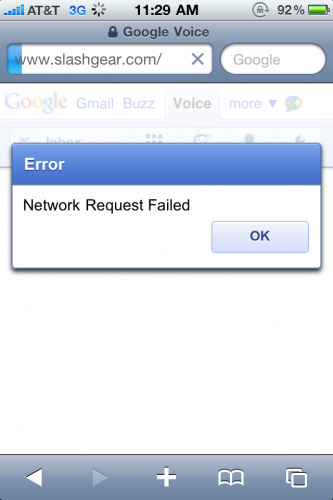 No matter the changes, AT&T's network continues to frustrate. We've suffered multiple dropped calls in every day of iPhone 4 use with the US carrier, and as before there's little apparent connection between what's shown in the status bar and what the network is actually capable of sustaining. Even more frustrating, perhaps, are the recurring "No SIM" errors in which the iPhone 4 and the AT&T MicroSIM seemingly become bored and stop responding to each other. We're not sure whether it's an Apple hardware issue – we're seeing similar reports from multiple people, though predominantly in the US – or something to do with the carrier's systems, but either way it demands a power-cycle before the two play nicely again.
When you do manage to place a call, there's an impressive improvement in audio quality. The iPhone 4's dual microphones – used for active noise cancellation – left callers able to hear us even with traffic in the background. Meanwhile the speakerphone is also louder than on the 3GS, thanks, we're guessing, to the new audio chamber also spotted in the teardown. Even so, you get a sense that Apple have tuned the iPhone 4 for data use, unsurprising perhaps given the number of apps that rely on network connectivity. There's a significant improvement in 3G speeds over the iPhone 3GS that's noticeable in day to day use, and the iPhone 4 is proving one of the fastest browsing devices on AT&T's network that we've experienced.
Outside of the US, meanwhile, Apple has opened its arms to embrace not only multiple carrier partners but official unlocked devices, seemingly deciding that if you can't beat the unlockers then you may as well join them. In the UK and Canada, among other places, carriers are offering the iPhone 4 on subsidized deals while Apple themselves are selling unlocked, SIM-free (and full price) handsets. It's a move that we can only see fueling the call for broader availability in the US, though without knowing the exact specifics of Apple's exclusivity deal with AT&T it's hard to say whether it's a shift we can expect to see any time soon.
Accessories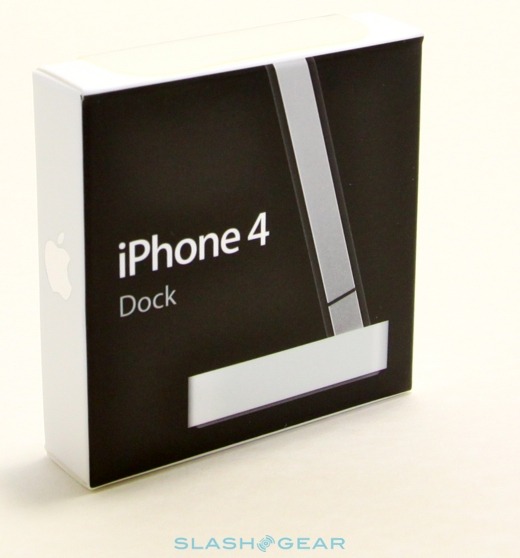 As for accessories, we've been trying out Apple's iPhone 4 Dock which – as you might expect – works to charge and sync the smartphone, and also has a 3.5mm audio output for hooking up to your stereo. Thanks to the change in case shape, however, you won't be able to use a 3GS in the dock, even though the Dock Connector port is the same. The official Bumper, meanwhile, is more a rubber band than it is a true case: both the front and back are left entirely exposed, with the Bumper stretching around the stainless steel band alone. In a neat touch, the Bumper doesn't just use cut-outs for the volume and power buttons, but actually has integrated metal keys that press the true buttons underneath. We're not entirely sure how much protection it will give, but given they cut out any reception issues based on how you hold the iPhone 4, we can see Bumpers being a popular accessory. They and the iPhone 4 Dock are $29 each.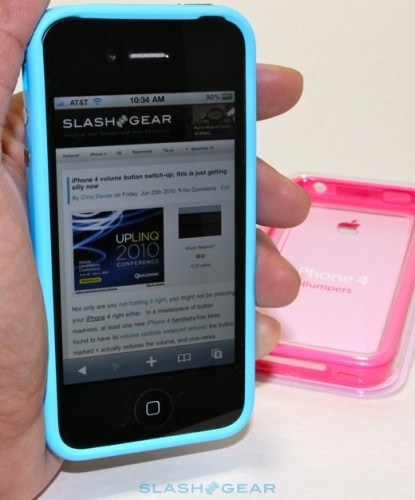 Wrap-up
The lingering question remains: despite the Steve Jobs hype and the Apple marketing, does the iPhone 4 continue to innovate or has the increasingly competitive smartphone market caught up to Cupertino's finest? There's no denying that, while the first-generation iPhone caught rivals unprepared, the segment as a whole has accelerated hugely in the intervening period. For consumers that's hardly a bad thing, of course, though the record-breaking sales (1.7m iPhone 4 to be exact) and huge queues indicate there's still a huge demand for Apple's offering.
That demand, and the support of the developer community, are a significant aspect in Apple's favor. A good example is the gyroscope, new to the iPhone 4 but lacking any native software that actually makes use of it: Apple is able to bundle that feature and know that third-party app producers will make it shine. Many may protest at the heavily curated nature of the App Store, but to consumers it offers the promise that whatever they load shouldn't leave their phone unstable. It's an element that, even as Android Market content rises in number, Google can't quite promise to users of their OS.
Factor in what's undoubtedly an attractive, appealing piece of hardware with excellent imaging skills, sufficient processor grunt to power the latest apps and games, and a display that puts most others to shame, and you're getting to a very tempting package. At the launch of the iPhone 3GS, the difficult question was whether 3G owners should upgrade to the new, faster device, and many couldn't quite justify the move. With the iPhone 4, however, it's a more clean-cut choice: yes, you can get much of the iOS4 experience on your existing iPhone, but there's also the brilliant Retina Display, far better camera and – antenna holding issues aside – improved wireless performance on offer from the new device.
Apple knows it can't afford to rest on its laurels – and they have to blame themselves in part for that; their own success has been a significant factor in driving the smartphone market – and the hardware capabilities of the iPhone 4 are part of a multi-stage approach that sees software releases as important as the physical device you sign a contract for. Our criticisms – such as the absence of photo editing or social network integration – are predominantly aspects that could be addressed in future iterations of iOS4, and it would be naive to assume Apple isn't already looking at where next to take the platform.
Out of the box, though, the iPhone 4 is one of the most polished, appealing smartphones on the market today. By boosting the camera, upgrading the screen and generally tightening up the whole user experience, Apple has neatly answered most of the complaints from previous models together with addressing some – like the Retina Display – we didn't even know we had. The antenna issue is frustrating, certainly, but unlikely to be a deal-breaker, and the improvement in battery life is more than welcome; moreover, there's something inherent in the iPhone 4 that goes beyond "just another" phone and demands you engage with it. Apple's approach to mobile continues to polarize opinion, but for those with the acquired taste the iPhone 4 is Cupertino's best yet and a strong contender for smartphone of 2010.
Unboxing iPhone 4
[vms f4c8043749885523d6a2]