iPhone 3G S processor and RAM details revealed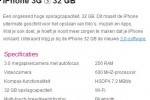 Apple have been coy about the definitive hardware specifications for their new iPhone 3G S, refusing to confirm exactly how much more RAM and what exact processor jump the smartphone has over the previous-gen iPhone 3G.  However nobody obviously told T-Mobile Netherlands about the veil of silence: they've outed the processor as a 600MHz chip, paired with 256MB of RAM.
The original iPhone and iPhone 3G both used a 412MHz processor, and each had 128MB of RAM.  These figures fit in roughly with Apple's claim that the iPhone 3G S is around twice as fast on average as the last-gen hardware; it also slots the handset back into the number one spot above the second-gen iPod touch, which has a 532MHz CPU.
We're still waiting for hands-on time with the iPhone 3G S to see exactly the extent of the difference that the hardware changes really make.  The iPhone 3G S lands on June 19th, priced at $199 for the 16GB model and $299 for the 32GB model; more details here.
[vms bcfe8450a1a41c200364]
[via MacDailyNews]