iPhone 11 revealed: Apple's new dual-camera affordable hero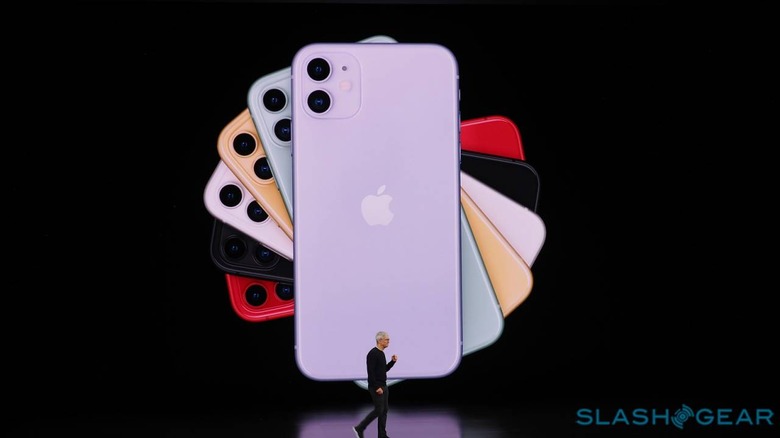 Today we're looking at iPhone 11, Apple's newest low-tier (of three) smartphones. This will replace the iPhone XR – in spirit, if not in all stores immediately. This new series will feature two cameras at its back in a camera bump square with rounded corners. This device has a 6.11-inch Retina display with spacial audio (with Dolby Atmos) up front, and a variety of color cases around the sides and back.
This device's display has keywords like "Liquid Retina", and Advanced LCD, True Tone, and Wide color gamut. It's working with Haptic Touch, has the ability to tap to wake, and is – it should be noted – very similar to the LCD from the previous least-of-three iPhones, the iPhone XR. We'll be doing some in-depth comparisons soon – watch for that!
The cameras at the back of this device are 12MP and 12MP, one a wide camera, the other ULTRA wide. The top camera is 26mm with f/1.8 aperture, a 6-element lens, and OIS with "100% Focus Pixels". The other is a 13mm with f/2.4 aperture, a 5-element lens, and a 120-degree field of view. This device can capture 4K video at 60fps, slo-mo video, time-laps, has an "extended dynamic range" and "cinematic video stabilization."
Up front this device has a 12-megapixel TrueDepth camera, which means you'll be able to log in with Face ID. It'll be capable of 4K 60fps video and can capture what Apple is branding "slofies" – aka slow-motion selfies.
This device has an A13 Bionic chip inside. Apple suggests that this chip has the fastest GPU ever in a smartphone. They've made clear that the chip's GPU is capable of out-performing the Google Pixel 3 with Qualcomm Snapdragon 845, Huawei P30 Pro with Kirin 980, Galaxy S10+ with Snapdragon 855, and iPhone XR with A12 Bionic.
This device will be released in purple (light lilac, one might say), white, yellow, black, red, white, and likely additional colors by the time it's made available to the public. Remember how Apple's most-shipped iPhone for the past year was the iPhone XR, too.
This will be one of several new iPhone models – stay tuned for more information on this device's release. We'll have hands-on and first impressions right quick, too! UPDATE: This iPhone 11 model (non-Pro) will have a starting price of $699 USD.