iPad "WiFi Driven" Suggests AT&T CEO, Not Expecting Heavy 3G Use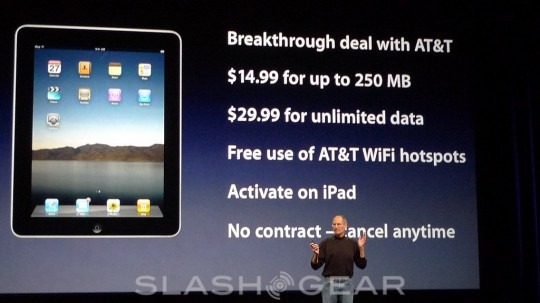 AT&T CEO Randall Stephenson has warned investors not to expect a huge upswing in users when the iPad launches, predicting that most owners will choose to connect via WiFi rather than opt for the 3G connectivity certain models will offer.  Speaking in a financial conference call this week, Stephenson described the iPad as a "WiFi driven product" that owners would get online with using café and home wireless hotspots.
"My expectation is that there's not going to be a lot of people out there looking for another subscription ... [the iPad will be a] WiFi driven product" Randall Stephenson, CEO, AT&T
AT&T's data plans for the iPad also seemingly take into account such 3G reluctance; unlike the packages on offer for smartphones like the iPhone, there's no minimum agreement (usually 24-months).  Instead, users can activate a month of service and then cancel at the end of that period, with no penalty incurred.  The WiFi-only iPad is predicted to go on sale on March 26th, with the 3G version following on in April or May 2010.
[via Everything iPad]