iPad sales drop below Mac - is the tablet dying?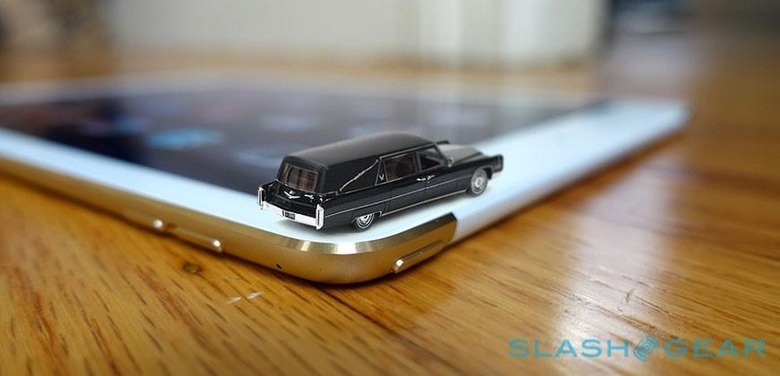 This afternoon Apple's earnings call for their fiscal Q3 2015 suggested that sales of the iPad continue to fall. What's odd about this particular reveal is the fact that revenue is beginning to be quite obviously lower than the Mac. Where this past quarter was the first quarter in several years that iPad revenue was lower than the Mac, it was by less than a couple hundred million dollars. Now the difference is by nearly $1.5 billion. Meanwhile UNITS of the iPad continue to outsell the Mac, for what its worth.
What's this mean? It means that Apple is making more revenue per Mac sold than it is revenue per iPad sold. Selling 4.7 million units of Mac devices has resulted in a revenue of $6-billion. For the iPad, 10.9 million units sold resulted in $4.5-billion in revenue.
Is it time for Apple to stop making the iPad?
What are you an insane person?
Absolutely not. Especially given Apple's tenacity with the iPod. Why give away a business you corner the market with? Just because your sales of one device aren't as massive as the other doesn't mean you should dump one and go all-in on the other. You've got to be diverse.

Above you'll see Apple's most recent report on devices and services revenue from their financial Q3 2015 report.
Back in January of 2015 – not too many months ago – I explained this situation at length. There I showed, in an article called Happy Birthday iPad, you're dead, how even though Apple's iPad sales are slowing, they're still completely dominating the rest of the tablet market. Not one other manufacturer is is even close.
Once we get the numbers for this most recent quarter on shipments of the iPad and other tablets from a source like Gartner, we'll once again see how Apple continues to crush the tablet market – excuse me – the iPad market.
Is the iPad dying? Absolutely not. It's still outselling the rest of the industry by a LOT.
Are sales slowing? Yes, of course they are. You only need one tablet, after all.