iPad Pro tipped with 12.2in display, stereo speakers, 7mm thick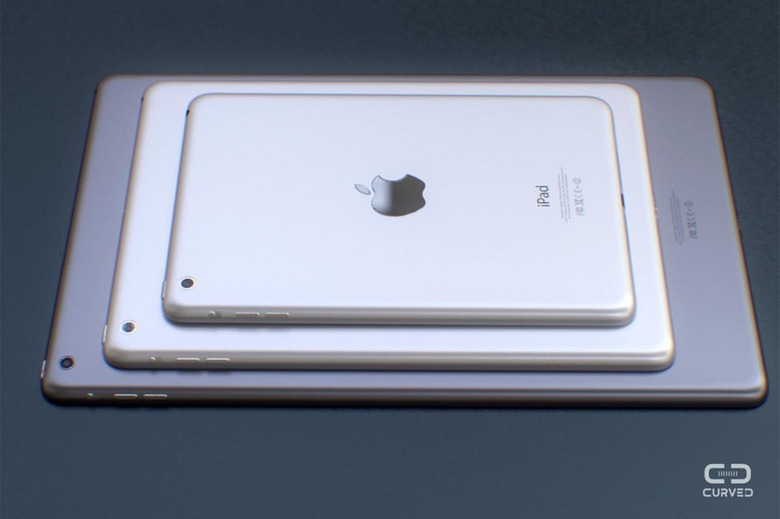 The last two months may have seen Apple release new iPhones, refreshed iPads, and a Retina Display iMac, but rumors and speculation are still flying fast about the "iPad Pro," an extra-large model believed to be added to the existing tablet range. The latest comes in a report from Japan's MacOtakara, with information about screen size, the device's thickness, and possible speaker placement.
Said to have been in development for some time now, the iPad Pro has most often been predicted to feature a screen measuring 12.9 inches. MacOtakara's sources have indicated, however, that the diagonal measurement will actually be 12.2 inches, a tad smaller, but still quite a step up from the iPad Air 2's 9.7 inch display.
The next piece of info points towards the new tablet sporting stereo speakers, one on the top and one on the bottom, if held in portrait orientation. Such a feature would also be unique for the iPad Pro, as all existing iPads only have one speaker. Stereo speakers in such placement would provide a noticeably improved audio experience, especially if the tablet was held in landscape, and could contribute to the device's "pro" designation.
Lastly MacOtakara says the iPad Pro will measure 7mm thick, placing it just between the new iPhone 6 and 6 Plus, which are 6.9mm and 7.1mm thick, respectively. The recently released iPad Air 2 set an impressive benchmark coming in at only 6.1mm thick, but it seems reasonable to expect a 12.2 inch device to be powered by a battery that needs quite a bit more room inside the casing.
No word on a release date just yet, but it is widely believed at this point that the iPad Pro will be released sometime in early 2015. This is largely due to Apple wanting to take time to catch up to worldwide demand for the iPhone 6 Plus.
SOURCE MacOtakara