iPad Air 2 Review - Apple Builds A New Flagship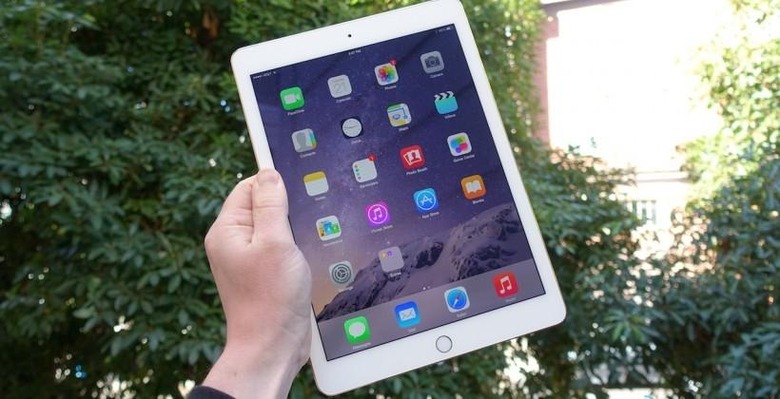 Apple is bullish on tablets and, for all it may be the slimmest and lightest of its breed, the iPad Air 2 is undeniably its new heavyweight champion. Dropping weight and bulk while simultaneously gaining power, the iPad Air 2 also dips into the best-selling iPhone 6's pockets for features like Touch ID and Apple Pay. Question is, though, has the new Air done enough to make itself a must-have upgrade?
Design
The iPad Air 2 is Apple's thinnest tablet yet. In fact, during its launch event Apple was keen to highlight just how far it had come in a little over four years, pointing out that you could stack two iPad Air 2 one atop the other and still have something thinner than the original iPad.
Do you really need a tablet that's 6.1mm thick? It's hard to conceptualize exactly what that means until you hold the iPad Air 2 in your hand: even photos of it next to the original iPad Air, or any earlier iPad for that matter, can't capture the feel.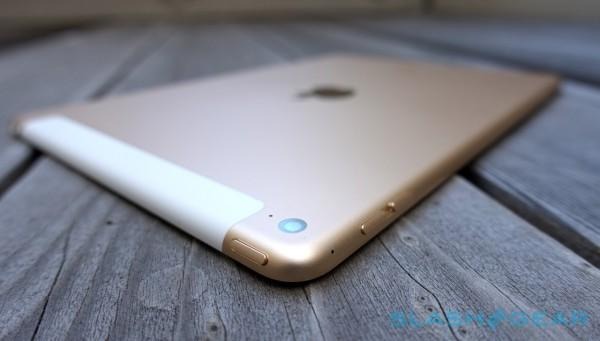 It's like holding a sheet of glass, only that glass is actually an incredible display that supports multitouch. Or, it's like picking up a thin, glossy magazine and finding it's not only rigid but has full access to the App Store.
You get a slightly lighter slate, too, finally dropping under the 1 pound mark: 0.96 pounds for the WiFi-only model, and 0.98 pounds for the WiFI + Cellular. Again, it's a scant difference versus the iPad Air, but in combination with the cut in depth you notice it. The iPad Air 2 is a little easier to hold for longer periods, feels a little less precarious when you're hoisting it above your head while lying back in bed, reading.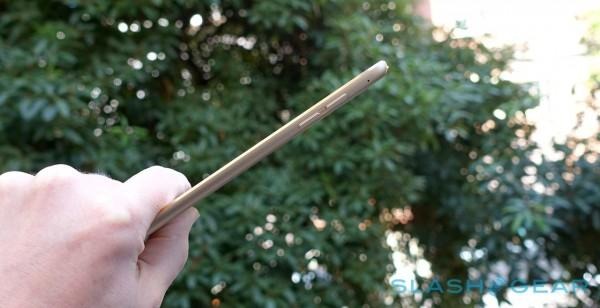 The only omission is a physical switch on the side, which Apple has dropped in favor of larger volume buttons. Screen rotation lock and mute are now handled through the Control Center.
Build quality is still excellent, with Apple pretty much top of the game for tablet construction. There's a new color option this time around, too, with the iPad Air 2 now available in the same trio of finishes as the iPhone 6 now that gold has joined the line-up. It's a soft gold though definitely eye-catching when spread across that broad back panel, though the new leather Smart Case which covers not only the display but the full rear of the tablet will cover that in a choice of five finishes.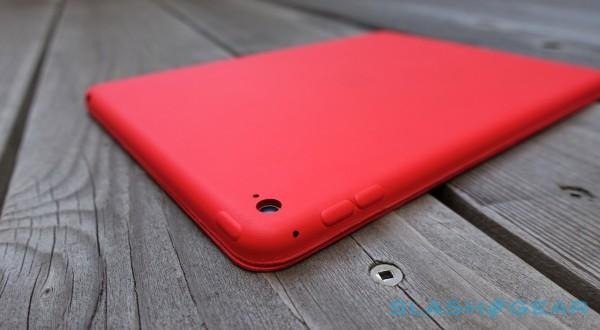 Hardware and Performance
Thinner it may be, but the iPad Air 2 is more powerful than before. Its beating heart is a new Apple A8X 64-bit processor, building on the A8 used in the iPhone 6 and iPhone 6 Plus, but tailored to tablet duties.
The boost in performance is noticeable both on paper and in your hand. Apple claims a 40-percent increase in processing and a 250-percent increase in graphics compared to its predecessor, and sure enough I had no slow-down or lag while multitasking, playing games, or loading intensive websites in Safari.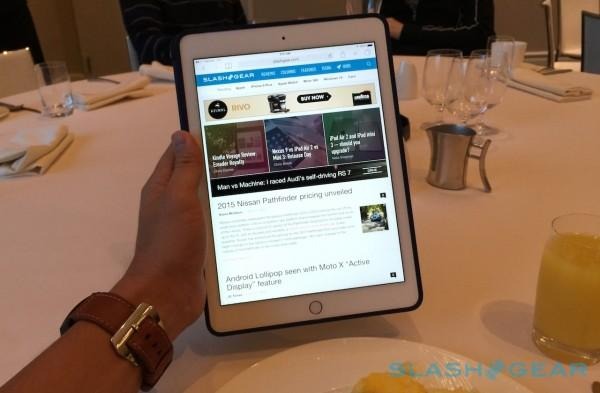 It's likely to be an even more impressive experience once developers get fully to grips with Metal, Apple's framework in iOS 8 for harnessing CPU and GPU for improved games performance. We've heard the promise of console-quality gaming from a mobile device before – and not just from Apple – but while it's early days for Metal, the demonstrations we saw at the iPad Air 2's launch of things like Unit's Unreal Engine 4 certainly suggested the A8X is capable of great things.
In fact, a little benchmarking suggests iOS 8.1 may only be scratching the surface of what the iPad Air 2 is capable of. The A8X is a three-core chip running at 1.5GHz, Geekbench suggests, with 2GB of memory and a whopping 4,470 score on multi-core testing.
The new chip isn't the only improvement, however, and nor is it the only place where Apple has borrowed from the iPhone parts bin. The M8 motion coprocessor has been included too, for low-power movement tracking, and the iPad Air 2 is the only tablet in Apple's range to pack a barometer.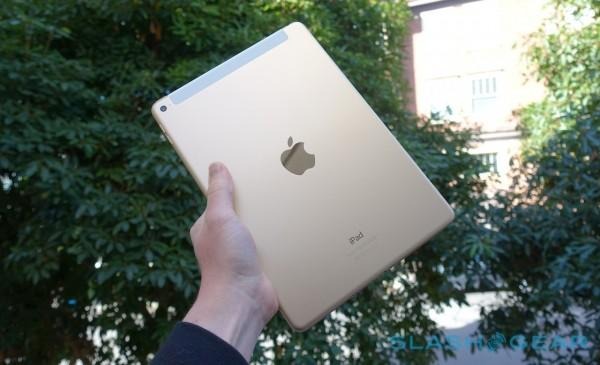 WiFi 802.11ac is included – indeed, I noticed that it picked up significantly more WiFi connections than an iPad mini 3 next to it – while WiFi + Cellular models get a full twenty bands of LTE support. In combination with the new Apple SIM, it should mean getting online is easier when abroad: no more SIM-switching, just pick from a list of temporary 4G data plans.
Display
A huge part in making the iPad Air 2 thinner was Apple's latest twist on Retina display technology, though the changes around the new panel weren't done solely in the name of dieting. The LCD is still 2048 x 1536 resolution, but now Apple has condensed three different components into a single, fully laminated slice.
On the iPad Air, the LCD, cover glass, and the touch sensor are all separate. The iPad Air 2 fuses them into one, doing away with the gaps in-between.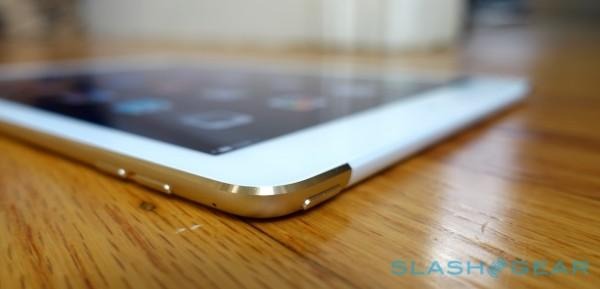 That means a big reduction in internal reflectance – where light bounces between the reflective surfaces of each layer – and the result is a step up in clarity. It's subtle: you don't necessarily clock that there's been an improvement in color quality, or contrast range, but simply that the screen seems clearer and more lively. At times, it almost feels like graphics are popping out, or floating just above the surface of the cover glass.
That glass has been given a new antireflective treatment, too, for better visibility outdoors or when you're working in the glare from a window. Again, the effect is subtle, though side-by-side with an untreated iPad you can tell that reflections are more diffuse and less obvious.
It also highlights fingerprints a little more, I've found, though since you get the same oleophobic coating any smudges come off with relative ease.
Touch ID and Apple Pay
Your fingerprint is positively welcome when mashed against the new home button, which accommodates Apple's Touch ID biometric security. Another example of the iPhone lending some of its technology to its tablet sibling, you can now bypass a PIN and instead simply tap a finger to gain access.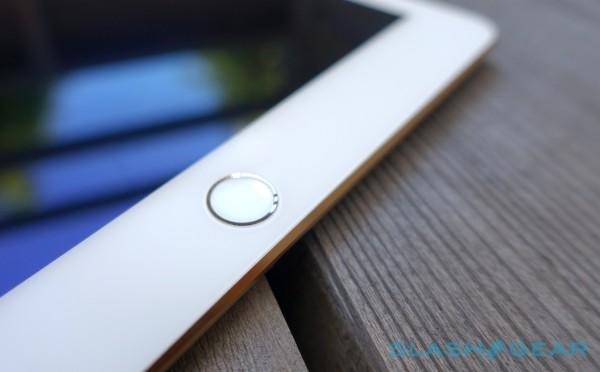 The system is effectively the same as on the iPhone 6, with the ability to register up to five fingerprints and have them unlock the iPad Air 2. With iOS 8, those fingerprints can also optionally authorize iTunes, App Store, and iBooks purchases, as well as give the green light to the new Apple Pay payments system.
It works, and works well, and after a few unlocks with your thumb you start to wonder how you ever stomached punching in a PIN each time. The five fingerprints needn't come from the same person's hand, either, particularly useful given that tablets are more likely to be communal devices shared by a family.
Ideal would be a granularity of control over what privileges in different download stores were permitted depending on which finger had unlocked the iPad Air 2. As it is, there are global controls for things like whether a fingertip can be used for Apple Pay, but not print-specific ones: if you register your kids fingers to give them access, and you leave Touch ID for Apple Pay turned on, they'll be able to approve payments too.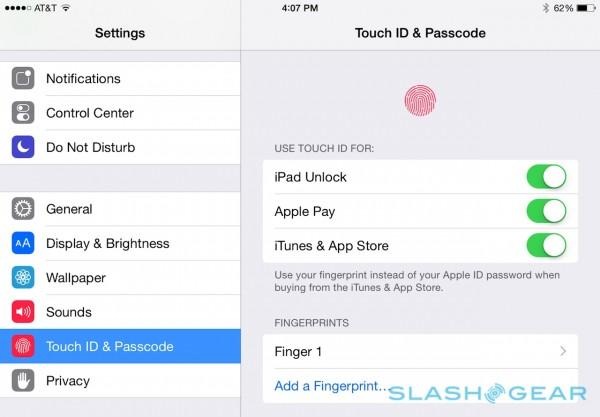 What they won't be able to do is use the iPad Air 2 to make a payment in a brick & mortar store. iOS 8.1's arrival may have sent iPhone 6 owning early-adopters rushing off to try Apple Pay across the US, but the iPad Air 2 lacks the NFC hardware to take part.
Instead, you get in-app payment support, making online shopping more straightforward. Given how unlikely it is that people would want to whip out a 9.7-inch tablet while they're in the line at Whole Foods or McDonald's, the absence of NFC is probably no great loss, however.
Even if you've set up Apple Pay on your iPhone 6, you'll need to run through the process again if you want it on the new iPad. That's because your credit or debit card details aren't actually uploaded to the cloud; instead, a device-specific token is generated, meaning that even if the servers are hacked or your iPad is stolen, the rest of your credentials are safe.
Camera
Apple has upgraded the cameras on the iPad Air 2 front and back, not to mention borrowing more of the software features from iOS 8 on the iPhone 6 for its flagship tablet.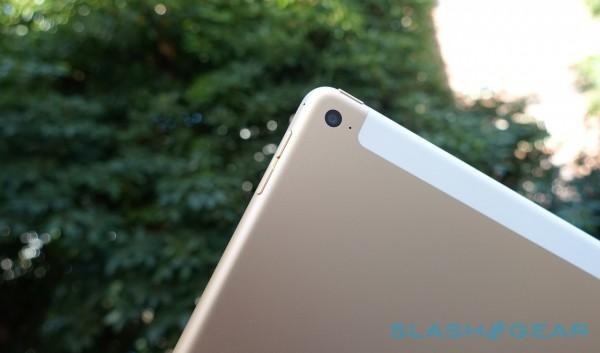 The iSight camera now clocks in at 8-megapixels, up from 5-megapixels on the iPad Air, with an f/2.4 aperture lens, backside-illumination CMOS, and autofocus. On paper it looks the same as what you'd find in the iPhone 6, though it's actually both a different sensor and a different implementation, not least because the iPad Air 2 is thinner than its smartphone cousin.
On the front, meanwhile, you get an updated FaceTime HD camera. Like before, it shoots 720p video or 1.2-megapixel photos.
The images the iPad Air 2 produces are certainly better than its predecessor, though not as strong as those of the iPhone 6. Colors are more muted, especially in low-light conditions, and there's more grain visible. The 1080p Full HD video recording fares similarly: good, but not so much so as the iPhone. This video was shot entirely on the iPad Air 2, for instance:
Still, there's fun to be had with the various features on offer. HDR, 10fps burst mode, and panoramas are supported for stills, while there's digital image stabilization, time-lapse, and 720/120p slo-mo video support. Single-shot HDR is possible using the FaceTime HD camera, helping reduce patchy spots of dark or light in stills, but also during video recording and FaceTime calls. The fact that you can touch to not only set focus but exposure during video recording is particularly useful.
Arguably more impressive than the iPad Air 2's cameras, though, are what you can do with the footage afterwards. The iPad range has progressively been turning into a capable mobile photo and video editing platform, but the second-gen Air ratchets that up a further notch.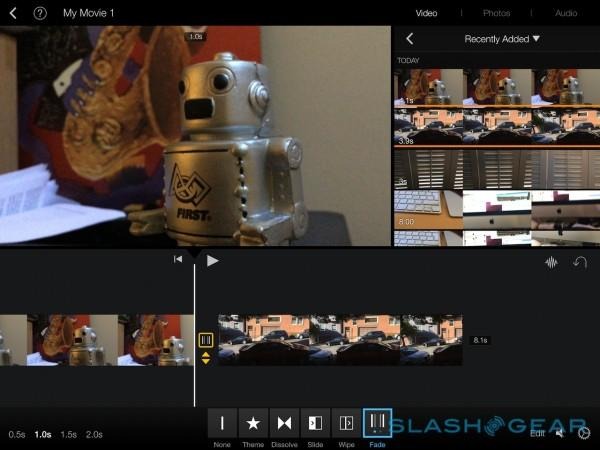 iMovie comes, of course, as standard, and is the same solid video editing suite as we've seen before. However, the addition of cross-platform AirDrop between iOS 8 and OS X Yosemite means it's even easier to collate footage from multiple devices and bring it all together onto the iPad Air 2.
AirDrop is point-to-point, rather than requiring some sort of internet connection, and it's fast too: I soon had a selection of video files from my MacBook Pro and iPhone 6 in one place, and imported into iMovie. Then it was a case of testing out how much faster the A8X is at processing video.
First, I exported a five minute 1080p video clip. The iPad Air 2 completed that in 1 minute 33 seconds, versus the 2 minutes 11 seconds of the iPad Air. For a longer, eight minute 1080p clip, the iPad Air 2 exported in 2 minutes 27 seconds; in contrast, the iPad Air took 3 minutes 29 seconds.
Battery and Pricing
Despite the faster processor, Apple is quoting the same 10 hour battery life for the iPad Air 2 as the iPad Air. That might seem over-ambitious, but in practice the new tablet has some serious legs on it.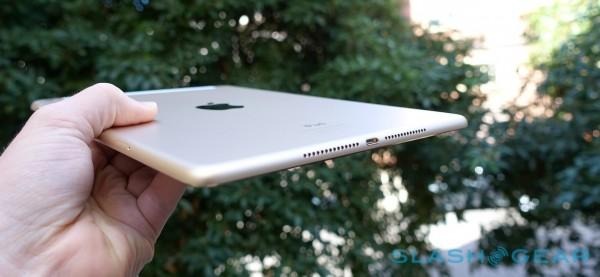 After a full day of use, including push email, messaging, and some video recording and editing, we finished up with 74-percent still showing on the meter. Solid video playback makes a dent in the gage a little more, given the requirements of keeping the display powered on consistently, but this is still one long-lasting slate.
As is by now traditional, there are WiFi-only and WiFi + Cellular versions of the iPad Air 2 to choose between. WiFi models start at $499 for the 16GB, rising to $599 for the 64GB and $699 for the 128GB. As for the WiFi + Cellular, they start at $629 for 16GB, then $729 for 64GB, and finally $829 for 128GB.
Wrap-Up
After a year tied with the iPad mini, the iPad Air 2 has reclaimed the 9.7-inch iPad's spot as the flagship of Apple's tablet range. Easier to hold, faster, with a better display, and yet with no noticeable penalty in battery life, the iPad Air 2 takes what we liked about the original Air and improves on just about every area.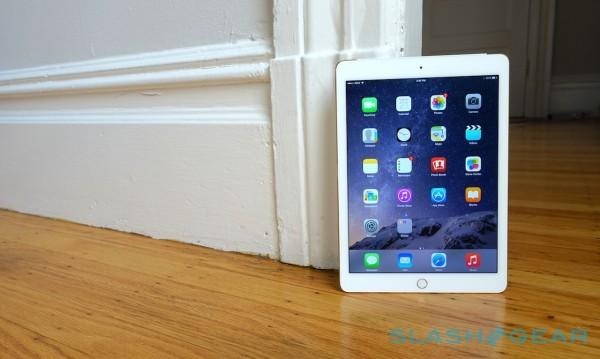 It's also sufficiently removed from the iPhone 6 Plus so as to escape any cannibalization there, unlike what the iPad mini 3 will perhaps face. Having eschewed the Air in favor of an iPad mini 2 this past year, I'm now left reconsidering my allegiances with the arrival of the iPad Air 2.
True, iOS 8 may do the same – and boast the same strong Yosemite integration – on each slate, but the decision no longer comes down to just one of screen size. Its surge forward in speed and the convenience of the refined form-factor and Touch ID leaves the iPad Air 2 feeling like the true iPad for power users.
Vincent Nguyen contributed to this review