iPad Pro 9.7 first impressions and hands-on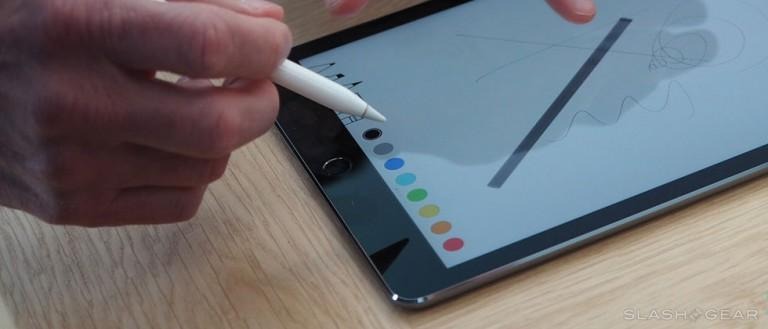 It was only a matter of time before the 12-inch iPad Pro spawned a smaller sibling, and the new 9.7-inch iPad Pro is that tablet. Revealed this morning at Apple's Cupertino HQ, the new iPad Pro takes the boosted performance of the larger model but distills it into what the company says is still the most popular screen size.
In fact, it's enough to make you throw your iPad Air 2 into the trash, or at the very least donate it to a parent or less tech-savvy sibling. It won't be a cheap upgrade, mind: the iPad Pro 9.7 starts out at $599 for 32GB of storage and WiFi only, but if you want the new 256GB version that'll set you back a hefty $899.
SEE: iPad Pro Review for Artists
That might be a real demand if, like Apple claims, the iPad Pro's big customer acquisition is ex-Windows users. That throws us head-first back into the "is it a tablet or is it a computer?" argument but whichever side you sit on, you're getting impressive hardware.
It's almost astonishing that Apple managed to squeeze everything from the 12-inch model into this new version. The result is a slate which feels a lot more manageable – and far less like you're trying to wield a placemat.
For digital artists I can definitely see why the 12-inch screen makes sense. For the rest of us, though, 9.7-inches is a sweet-spot for a good reason. It's neither too large to be hard to manage, nor too small to be cramped.
Apple Pencil continues to make for a charming experience, and while Apple certainly didn't invent the digital stylus, it's doing a damn good job of polishing and refining it. Palm-rejection didn't appear to be a problem during my brief play, and it gets all the pressure and tilt sensitivity from the existing, larger model.
You may very well struggle to get it out of the hands of your kids should you let them play. At least with the bigger iPad Pro it was heavy enough to slow them down when they tried to run off with it.
I'm still not a fan of people taking photos with their tablets, but if you feel differently you'll be pleased to find a 12-megapixel camera on the back now. The four speakers still do their auto-rotating depending on the orientation of the slate, and while I'll have to wait for some extended time in different lighting to see how well the adaptive display holds up, it's certainly a welcome sign that Apple is thinking about the details of the experience, not just tablets in broad strokes.
That's important, because tablet sales – across the board, not just at Apple, though for many iPad does equal tablet – are in a slump and people are proving difficult to coax into an upgrade. Really, the iPad Pro 9.7 is about taking the iPad Air 2 form factor and supercharging its guts, and hopefully encouraging a wider wallet in return. On that front, it's undoubtedly the best all-round iPad you can buy, but only time will tell if it can turn around tablet sales for Apple.