iPad Pro 10.5-inch hands-on: iOS 11's big cheerleader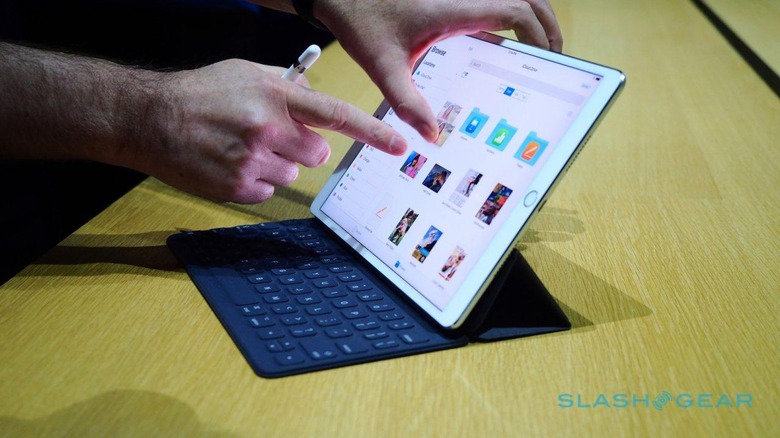 "In every generation there is a chosen one," and in the case of iOS 11 it's the new iPad Pro 10.5-inch that is the unofficial cheerleader for Apple's big new mobile update. Both revealed at WWDC 2017 today, the new iPad Pro and the new iOS version go hand-in-hand. Indeed, Apple pointed out, iOS 11 will be the biggest iOS update for iPad ever.
First, though, the new hardware. At first glance the iPad Pro 10.5 looks terribly familiar; it's only really when you see it in photos alongside the old version that you can see the main changes. Although it's almost exactly the same size – it has increased in size a little, Apple tells me, though it's still about a pound in weight – the bezels have been shrunk dramatically.
The upshot is a 10.5-inch display where previously you got 9.7-inches. It doesn't sound like much, but it nudges the delta between this new iPad Pro and the larger 12.1-inch version even closer. Whereas before, if you really wanted a notebook replacement, you'd probably want to go for the bigger iPad Pro, suddenly that looks even more unwieldy than it already kinda did.
In the artificial conditions of Apple's demo room – and without an old iPad Pro 9.7 to compare with directly – it's hard to say how much of a difference the new display makes in terms of color and brightness. The impact of the new 120Hz refresh rate, though, is far easier to observe. Suddenly, scrolling of webpages that might once have left the screen a smear until it came to a halt is now far crisper and smoother.
Spinning around a 3D plan of a city, the iPad Pro 10.5 kept up exactly with where my fingers were. None of the smudging and catch-up you might experience on the 9.7-inch version when you're using graphically-intensive apps. It's not just down to the new display, of course. Apple's new six-core A10X Fusion chip is bizarrely potent for a tablet. Indeed, the Cupertino firm is claiming it's more powerful than many laptops.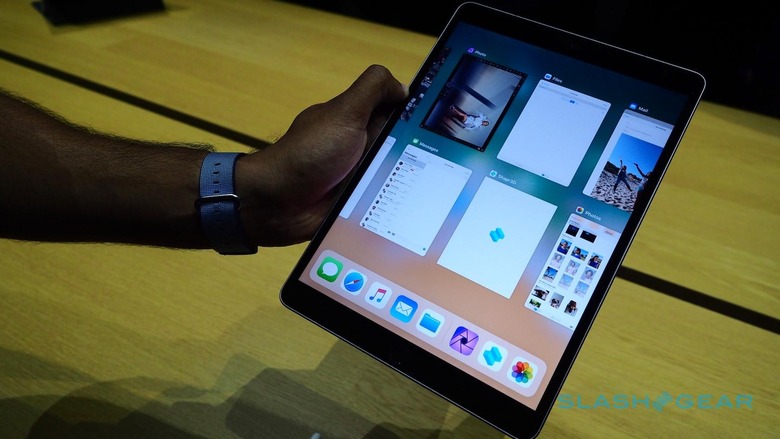 If there's a downside to the new display, it's if you got used to gripping the tablet by the edge. You may well have to change how you hold the slate, since there's more likelihood of your fingers overlapping the edges of the touchscreen. There's rejection technology to try to avoid that – it's based on the same thing that stops your palm from triggering the display when you lean on it to write with the Apple Pencil – but it's not infallible.
As for iOS 11, even with this small taste of the new platform, it's not hard to see how it'll move the iPad Pro far further into the realm of "true laptop replacement". In many ways it's the simplest features which make the biggest difference. The new dock, which can now expand for easier multitasking, and be swiped up onto the screen from within any app. Being able to collect up a set of photos, links, text, or whatever else, drag them into a different app, and drop them there.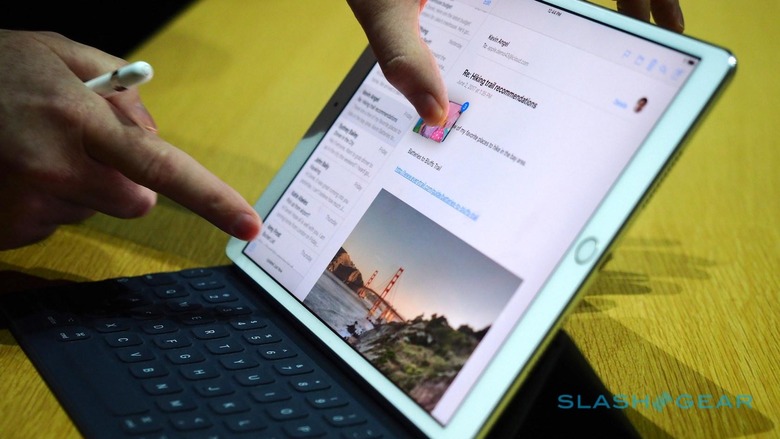 Combined with the task switcher, which now does a far better job of keeping your last-state – including split-screen setup – for multiple apps, it's all starting to feel a lot more like macOS. That's by design, naturally, and I'm sure Apple would be quick to point out that there's plenty macOS proper (whether in new High Sierra form or otherwise) will do that iOS 11 still doesn't even want to attempt. Nonetheless, I feel like we're closing the gap even further between what the typical, average user expects from their notebook on a day to day basis, and what an iPad can do.
What that percentage is down to now I wouldn't want to say until iOS 11 actually arrives. Nonetheless, it's good news for those hoping to replace their notebook with an iPad Pro with its 10 hours of battery life and a display that suddenly puts a MacBook to shame. Throw in the improved Apple Pencil – something Apple continues to stubbornly refuse to even countenance on its Macs – and it stops being anything close to a compromise and starts to look like the alternative for the mainstream that Apple always claimed it was.
The irony, of course, is that while the new iPad Pro 10.5 may be available to order from today, iOS 11 won't be ready for the public until the fall of 2017. That means that, for the moment at least, out of the box it'll run iOS 10 instead. No fancy drag-and-drop, no flexible launcher bar, just the same iOS 10 we already know.
Still, the iOS 11 upgrade will be a free one, and until then the iPad Pro 10.5's hardware has plenty of appeal. I'm not sure I'd upgrade if I were a current iPad Pro owner, but even this first, early taste suggest that those who have been on the fence have even more reason to make the switch.