What's New In macOS High Sierra [UPDATE: Download Released]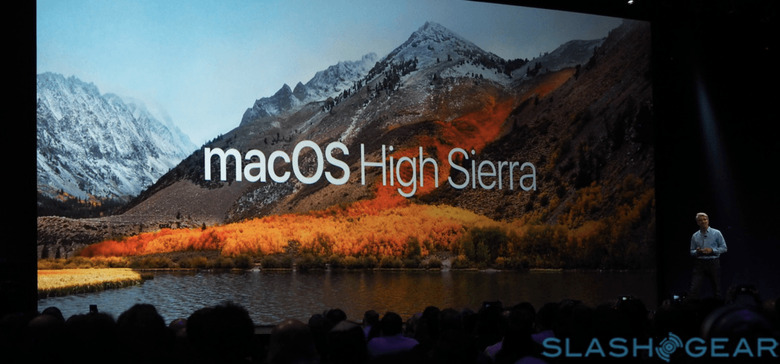 The next update to Apple's desktop operating system macOS is called macOS High Sierra, and it's about to get a release date. This software includes a number of updates to apps across the Apple spectrum, starting with the web browser Safari. Lots and lots of updates will be delivered behind the scenes, but a few important parts will be right out in the open when the update is released. UPDATE: Ready for release for developers – download link below.
With Safari, this update will block Autoplay on videos on the web. This update, Apple suggests, will be 80% faster than Chrome in "modern JavaScript performance" with Safari. This update will also make the big move to "Intelligent Tracking Prevention" for advertisements.
With Intelligent Tracking Prevention, Apple suggests that ads will no longer follow users around the web. That'll be interesting since most advertisement companies on the web use this sort of functionality in some form or another. Safari will identify trackers across sites and segregate tracking data as such.
Mail will be putting important messages on top of the view. There'll be a new split view for Mail. This update includes a tweak that allows Mail to take up 35% less disk space than before.
Photos will have more editing tools including a Curves menu for fine-tuning. This update will allow the user to select color and edit on-the-fly. It wont be as all-inclusive as Photoshop, but it's a step in the right direction.
The new file system default for Apple with this update will be "Apple File System" instead of HFS. This will include native file encryption, crash protection, and both instant file and directory cloning.
Video updates will move to H.265 / HVEC as a standard. This update includes a move to Metal 2 for driver optimizations, indirect argument buffers, SIMD group data exchanges, Uniform variables, Sampler arrays, and Resource heaps.
The developer kit for macOS High Sierra will be released today. That means it's a relatively early version – and should not necessarily be used by everyone. Stick to this article for more information on where to attain this update if you've not already done so. UPDATE: It's out now on Developer.Apple and a Beta is coming in Late June.