iPad Now Available in Target Stores, and Amazon Directly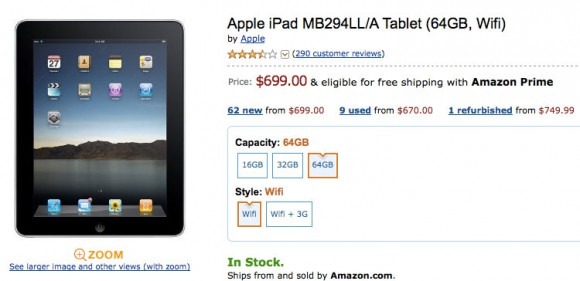 We may receive a commission on purchases made from links.
Apple's tablet device, the iPad, may not be seeing the best usage numbers from new purchasers, but that's not stopping the Cupertino-based company from trying to get the tablet into any available retailer they can. Just after a week of being available at every Best Buy electronics retailer across the United States, the iPad is now available for purchase from Target stores across the country. But, perhaps most noteworthy, is the fact that Amazon is now selling the iPad directly, and no longer relying on third party resellers.
The launch of the iPad in Target stores happened a day after initial predictions/confirmations, and became officially available on Sunday. While the brick-and-mortar locations, including Best Buy, are selling the wide gamut of iPad models available, Amazon's offerings are a bit more slim. The digital retailer has only the 32GB and 64GB WiFi-only models available. They will run you the same cost as anywhere else, though: $599 and $699 respectively. Not including some third party resellers that were already selling iPads through Verizon, which see some mark-ups with pricing, and varying prices for shipping.
For those who have already played with an iPad, or for those who don't need to try out the tablet device before they slap down their hard earned cash for it, Amazon's digital retailer is probably the perfect fit for your next purchasing location. As for everyone else, Target's new availability should make plenty of people happy.
[via Amazon]