iPad HD tipped as third-generation iPad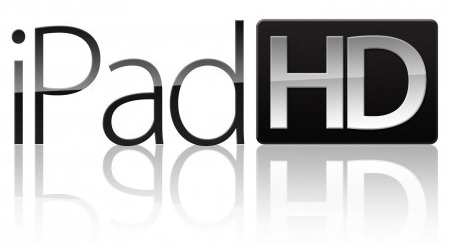 This Wednesday we'll be at an event held by Apple which will undoubtedly play host to the next generation tablet computer from the giant that defined the genre. This third generation tablet from Apple has been tipped to be called the iPad HD by a reliable source speaking with Mashable's Chris Taylor, this name coming in what at first may seem in sharp contrast to the most popular nickname for the device thus far: iPad 3. This situation is so similar to what happened with the release of the newest iPhone that it seems almost inevitable that the iPad HD name will have to stick – it just works.
You'll also notice that just a few days ago the name iPad HD was found in the rough by an intrepid tipster amongst case listings for infinite other devices. The iPad HD (3) as it's called in the listing is set to be revealed to the world on the 7th of March, this Wednesday, at an event that's already been tipped as one Apple will "have something you really have to see" – in other words, something with an advanced set of visuals without a doubt. The iPad HD event (aka the iPad 3 event as we've been calling it thus far) will be liveblogged by SlashGear in our live.slashgear.com portal for all to follow along with in real-time.
We've heard that this device, now known as the iPad HD, will have a gigantically dense 2048 x 1536 pixel resolution display, this having twice the pixels per inch that the iPad 2 has. The name iPad HD makes sense with the naming scheme Apple has adopted thus far with their mobile products, each generation's name reflecting either a giant overall change (iPhone 4) or boost in one particular feature (iPhone 3G). Here we've got an update to the display specifically so the most universal term is inserted in the name: iPad HD.
This ring true with you? Follow along with us through the rest of the week to see all the iPad HD action from the event itself to the firestorm of activity that comes afterward. Be there!