iPad Dominance Dips But Android Still Playing Catch-Up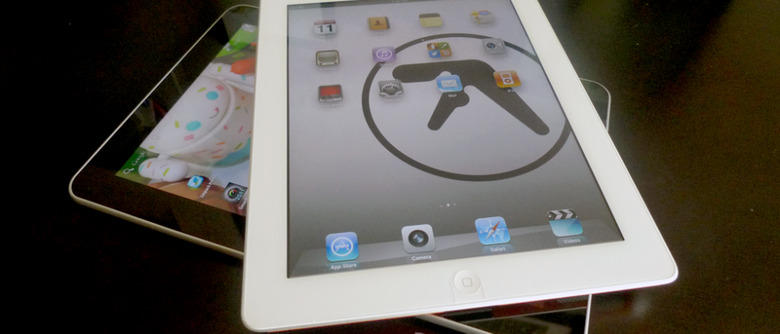 Apple's tablet market-share has dipped but the iPad looks set to continue dominating the segment over the next four years despite the best efforts of Android rivals, according to research firm predictions. The iPad held 54.7-percent of the worldwide tablet market-share in Q4 2011, IDC's figures suggest, down from 61.5-percent in the previous quarter, though those figures disguise the fact that Apple shipped more than 4m units more in Q4. By 2016, meanwhile, the iPad is set to ship 94.7m units per year, for 48-percent of the overall tablet market.
In second place comes Android, with 44.6-percent market-share in Q4 2011, up from 32.3-percent the previous quarter. Low-cost tablets like the Kindle Fire, NOOK Tablet and slates from Pandigital helped buoy those figures, IDC says, with total Android tablet shipments in 2016 predicted for 100.8m units of a total 198.2m worldwide.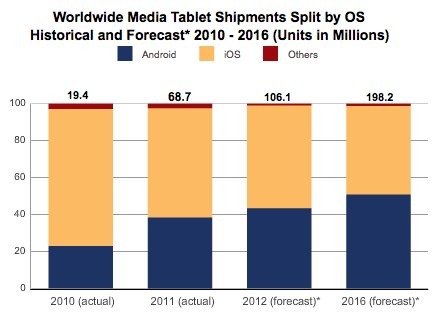 It's disappointing news for RIM, however, with the sums suggesting that its tablet share with the BlackBerry PlayBook dipped from Q3 2011 to Q4, going from 1.1-percent to just 0.7-percent. webOS, unsurprisingly went from 5-percent in Q3 to zero in Q4.
"As the sole vendor shipping iOS products, Apple will remain dominant in terms of worldwide vendor unit shipments. However, the sheer number of vendors shipping low-priced, Android-based tablets means that Google's OS will overtake Apple's in terms of worldwide market share by 2015. We expect iOS to remain the revenue market share leader through the end of our 2016 forecast period and beyond" Tom Mainelli, research director, Mobile Connected Devices, IDC
Earlier this week, research suggested that 84-percent of companies intended to buy their employees an iPad next quarter, suggesting that – despite a relative consumer focus – the iOS slate is gaining traction with the enterprise market. IDC's figures make no reference to Windows 8, as the research firm does not include the OS in with its "media tablet" segment, though it has previously said that it has mixed expectations of the Microsoft platform with it being "largely irrelevant" beyond tablets.
The new iPad, Apple's third-gen model, is set to hit stores on Friday this week. More details in our Apple Hub.