iPad 3rd generation cases by Targus revealed and detailed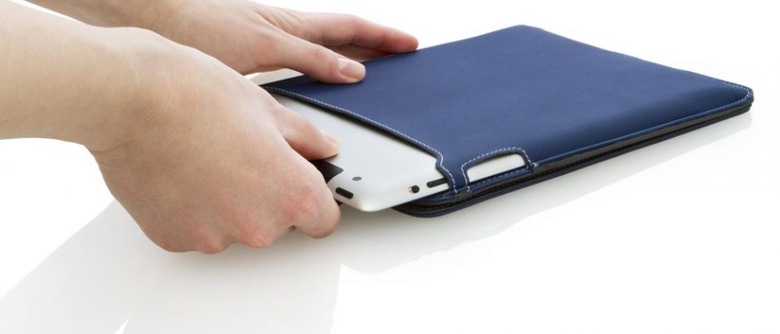 Today right at the drop of the hat, here right at tail end of the Apple event (which we've covered live at live.slashgear.com, also check out our new [Apple Hub]) Targus have brought forth the first set of iPad 3 accessories. They've been extremely careful to note that these cases are "Apple iPad 3rd Generation" cases rather than straight up iPad 3 cases, this being because of course Apple has dubbed the new iPad "the new iPad" without any additional name attached.
There are several new cases and covers being revealed today by Targus, the first being their Simply Basic Cover, a slim and lightweight design coming with a magnetic off/on feature with soft lining for screen protection – this model comes in graphite black, charcoal gray, orange peel, and indigo blue, each for MSRP $29.99. Next there's the Vucomplete, a case meant to be a companion to Apple's own Smart Cover – protecting the back of the device with water-resistant material with a protective lining on the inside, available in graphite black for MSRP $39.99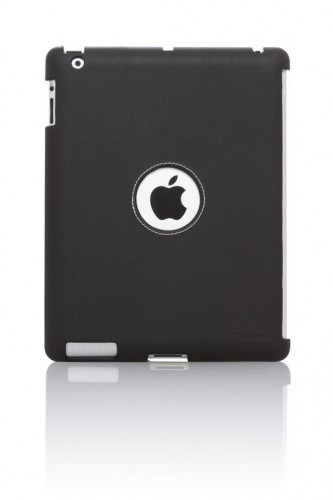 Targus Slim Case has a set of several viewing angles for your iPad 3, this case also having a magnetic on-off feature activation for your device and coming with a premium soft-touch material lining the inside – this case comes in calypso pink, indigo blue, bittersweet red, bone white, charcoal gray, and graphite black, each for MSRP $49.99.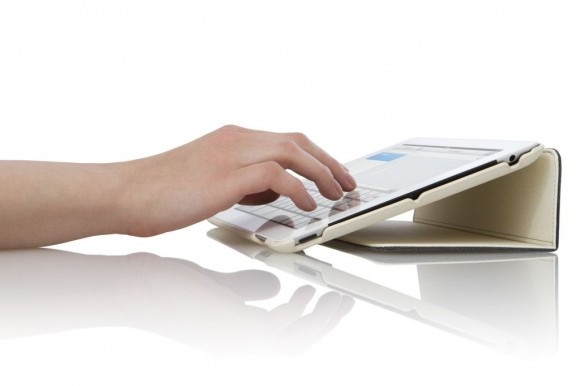 Each of the cases above are in Targus' "Slim and Elegant Cases" category while the rest here are categorized as "Higher Utility Cases" for a more "complete" vision. The first of these more hardcore cases is the Vuscape, coming complete with magnetic on/off, three hands-free viewing angles for your iPad, and a "clever stylus storage" for holding your third party capacitive styluses – this unit comes in graphite black, bone white, charcoal gray, and calypso pink for MSRP $44.99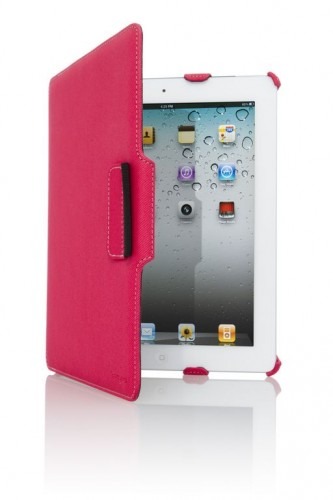 Next there's the Business Folio and Stand, this unit having all the qualities that a "pro on the go" might need including magnetic on/off, storage for cards, IDs, and a stylus or pen. There's also a compartment for an included notepad as well as CleanVu cleaning pad for your tablet, and the whole unit converts to a stand for hands-free viewing whenever you need it. The whole unit will be available in black and charcoal gray for MSRP $49.99.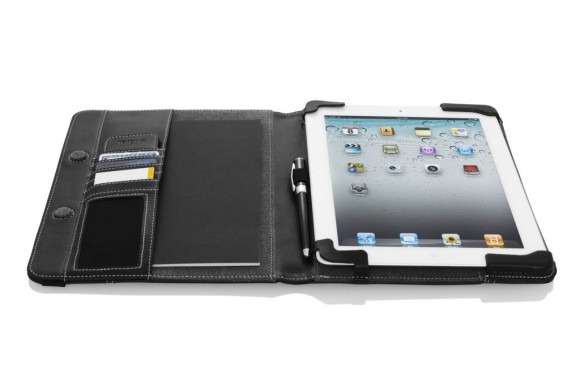 Then of course there's the Versavu and Versavu Keyboard case, these two units both coming from the same family to offer you premium iPad 3 protection and display abilities. With the Versavu you've got a 360 degree rotating mechanism which allows you to view your iPad in both landscape and portrait modes, four different viewing angles available for on-the-go action – plus there's room for a stylus, once again. This unit comes in graphite black, charcoal gray, and combos of bone white and charcoal gray or calypso pink and charcoal gray, all of these costing MSRP $59.99.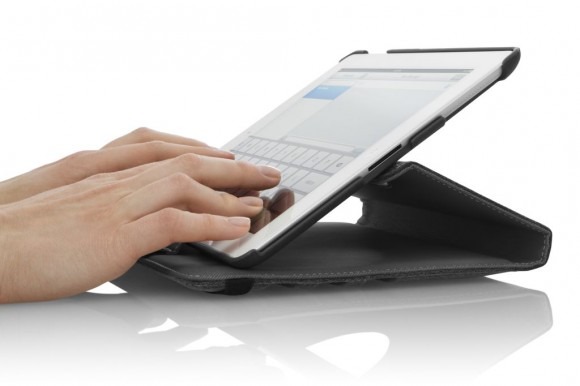 The Versavu Keyboard Case has a low-profile bluetooth-connected keyboard that works with the third generation iPad like a snap and has some lovely tactile feedback for both improved accuracy and speed in your typing while you keep it all quiet. This unit comes in graphite black and bone white at MSRP $99.99, this unit and all the rest available at the same time the iPad 3 is made available – we'll find out more about that inside the next couple of hours, without a doubt!