iPad 3 reveal tipped for early Feb; iPad 2 to remain on sale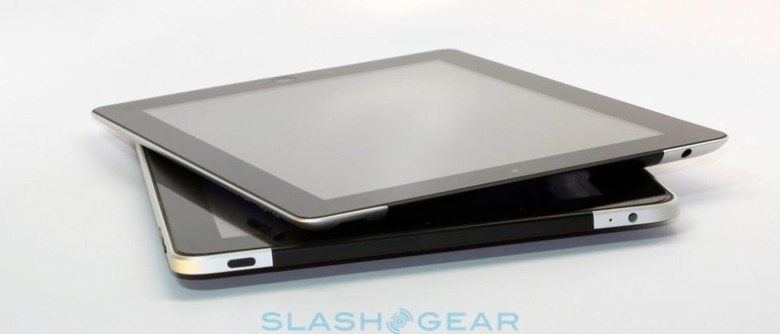 Apple will hold an iPad 3 launch event in early February, according to new rumors, where the third-gen tablet expected to debut a 9.7-inch Retina Display will be shown off for the first time. The press event next month, so Macotakara's Asian supply chain sources and "a source in the United States" claim, will precede the commercial launch of the new iPad in early March. Meanwhile, there are also indications that Apple will keep the existing iPad 2 on sale alongside its new model.
Speculation around Apple events is rife, of course, while given the company's track record in iPad announcements it wouldn't be hard to guesstimate a debut date. The original iPad was revealed in January 2010, while the iPad 2 was first shown off officially at an event on March 2 2011, and previous rumors have indicated a Q1 launch for the third-gen model.
As for the roughly month-long delay between reveal and release, Macotakara claims that is a side-effect of the Chinese New Year, when factories in the country will be closed. March availability would fit in with other recent rumors, however.
Whether the third-gen iOS tablet will actually be the "iPad 3" or a variation of the iPad 2 remains to be seen. Previous indications have suggested that, similar to Apple's more evolutionary upgrades between the iPhone 4 and 4S, the new iPad will only tweak a small number of features from its predecessor.
Those tweaks are believed to include the new 2048 x 1536 "Retina Display" screen, a quadcore Apple A6 processor rather than the dualcore A5 of the existing iPad, and – for markets which support it – 4G LTE connectivity. It's unclear whether Apple will continue to offer the existing iPad 2 as a lower-cost option alongside the new version, as it does with its smartphone range, though DigiTimes reports regarding orders of the 9.7-inch 1024 x 768 panels used in the first- and second-generation iPads indicates that may well be the case.
Apple will hold a press event later this week, expected to see the debut of a digital textbook creation tool as the company sets out its stall for the lucrative education market. SlashGear will be liveblogging the whole event on Thursday at 10AM EST at live.slashgear.com.
[via MacRumors]