iPad 3 Leaked Parts Combined Into Frankenslate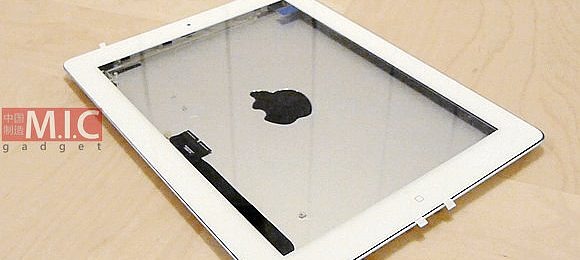 Apple's official iPad 3 reveal is this coming Wednesday, but with so many leaked components floating around in the wild, it's surprising its taken this long for an unofficial Frankenstein' iPad to be pieced together. M.I.C. Gadget has done the honors, for the outside of the third-gen tablet at least, plus apparently confirming that despite speculation to the contrary there will be a physical home button. More in the video after the cut.
The absence of that button – something we've been used to seeing on iOS devices since the first-gen iPhone – has been rumored for some time now, with Apple expected to shift to a touch-sensitive bezel or gesture-based navigation system. The angled shot of the iPad 3 in the Apple invite fueled that speculation, seemingly not showing a button where a button should be. However, the physical key is still found on what's said to be official casing components.
Interestingly, the site also says its sources are throwing cold water on integrated LTE connectivity, with the suggestion that the target market for 4G-enabled users is still too small for Apple to consider the bulk and battery consumption of LTE wireless chipsets. The same 16GB, 32GB and 64GB models are also reiterated by the insiders.
As for cases, Apple's Smart Covers apparently work with the slightly changed profile of the leaked iPad 3, but close-fitting third-party covers generally do not. We'll know all the details come Wednesday, March 7, so join us at live.slashgear.com for all the details as we liveblog from 10AM PST!
[via MacRumors]