Three iPad 3 Versions With No Home Button Tipped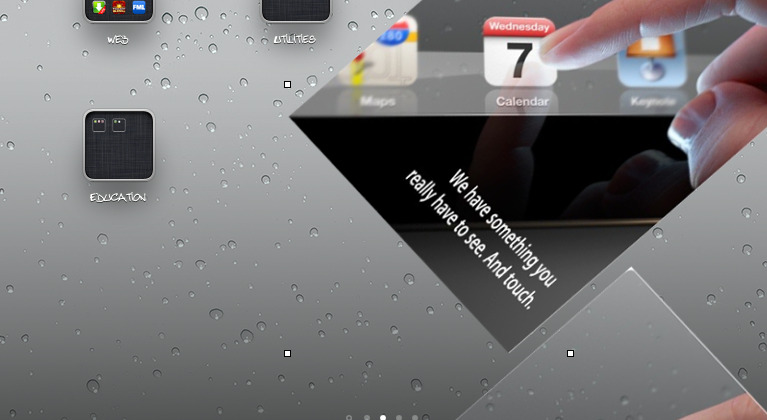 Three variants of the new iPad 3 could be in the pipeline for a March release, according to sources, but only black WiFi models are tipped if you don't want 3G/4G connectivity. Product codes leaked to 9 to 5 Mac indicate Apple is readying iPad J1, J2 and J2A versions, with the first believed to be the WiFi-only model and the J2 and J2A including different combinations of GSM, CDMA and LTE connectivity. Meanwhile, SlashGear reader Matthew flagged up that, in Apple's invite graphic, the physical home button looks to be missing from the slate.
Apple has long been rumored to be deleting the physical home key, and replacing it with either a combination of gestures or a touch sensitive bezel. The image Apple used for its invite – with the tagline "We have something you really had to see. And touch" –  could be a hint that the iPad 3 doesn't just have a high-resolution "Retina Display" screen but a new use of touch technology as well.
As you can see in Matthew's graphic above, the angle of Apple's shot and the spacing between the icons indicates that the tablet is in portrait orientation, thus there should be a home button visible. That's assuming the tablet isn't upside down, however.
According to insiders, Apple will only be offering the J1 iPad 3 – the WiFi-only model – in black, though that could be a limitation lifted some time after the launch. The cellularly-enabled models are expected to be offered in both black and white. The leaked part numbers give no indication of internal storage capacity, and it's possible Apple has bumped the top storage option to 128GB in preparation for owners storing hours of Full HD footage on the slates.
We'll be liveblogging the whole Apple iPad event next week, so join us at 10AM PST on Wednesday, March 7 over at http://live.slashgear.com/ for all the news!
Leaked iPad part numbers:
MD328LL/A – J1 GOOD B- USA

MD329LL/A – J1 BETTER B-USA

MD330LL/A – J1 BEST-B-USA

MD366LL/A – J2A GOOD A-USA

MD367LL/A – J2A BETTER A-USA

MD368LL/A – J2A BEST A-USA

MD369LL/A – J2A GOOD B-USA

MD370LL/A – J2A BETTER B-USA

MD371LL/A – J2A BEST B-USA